Louisiana Tech announces spring honor students
Louisiana Tech University has announced the names of students on its spring quarter president's and dean's honor lists.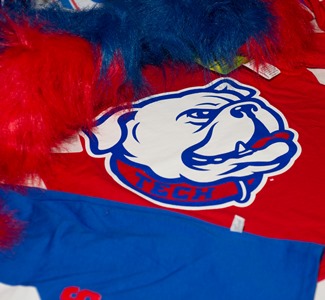 Students whose names are followed by an asterisk earned recognition as members of the president's honor list. That distinction signifies achievement of at least a 3.8 academic grade point average on a minimum of nine semester hours completed (100-level or higher), with no grade lower than a B.
To be eligible for the dean's honor lists, a student is required to earn at least a 3.5 academic grade point average with no grade lower than a C on a minimum of nine semester hours completed (100-level or higher).
Courses yielding satisfactory/failure grades and courses audited do not count toward eligibility for either recognition. Only undergraduates with no incomplete grades are eligible to make either list.
Honor students are listed below by their hometowns.
ALABAMA
Carrollton:  Kacie Hattaway*
Mobile:  Mallory Elaine Wright*
ARMED FORCES PACIFIC
Apo:  Michael Anthony Lucero*
Fpo:  Sydney M. McCool*
ARKANSAS
Alexander:  Ashlyn R. Taylor*, Elizabeth C. Taylor*
Almyra:  Shelby Jayne Gifford*
Benton:  Austynn Faith Harbison, Wesley Grayson Mitchell*
Bryant:  Casey L. Rogers, Wilson S. Wise
Buckner:  Erin Faith Minter
Cabot:  David C. Reicks, Shelby Lynn Smith*
Camden:  Lauren Leann Cox*, Jonathan Steven Lester, Kendall C. McAllister*
Crossett:  Zachary Colton Land*
El Dorado:  Caitlin D'ann Brown*, Lauren Alyse Brumley*, Emily Claire Chandler,
Hannah Aleece Craft, Nate M. Davis*, Ethan Fife, Bailey Elizabeth Gould*,
Cameron N. Harper, Molly Le Blanc Harter, Hannah F. Johnson, Karl Edward Klappenbach, William Drayton Land, Benjamin T. Marino*, Lindsey Elizabeth Martin*, Courtney Malynda McDiarmid*,Breanna C. McKnight, William Tyler Morgan, Sarah Elizabeth Murchison*, Andrew Tyler Reames*, Claire Marie Smith, Katherine Elizabeth Snell, Kimberly Ann Tucker*, Caleh Renee Wall*,
Michaela L. Wise
Eldorado:  Gregory R. Ballard
Fordyce:  Matthew H. Pettit
Hamburg:  Christopher Mondragon*
Hope:  Hunter C. Calhoon
Hot Springs:  Christopher Tanner Caldwell, Aaron Brooks Michau*
Junction City:  Abbey Kate Burroughs*, Beau Chandler Hux
Lewisville:  William Skylar Harbin*
Little Rock:  Allie G. Ellis*, Charles Anthony Ellis, Emily Kate Hammons*,
Margaret Elizabeth Jones*, Sara T. Jones*, Madeline Michelle Rabalais*, Jackson Taylor*
Magnolia:  Megan Garris, Hayden Tanner Hicks*, Michael Spenser Madden*,
Corey Donte Walker
McCaskill:  Susan Leanne Campbell*, Danny C. Dowdle
McGehee:  Adam Connor Lee*
Monticello:  Brandon W. Ashcraft
Mountain Home:  Joshua M. Edavettal*
Mountain View:  Bryn J. Young*
Little Rock: Morgan Nichols
New Blaine:  Joseph Edward Hart
Norphlet:  Kaitlyn Camille Kelley*
Paragould:  John T. Wolz*
Pearcy:  Samuel T. Gallimore
Pine Bluff:  Raye A. Ledbetter*
Prescott:  Dayne Reid Ghormley
Redfield:  Candace Rae Casey*
Sheridan:  Nicholas Hunter Winters
Sherwood:  Haley A. Martin*
Smackover:  Lindsay Lee Burson
Texarkana:  Tyler Andrew Brown, Bryanna N. Huntley
White Hall:  Allison Taylor Ruff
ARIZONA
Chandler:  Kent David Hasler
CALIFORNIA
Corona:  Jason James Raid Haddad*, Justin Philobos*, Ryan Allen Philobos*
Elk Grove:  Andrew J. Kraus IV*
Huntington Beach:  Samuel Mitchell Johnson*
Murrieta:  Brooke Short
Redding:  Frank V. Avantino*
COLORADO
Denver:  Aleezah I. Balolia*
Loveland:  Andrew J. Bradberry*, Kacie J. Kaufman*
Parker:  Spencer Fox
FLORIDA
Cutler Bay:  Brent Rudy Diaz
Keystone Heights:  Charles Gooch*
Largo:  Daniel Perry
Melbourne:  Samuel Christopher Pecora
Middleburg:  Katelyn V. Macdonald
Pensacola:  Jade Michael Matthews*
GEORGIA
Dunwoody:  Aaron S. Martin
Fort Benning:  Terry G. Pittman Jr.
Stockbridge:  Morgan T. Hall
HAWAII
Honolulu:  Tiffany Tin-yee Tam*
IOWA
Dubuque:  McKenzie L. Hafkemeyer*
ILLINOIS
Batavia:  Natalie Mueller*
Champaign:  Cassie Elizabeth Oliver*
Chillicothe:  Sarah Marcia Daum*
Normal:  Brady A. Anderson, Olivia R. Spears
Troy:  Daniel S. Thompson
KANSAS
Topeka:  Andrew S. Myers*
KENTUCKY
Louisville:  Pramila Nepal*
Paducah:  Jenny N. Chapman
West Paducah:  Kaitlyn Michelle Hastings
LOUISIANA
Alexandria:  John Aguillard*, Brittica Lynn Reed, Jamarcus Shabazz Malik Reed,
Hunter David Wellan*
Chalmette:  Daniel Evan Humphrey*
Covington:  Christopher E. Damare*, Jason M. Diggs*, Cameron Edward Harmeyer,
Eric M. Ortiz, Jonathan Edward Reppel, Delaine C. Rodick
Denham Springs:  Bryce Anthony Dugas
Gretna:  Tyra L. Berthelot, Albert J. Castillo, Johnny Ray Negrete, Marissa Mai Nguyen*, Larry Donnel Pleasant Jr.
Hammond:  Alexis L. Guillot*, Mi'chal Holmes, Emily Renee Peco,
Dillon M. Sullivan*, Daniel J. Trypaluk*
Houma:  Emily Elaine Lajaunie
Lake Charles:  Caleb Stephen Lewis Daniel, Ali April Oubre
Mandeville:  William David Byerley, George J. V. Cazenavette*, Erin E. Geohegan*,
Grant Andrew Grefer, Tiffany Marie Marlbrough*, Anna Katya Opel*, Walden Walter Perry*, Courtney M. Smith*, Emily Paige Theriot, Kyle Gunnar Young
New Iberia:  Dylan J. Blair, Jolie Marie Broussard, Haley J. Dishman,
Zachary A. Parsons
Pineville:  Heather Nicole Hopkins
Slidell:  Jenae Gabrielle Arceneaux*, Allister Julian Wright
Sulphur:  Bailey Nicole Castille, Jacob Nathaniel Dietz, Cameron S. Henry,
Olivia Anne Vincent, Charlotte Estelle Wade
West Monroe:  Taylor Everett Antley, Katelyn Rose Bradford*, Breanna Lillie Duckett, Sarah Elizabeth Dulaney, Harrison D. Haley, Amber R. Hilburn*, Jeb Russell Houston, Joshua Dale Jones*, Shelby Kay Jones, Rachel Watson Kelly, Edmond Paul Linder Jr., Michael Adair McMahan*, Landon Paul Mims, Michael David Mims, Hannah Wheeler Morrison, Julia Lee Morrison*, Joshua Kaleb Osborne*, Gage Gregory Otwell, Jaimie Rene Pemberton, Allison N. Redding, Ashton Jolyn Russell
ACADIA
Crowley:  Joshua Thomas Kilgore
Rayne:  Erykah O. Price
ALLEN
Kinder:  Grant T. Artero*, Collin Ray McClellan
Oakdale:  Coulter Ewell Knowles*, Samuel Lynn Monk
ASCENSION
Geismar:  Taylor Elizabeth Clement, David Paul Ferrell, Hudson Taylor Hess
Gonzales:  Victoria Lyn Arnold*, Anastasia Noel Britton, Rachel Renee Eddy*,
Mia R. Melancon*, Steven James Pirvu*, John Paul Soileau, Jaren Mychal Tullier,
Alyssa Kay Turner*
Prairieville:  Brittany Erin Alford*, Andie Elizabeth Anseman*, Travis E. Barfield,
Avery Micah Lynne Friedmann, Madeline C. Golden*, Hannah Paige Lilly*, Matthew Paul Keller Macias*, Mitchell Dominic Porche*, Nicole Diane Vermaelen*
Saint Amant:  Kolby Adam Kunefke*, Barrett Patrick Kyle, Quinton P. Williams
AVOYELLES
Bunkie:  Raven Leigh Naquin*, Elyse A. Reed
Center Point:  John M. Scanlan
Effie:  Holly Elizabeth Hargis*
Marksville:  Ryan C. Barton, Mason J. Dunbar, Joshua B. Joffrion*,
Madeline Roy
Moreauville:  Jacob Matthew Laviolette
Plaucheville:  Derrick J. Foti
Simmesport:  Hannah Duron G. K. Kirby
BEAUREGARD
Deridder:  Christian Andrew Brown, Kirby Chase Cooley, Christopher Coats Dobbins*, Taylor Ryanne Fariss, Brett I. Hooks, John Pearce III, Rachel Belle Robinson, Austin Jake Stuart*, James Thomas Stuart*, James A. Stultz
Dry Creek:  Ashley Ann Miller
Longville:  Matthew G. Fults*
Merryville:  Peyton Audrey Cournoyer*, Tanner James Stark
BIENVILLE
Arcadia:  Christopher J. Antee, Dawn Adele Atkins*, Kishan Ashok Desai*,
Sarah Faith Grimm, Madison Paige Hoffman*, Hannah Mae Myles
Castor:  Triston Chase Conly, Morgan Danielle Dison, Teresa Kolleen Joyner*,
Rebecca S. Mathews*, Lori Wallace*, Lindsey Elizabeth Warren
Jamestown:  Patrick Ryan Hammett
Saline:  Michelle Nicole Bartlett*
BOSSIER
Barksdale AFB:  Rhykime Dioneta Smith
Benton:  Kirsten L. Basco, Peyton Deen Coker, Graceson Yancey Cox,
Jennifer Wynne Cox*, Ethan Shane Cram*, John M. Davis, Emily Anne Digiacomo*,
Addison R. Emory*, Bradley A. Ewing*, Katelin Elizabeth Ewing*, Tucker Lee Fulco*,
Zachary Taylor Fussell, Garrett Russell Gibson*, Drake David Heinz*, Austin Scott Johnson, Joseph Stephen Kerner, Kaleigh M. Key*, Madelyn Faith Koske, Lauren Atkins Leflett*, Darbi Louise Long*, Errol Hunter Long, Rachel A. Maxwell*, Sarah E. McComic, Justin Taylor McCommon, Kylie Paige Moore, William Henry Murphy, Cody M. Patterson, Collin A. Sanford, Ethan Christopher Sanford, Aaron J. Sheppard*, Kadarius D'sean Thomas, Madison McKenzie White, Alexander Heath Whittington, Quinci Vivette V. Middlebrooks*
Bossier City:  Charissa Ann Aalgaard, Katelyn Marie Alford, Emma Paige Allen,
William Coleman Allred II, Evie Lyn Andersen, Megan Elizabeth Baldwin*, Matthew Price Barker, Cassandra Bradford, Austin Connor Brannon*, Olivia P. Broussard, Emily Ann Brown, Ricky A. Brown, Brittany Ann Bryant, Shirley J. Carney, Logan Edward Caskey*, Nicholas Reno Casteen, Cheyanne Elizabeth Cedars, Savannah Claire Cheney*, Claire Elisabeth Crawford*, Katelyn Elisabeth Crump, Brooke Anne Daugherty*, Philip Jeffrey Defatta*, Molly Elizabeth Duddy, Douglas Edward Ferrell*, Sarah G. Fisher*, Lauren M. Fletcher*, Skylar Blaine Giddens*, Taylor Aubrey Giddens, Patrick Kirt Grant*, John C. Hackleman*, Abigail Hope Hagerhjelm*,
Runna Hammad, Justin L. Hobart*, Levi Jacob Holder*, Anna E. Hughes,
Jeannie Cheyanne Hutchins, Davin Scott Johnson, Allison Nicole Judge*, Ashley N. Keel*, Sydney Raye Kethley, Celeste Rebecca Keys*, Haley C. Krumpelbeck*, Patrick T. Lane, Conrad Raymond Langston, Jessica Lauren Linnear, Caden Odell Maxwell, Thomas Richard McKain, Kathrynn R. Miller, Kelli Dianne Miller, Kristyn R. Miller*, Madison Margaret Mitchell, Rachel Nicole Mitchell, Trey Austin Moore*, Heath Roderick Nevins, Alexander Blake Partain, Alexander Gage Pledger, Courtney Paige Polander*, Cameron Layne Robertson*, Benjamin Tyler Robins, Uriel Salazar*, Allen D. Schaefer*, Marshall G. Schoth*, Gerald Edward Shouse II*, Emily Lorraine Slaughter, Rachel M. Smelley*, Cecelia Smith, Mary K. Smith, Obie Spears, Aerial Nicole Stanford, Claire Elizabeth Steed*, Erika L. Strozier, Kevin James Thomas Jr., Carol Thompson*, Brandon S. Toloso*, Caiyen C. Torres, Jessica Trinh, John Gilbert Valdez*, Kathryn Lindsey Vandenboom*, Arturo Villarreal, Samantha Consuelo Villarreal, Kaitlyn Nicole Walker*, Sidney M. Weferling, Jordan F. Wendt,
Madeline R. Wheelahan, Monique Renay Wilkins, Matthew James Wilson, Benny R. Wreyford*, John Joseph Zavalydriga*
Bossier:  Sidney Morgan Behrendt*, Caitlin Michelle Dempsey, Haley Dalienne Dishman, Sabrina K. Ferrell, Lindsay M. Holmes, Courtney R. Simon, Tyler M. Wise
Bossier City:  Parker Thomas Sikes*
Elm Grove:  Caleb Blake Antley
Haughton:  Natalee Suzanne Akers, Tahira S. Alexander, Brittany B. Beck,
Christian Blundell, Christina Bodden, Christina Suzanne Bumpass*, Sara Ruth Burkhalter*, Matthew Allen Busby*, Catherine M. Byrd, Connie Chavis, Dakota L. Digilormo*, Caroline Lindsay Francis*, Brandon Neal Hadley, Taylor Delayne Harbour, Zachary B. Hire*, Lee R. Jackson*, Christopher John-henry King*, Elizabeth Helen Lange*, Bonnye Von Einem Lejeune, Hannah Brooke Logan*, Sierra Nichola Matthews, Cameron Lewis Mitchell*, Tina Lynn Montegna*, Ddon X. Nguyen*, Lillian Katherine Poe, Chyene Bailey Roy*, Sarah Christie Ryan, Matthew Robert Sewell*, Catherine Ann Shaw*, Rachel Nicole Shumate*, Morgan Alexis Smith*,
Courtney James Stepp, Brooke Arden Stigall*, Charles Logan Szekacs, Jessica G. Tabor, Carson Ilene Thomassie, William Devone Turner, Ian Tyler Webb, Jaclyn M. Widder
Plain Dealing:  D'breona D. Johnson*, Amanda Kay Langston*
Princeton:  Michael D. Hardcastle
CADDO
Greenwood:  Collin Wayne Beckermeyer, Kali Daniele Henderson*, Darrian Caleb Mills*, Ryan Wheeler York*
Ida:  Casey N. Audirsch, Annsley Grace Bundy*
Keithville:  Rebekah Ann Hamm, Rachel Stewart Lane*, Andrew Reid Montgomery,
Madison Claire Montgomery, Jared A. Simmons, Jesse Wayne Thomas, Luke Taylor Williams
Mooringsport:  Carlea Nicole Clemens
Oil City:  Madison Paige Davis, Megan J. Koch*
Ruston:  Traci Breanne Winborne*
Shreveport:  Dianna Kathleen Able*, Ty H. Adkins*, Anthony A. Agee*,
David H. Alexander, Korli Shyanne Alford, Cole Dempsey Allen*, Kendall Elizabeth Allen, Mackenzie Lee Allen, Tony M. Arnold, Kady L. Aucoin*, Chance Daniel Back*,
William Jeffrey Back*, Katie Nicole Bakalis*, Christian Josiah Beasley, Phillip Charles Belk, Eric Blankenship*, Jikeeriya U. Bowden, Emilie N. Brewer, Rachel C. Briggs*,
Jordan Lee Brint, Tytiana Ramadah Browder*, Avery C. Bryan*, David Witt Caldwell*, Daniel Campbell, Jacob Cannatella*, Lauren Elaine Carey, Annie S. Carlisle,
Ethan Ryan Carlisle, Erin Marie Carson, Jeremy Jermaine Choyce*, Caroline Barbara Cooper*, Ladecra Shanta' Cooper*, Hayden L. Craig*, Lane Elisabeth Craig, Misty Lynn Creamer*, Daniel Cronin, Madison Bailey Curry, Andrew L. Curtis, Stephanie Michelle Daigle*, Audrey Alana Dethlefsen*, Jonathan David Dies*, Natalee Brook Dinkins*, Shelby Lynne Dodson, Kailyn Danielle Dollar, Savannah Peyton Dorking*, Darby Lee Durel, Joniqua Nicole Dykes, Mary Grace Failla, Alexandria B. Feaster*, Ashlee Brionne Ford, Stevi Brook Fort, Krystyna Anisha Fullwood, Caroline Kelly Garceau*, Mason Tauer Garfield*, Jacob Thomas Gill*, Alexander Joseph Gras, Brian Patrick Greber, Aaron M. Gregory, Kurston K. Griffin, Rachel Elizabeth Haines*, Jaran Hall*, Allison Paige Hannon, Hannah Elizabeth Harlan*, Joshua Dillon Harper, Benjamin Ray Harris*, Nikolaus D. Heitmuller*, Denisha K. Henix, Nicholas B. Hobbs, Sarah Ashleigh Hodge*, Shelby D. Holt, Carson Ford Huckaby*, Meaghan L. Hughes, Hailey Marie Hutchison*, Sarah Elizabeth Ilgenfritz*, Lindsey B. Jackson*, Camellia Dianne Jiles*, Chlese Rochelle Jiles*, Chase Emery Johnson*, Meosha Marquise Johnson*, Tyler M. Johnson, Alyse Marie Jones*, Megan Bryant Jones, Lauren Elizabeth Kahre, Josh G. Keith, Barbara Lynn Kelly*, Claudia Annette Kemper*, Caroline Grace Kinder*, Elizabeth Anne King, Skyler William King, Maggie Kristian Knotek, Quintin L. Knuckles, Olivia Grace Kuehnemund*, Amber Nicole Lenard, Madelyn Elizabeth Light*, Alexis Denee' Little*, Gerald Scott Longmire, Lakenya Louis, Caitlyn Elizabeth Malloy, Victoriann Marsal Manning, Megan Elizabeth Maranto, Marie R. Martin*, Machaela Ann Mason*, Phillip James Mathis,
Makenzie A. McCabe*, Shannon C. McCole*, Madeline R. McGee*, Sadie Marie McGill,
Megan Ann McKinnon*, Margaret C. McNew*, Jo Ann Meeks, Camille Alexis Merendino, Noah Morell Michels*, Ariel D. Milczarski, Kathryn Leigh Miller*, Jacob Tyler Mitcham*, John D. Mitchell, Sarah Rose Mitchell, Alaycia S. Moore*, Tally Daiga Moore, Emily Christin Naquin*, Broderick Dewayne Nelson Jr., Jade Karin Noble, Madelyn Christine Norwood, Isabela Palmieri, Ryan Eugene Pardue, Traci Ann Pardue*, Mallory Ellison Parnell, Kishanbhai S. Patel, Reagan A. Pearson, Samuel S. Pernici*, Rachel Brooke Pharr, Madeline Alanda Pinchera*, Kevin L. Poole*, Bailey Jane Rasberry, Jonathan Ratliff*, Ashley Nicole Richardson, Kenith Samuel Ricord, Nash Norden Robbins, Kailey Andrea Roberson*, Ryan Kemel Burckett Rogers*, Krissy Lyn Salter*, Aaron Marshall Sanders*, Chase Aaron Sanders, Daniel D. Sartori, Tara Lea Schuler, Catherine Taylor Seabaugh, Tyler Walter Sears, Jemma Elizabeth Seaton*, Kathryn Grace Self*, Ashton Cheyenne Shimer, Jordan Cole Simms*,
Pedro Simoncini*, Stephanie Lapundra Sims, Hayley Elizabeth Smith, Trinity Lea Smith*, Brandy Renee Solice*, Madeline Brooke Stephenson*, Emily Carole Still, Teal Bailey Strickland, Jacob Alexander Tadlock, Miranda C. Talbot, Samantha M. Taylor, Shamoree Ricolia Thomas*, Kallie Grace Thompson, Sydney Taylor Thompson*, Ella M. Tichenor, Marin Eileen Tichenor, Courtlyn Noelle Tobey*, Shelby Toms*, Leslie M. Townsend, Allison T. Tran*, Mattie Dakin Tridico, Julia Grace Vanchiere, Cameron P. Vauclin, Jessica Lilyann Vergo*, Brianna Jean Walker, Genhwa Wang, Jasmine Nitisha Williams, Jeffery B. Williams Jr., Jessica Kaley Williams*, Michaela Anne Williams, Trevor Michael Williams, Jazmine Mone` Wright*, Joshua Scott Wyatt, Alexandra Elizabeth Wynne, Gregory Young*, Thomas Frederick Zenter, Jeremiah Matthew-david Pounds, Jecinda Sha` Annunique Turner
Vivian:  Winter Marie Lee Collier, Jake Conly
CALCASIEU
Iowa:  Leighann H. Myers*
Lake Charles:  Zachery A. Bignall, Mary Kathryn Clements*, Dace Samuel Cole,
Kevin Colimon*, Austin Dale Crawford*, Jacob Todd Fontenot*, Jonathan Michael Hughes, Andrew Thomas Jester, Elizabeth Grace Lemons*, Brittanie Liane Loftin*, Grant Loupe*, Taylor B. Lyles*, Julie C. McClain*, Laura E. McFatter, Tristan Nicole Morgan, Grant W. Nelson*, Nicholas Jared Reich, Lauren Eleanor Salvador*, Blake Emmett Sockrider, Hannah Gabrielle Theriot*, Sophia Ann Trafford, Victoria Vanover, Kellie P. Webb*, Ashley Nichole Williams*
Sulphur:  William Thomas Breaux Jr., Kyle Logan Carroll, Brandon J. Cooper*,
Riley Elizabeth Cooper*, Tyler Stephen Hatten, Patrick N. Hill, Hannah Elizabeth Underwood
CALDWELL
Columbia:  Thomas F. Holland*, Page Mackenzie Jacobson
Grayson:  Christopher James Crawford*, Lane Patrick Dale, April Danielle Palmer*
CATAHOULA
Harrisonburg:  Savannah Marie McGuffee
Jonesville:  Cody Alan Ford, Sunni Rae Gresham, Emilee Beth Smith
CLAIBORNE
Athens:  Cathryn Danielle Ellis, Alexis Devonne Wyatt*
Haynesville:  Charlene Kay Presley
Homer:  Braden Michael Dickson, Matthew James Flynn*, Ty William Hays,
Mallory McCall Heckel*, Jakob Ryan Sharpe, Franeka Dorianna Taylor*
CONCORDIA
Vidalia:  Brooke A. Wiley*, Jacob P. Wilkinson*, William Jacob Wilson
DE SOTO
Frierson:  Meghan M. Johnston*
Gloster:  Emily Parham Ouzts
Grand Cane:  Victoria Christine Carroll, Eric Jordan Miller
Keatchie:  Lori Deneen Bandy, Savannah Sunrise Gresham
Stonewall:  Kyndal Brooke Evans
BATON ROUGE

Baton Rouge:  Cody A. Abshire, Jacquelyn Natalie Alfandre*, Emily Lou Allbright,
Emilie Kristen Barnes, Kayla Elizabeth Bauer*, Alexis H. Bellows, Emily Evelyn Berke, Kristie Lynn Braud*, Myles A. Brown, Alyssa M. Campbell, Samantha Lucia Castro*, Jonathan N. Conrad*, Meghan G. Corie, Vernisha C. Cotton, Rachel Nicole Cox, Caleb Nelson Day*, Eva M. Dickenson*, Mazie Marie Dieterich, Carlie Marjorie Dobson, Avery B. Enete, Savannah Sue Esteve*, Nathaniel W. Foster*, Hudson McKowen Gerald*, Connor Daniel Guidry, Patrick W. Hart, Brian Joseph Herry, William R. Huffty*, Mary A. Iseral*, Lauren Marie Johnson, Patrick J. Landry, Malori E. Laporte, Susannah Lee Leblanc*, Andrew S. Mackay*, Miles Christian Maheu, Jacie Jo McClure*, Jackson Keenan McConnico, Micheala E. McCray, Anna Grace Morris*, Katherine Elisabeth Morris*, Kimberly Larue Nolen, Marisa Elle Noonan, Christian Michael Norton*, Samuel Whitney Parsons, Victoria Renee Reier*, Frederick C. Robinson*, Bryan Anderson Saffell, Seth S. Shah, Sarah Elizabeth Sparks*, Emily Claire Spencer*, Emily P. Stephens, Slade Max Stockton*, Elizabeth Nicole Talbot, Christopher M. Thibodaux*, Mitchell Clark Thompson*, Stormi Noel Verret*,
Jon-austin Volland, Langston Alexander Walker, Andrew Lane Wilkinson*
Baton Roughe:  Madelyn Nicole McKnight
Greenwell Springs:  Sarah Rose Dame, Holly Grace Hodges*, Cole Clint Rankin,
Kristen Nicole Shaffer*
Pride:  Garret Louis Broussard*, Colin M. Craig, Matthew James Ydarraga
Zachary:  Andrew R. Albritton, Preston T. Danielson, Mary Elizabeth Day,
Robert D. Dinh*, Aaron Matthew Ewing*, Matthew Michael Flanders*, Kaylan Brianna Hebert*, Colby D. Jones*, Kaitlin Marie Maloy*, Payton David Mangham, Seth A. McReynolds, Miranda Nicole Murray, Stephen T. Samuel, Ryan Scott Schaefer*, Michael V. Tran

CARROLL
Lake Providence:  Jacob Andy Brister
Transylvania:  Alana Grace Sullivan*

FELICIANA
Clinton:  Thomas Carl Anderson, Michael Thomas Kraemer
Jackson:  Aldin Grace Brady, Norman Frank Cook IV, Sydney C. Womack*
Slaughter:  Thomas Denison Arnett, Kaitlin Elizabeth Perry, Quinton L. Townsel

EVANGLINE
Ville Platte:  Lauren Elizabeth Guillory

FRANKLIN
Baskin:  Mallarie Elizabeth Lowe
Crowville:  Aleah King Pylant*
Gilbert:  Ashton Lequn Armstrong
Winnsboro:  Justin Thomas Biggs, Adam Ty Easterling, Jacob Felton Moore*,
Joseph Lane Wolleson

GRANT
Dry Prong:  Taylor I. Agosto, Matthew Stephen Carlin, John Kasey Delrie*,
Brooklynn Grace Self*, Rylan S. Sharbono
Georgetown:  Henry Allan Thompson Jr.
Pollock:  Abigail Joy Holden, Darin Tyler Pasche

IBERIA
Jeanerette:  Paige Elizabeth Stansbury*
New Iberia:  Laurel Alane Blanchard*, Mariah Patrece Davis*, Shavon Trahan

IBERVILLE
Maringouin:  Clarance Matthew Powell Jr.
Plaquemine:  Peyton Joseph Voisin, Connor H. Waits*

JACKSON
Chatham:  Caleb A. Stokes*
Eros:  Andrew Allen Brown, Mallory D. Chapman*, Yasmeen A. Lebbad*, Ryan T. Moore, Collin Patrick Smith
Hodge:  Jordan J. Boston, Emiley L. Sessions*
Jonesboro:  Martin Aviles*, Skyler John-scott Canady, Kari D. Pardue*,
Hannah Maria Roberts, Ethan Taylor Robison, Reanna Lashay Rowden*, Victoria Leann Smith*, Jamie Hunter Strickland*, Alayna P. Thomas*, Kayla A. Watkins, Stephen C. Williams*, Madison P. Wyatt*

Quitman:  Gregory Hunter Anderson, Megan Breann Dibenedetto, Gafe Jerome Gibson, Kason Caleb Goss*, Christopher Wade Hanes, Kaelyn Culpepper Huckaby, Hunter Allen Leedy, Joanna Brooke Petersen, Mary Fayth Rudd*, Bethany J. Schimmel*, Kaelyn W. Sherman*, Gaven Michael Warren, Eryn Chace Culpepper Waters, Autumn Paige Woods

JEFFERSON
Gretna:  Beth Catherine Lacour
Harvey:  Emily Elizabeth Fettet*, Madeleine Mary Fettet*, Justin P. Ortega*
Kenner:  Hossam A. Elsaadawy, Christopher Paul Rhone*
Lafitte:  Mary Justine Voisin*
Marrero:  Travis W. Evans*, Conner D. Hartupee, Mohammed Mohammed,
Shyanthony Rashone Synigal*
Metairie:  Charis E. Bauman*, Colleen Ann Heneghan, Conner Michael Killian*,
Matthew E. Lacrouts*, Coleman W. Levy, Mason S. Manale, Gabriella M. Perez*,
Leslie Olivia Stentz*, Chance Jadine Washington, Adrianna Leigh Wilbert, Houssaye Maurice Michael De La
Waggaman:  Tyler R. Libert, Kayla Alexis Lipscomb

JEFFERSON DAVIS
Elton:  Iris M. Garbarino
Jennings:  Trey Courts*
Roanoke:  Joshua Matthew Granger*

LA SALLE
Jena:  Weston Blake Twiner, Ethan James Welch*, Allen Kade Wilson*
Olla:  Ethan W. Garrett, Hunter Lynn Johnson, Katie Elizabeth Nugent*
Trout:  Makayla Lynette King, Curtis Austin Morace, Katie Alexis Netherland
Urania:  Jonathan Ray Lee*

LAFAYETTE
Broussard:  Sarah Kaitlyn Funderburk, Cameron Wixson Robicheaux*
Carencro:  Jordan A. Doiron, Erin Rebecca Guillory*
Duson:  Beatrice Ann Gautreaux, Samantha Dawn Prejean*
Lafayette:  Lauren Marie Dartez*, Cullen Scott Desforges, Sarah Kathryn Evans*,
Jordan A. Hebert, Josephine L. Hudson, Hannah Maureen Jumonville*, Traci Barr Plaisance, Paul L. Ritter, Cierra J. Shirley*, Tanner Girard Spence, Danielle Marie Teter*, Bryant C. Trahan II*, Jerome Matthew Weil, Noah William Yarborough*
Youngsville:  Haley Kristine Laque

LAFOURCHE
Lockport:  Destiny Michelle Rivet
Thibodaux:  Robert Patrick Gorman, Christopher David Kotar*, Tyler David Pellegrin*, Christopher William Rodriguez*

LINCOLN
Choudrant:  Mallory P. Austin*, Emily Nicole Britt*, Kylie Jordan Farrar,
Paisley Marie Futch, Courtney Hammons*, Trevor M. Hammons, Allie Bethan Hibbard*, Shelbey Lee McGivney, Sarah Grace Minter*, James Bradley Peel*, Emily Kate Posey, Aaron Christopher Taylor, Jurdon D. Thomas*, Anna Claire Wyatt*, Holly Rebecca Wyatt*
Dubach:  Christopher Luke Broom*, Allison C. Brown, Maria Faith Davidson,
Chaning Elizabeth Dorr*, Jackie McDonald Flournoy*, Emily Brooke Fulton*, Christopher Gatlin, Haley Kathlyn Gray, Bradley Wayne Guinther*, Sydney Nalley Guyotte*, Kaitlyn Elizabeth Heiden*, Taylor Alexis Heiden*, Ryan Mitchell Howard, Morgan Alexander Humble*, Wendi Nicole Morgan, Jessica Nicole Paschal*, Jacob Daniel Scharr, John E. Stack, Miranda Henley Theodos*, Riley Hunter Thompson, Henry A. Wiygul
Grambling:  Talyah J. Lewis, Suranut Newton*, Lauralee Denise Sylvain,
Lovely Kanyia Wilkerson
Mandeville:  Brennan Joseph Marque
Ruston:  Emery Leigh Aaron*, Siyovush Abdurakhimov, Mitchell Reid Adams*,
Ghufran Jaber Aldawood, Garrett Christian Allen, Moaid Mohamed Alosta*, Turki Saeed Alothari, Hunter Thomas Antley, Mendez Leandra Aponte, Ankit Aryal*, Akua Frimpomaa Asiedu*, Courtney L. Axton, Angeline Baker, Caisey Michelle Baxter*, Jonathon Wayne Beauregard II, Samir Bhandari, Anna Elizabeth Blake, Ibrahim Bouchaffra, Gabrielle Elizabeth Boyce, Romain Brabant-vila, Hunter D. Bradshaw*, Madison Lyn Brewton*, Michael Lane Brister, Rachel Diane Brown, Gretchen Marie Budds, Tori Alecia Bullock*, Taylor Brooke Burns, Trinity W. Burns, Emily A. Buzulak*, Bethany Michelle Cardenas, Carlotta Cartelli*, Katherine Elizabeth Carter*, Regan A. Catrett, Edward E. Chappell*, William Blake Cheatwood, Michael Isaac Cloud, Nina N. Collins, Emily Claire Colvin*, Morgan E. Corie, Sarah E. Cowell, Daniel Robert Crain, Adam Lee Crawford*, Emma Catherine Crawford*, Kerry Curry, Michael D. Davis, Rebecca D. Davis*, Payal Ashok Desai*,  Nischal Dhungana, Debra Michelle Dick, Taylor Susette Disotell*, Melissa Ann Dosher*, Patrick Thomas Doss, Brandon P. Drewett, Ryan Duke*, Kathryn Nicole Ebeyer*, Eva Burt Edinger, Batse Smart Ekanem*, Yusuf El-awadi, Zachary Daniel Elkharash, Emily Marie Erickson*, Perny Alba Escalona, Maria Del Carmen Flores-rojo, Mikayla Franks*, Benjamin Larkin Fuller*, Caitlyn C. Gallaspy*, Bailee Kate Golden, Nicole R. Graham, Abbie Elizabeth Greer, Anna M. Greer*, Chandler Grace Haddox, Sarah A. Haring, Wakeland Heath Harriman*, Claudia Elizabeth Hayes*, Weslee Colton Hays, Krista Raquel Hebert, Rachel Ann Hegab*, Christopher Jacob Hiers, Morgan Kelsey Hitt*, Paige Brady Hobson, Madison O. Huckabee*, Tristen Huff, Ryan Colby Hughes, Timothy Noah Hutson*, Alexis Faith Jackson, Hanna Jembere, Blaine Michael Johnson, Pablo K. Johnson*, Mercy Wangari Karanja, Madison Grace Kaufman*, Katey R. Kelly, Christopher Alan Kennedy*, Mapula Nomvula Kgoale, Elizabeth Ann-marie Kimble*, Cassidy Marie King, Collin James King*, Taylor McKenzie Kirkham*, Rebekah A. Kirkpatrick*, Austin John Knies*, Pragya Kunwar*, Katie Christine Lashley, Chloe Lautric, Kaitlyn Rose League, Caroline Elizabeth Ledet, Wei Xing Li*, Montana Little*, Huimin Liu, Sydney Lombardo, Ross Michael Madere, Khum Bahadur Malla, Tramaine Canigai Maloney, Benjamin Tyler Mann*, Alisha Michelle Martin, Hannah Grace Matejowsky*, Victoria Lea Matthews, Deterion R. Mattox, Erin Nicole Maxson, Rachael Lynn Maxson*, Kathryn I. McDougle, Adam L. McKithern*, William Nicholas McWilliams, Maria Lynn Meadows*, Olivia Alice Millington*, Errol J. Mire,
Marta Monne*, Landry Bishop Monroe, Barrett Andrew Moore*, Molly Claire Morgan, Linda Claire Morris, Madison Nichole Morris, Sierra Leone Napoleon*, Luke R. Neeley, Elia Ariel Nero*, Hai Thuan Thi Ngo*, Quyet Van Nguyen, Summer Rayne Nimmers*, Harb Dafne Luciana Nogales, Richard Welsey Ogg*, Catherine Louise Olsen*, Jihye Park*, Juwon Park, Joshua Pate*, Jordan James Patrick, Chelsea Lanae Paul*,  Natalie Marie Perry, Mary Katherine Peshoff*, Clayton Michael Porter, Caitlyn Prine*, Mallory K. Pyron*, Pawan Rayamajhi, Patricia Hinton Reeve*, David Austin Reid*, Jaryd Daniel Rester, Zynthia L. Rhodes, Adolfo Lizandro Rodriguez*, Mylene Roy-ouellet, Nicholas Arthur Ruff, Rachel Danielle Ruff*, John Lewis Sams, Sai Spurthy Sathineni, Timothy Schuler, Kiran Sai Seetala, Benjamin Slade Serio*, Marie Kylee Manon Seto*, Monika Sharma*, Anish Shrestha*, Kanchan Shrestha*, Nabin Shrestha, Rasmi Shrestha*, Kameron Brett Simpson, Michael Lamar Skipper Jr.*, Margeaux Smith*, Len Michael Snipe, Erica Sorensen*, Leah Catherine Spence*, Emily Madison Stalsby, Taryn Fuller Stark, Kristi Nicole Strickland, Nathan Andrew Taylor, Fallyn T. Thompson, Kathrine A. Upshaw, Alies Marleen Van Berkum, Dungen Jill Van Den, Sara Marie Vandenberg, William Thomas Walley*, Yangchunyu Wang, Taylor Weeks*, David Allen Welch*, Michaela Gabrielle Wheeler, Rebecca Wheelis*, Caleb Tanner White*, Laura White*, Antonio Kenterrian Wilson, Lori Anna Winborne, Maura E. Yeagle*, Virginia Maureen Young*, Jiamin Yu*, Yajuan Zhang*, Mayasim Mohammed O. Bajammal*, Robert Hutchinson Jackson Jr., Martinez Gabriel Tomas Jimenez* Martinez Miguel Angel Jimenez*
Simsboro:  Samantha Pettway

LIVINGSTON
Denham Springs:  Catherine Mary Chatelain, Joshua P. Chopin*, Ambrielle Shantae Kaufmann, Sommer Mikendra Page*, Grant Michael Schiltz*
French Settlement:  Philip R. Matherne
Livingston:  Luther Richard Pringle III
Springfield:  Cheyanne Malinda Demars*
Walker:  Samantha Renee Nuza*

MADISON
Tallulah:  Courtney Jamal Fountain*, Sunny M. Gaumnitz
West Monroe:  Zachary D. Walsh*

MOREHOUSE
Bastrop:  Kyler Bush, Jordan M. Caldwell*, Kelly K. Green*, Karleigh B. Harrell, Rebekah D. Lenard, Caitlyn E. Petrus*, Claire Ashtin Pitts, Taylor M. Rainbolt, Clay T. Winnon
Collinston:  Shaye Lynn Stewart
Mer Rouge:  Mary Margaret Dixon*

NATCHITOCHES
Ashland:  Seth Randal Martin*
Campti:  Gary Patrick Niette*
Natchitoches:  Khalilah Maryam Al-amin*, Samantha L. Bonnette, William Michael Brown*, Daniel Joseph Chatelain, Nathaniel Adam Gardner*, Christopher Todd Hampton, Tristan Gregory Hare, Brock Michael Kappel, Quincie J. McConathy, Anne R. Mertens*, John Charles Mertens*, Hannah Shae Nichols*, Kayla Marie Rachal*, Caitlin Paige Raupp, Brooke Lauren Teekell, Lesley Virginia Tucker
Robeline:  Victoria F. Manring*

ORLEANS
Haynesville:  Michael David McKnight
New Orleans:  Justin A. Fleming, Krishara L. Johnson, Laura C. Kern*,  Rachel Emily Morris*, Jonathan Kyle Sedlacek*

OUACHITA
Calhoun:  John Chance Allen, Colby Wilson Bass*, Ed'jim A'kiel Beaver*,
Will Foster Brewer, Donja Dee Moody Colvin, Kimberly R. Hodge*, Hope Elizabeth Johnston*, Tobi Samantha Mangum*, Kaitlyn Diane Raney*, Hannah Robertson, Mallory Elaine Russell*, Brittani Artena Sherrill*, Zachary Ryan Staples, Chase Michael Thrower, Shelby Nicole Young*
Monroe:  Joseph Tyler Allen, Hannah G. Altick, Sarah Elizabeth Aydelott,
Haley Nicole Ballinger*, Henry A. Barham IV*, Jeffrey Kaleb Blondin*, Alexander M. Brodtman, Anne Nichols Brown*, Robert Burkley Brown*, Jacob H. Bryant*, Quenton M. Buckhalter*, Khailin Alyse Chambers*, William Russell Chauvin, Bailey Elizabeth Chenault*, Parker M. Christian, Kierra Johnchelle' Coleman, Maya D. Conway, James Cole Dewitt*, Michael Ray Dickerson, Jordan E. Dickinson, Tristan Cole Drummond, Jaeda Aleigha Dunn, Annie Robin Farley*, Ashton J. Garner*, Meredith Grace George*, Benjamin Lloyd Hargrove, Drake S. Harp, Rayna Nicole Hathcox, Julia Annelies Hayward, Ethan C. Headrick*, Emerson Marie Heflin, Abney F. Hicks*, Courtney Alexis Humble, Anna Elysse Lee, Steven Jacob Lowrey*, Kherra Wright Madison, Virginia Louise Mercer, Emily Kathleen Mouk, Christopher Nelson,
Elizabeth Dee Pipes, Chaney C. Rahn, Caroline Lori Ray, Parker M. Reneau*,
Hampton Sanders Roane, Addison Alysse Roark*, Mary Garnett Robinson, Brishauna Renee Scurfield*, Sydney Renee' Shelby*, Justin Ray Slade, Kristyn Rae Smith*, Emma Grace Spencer*, Tracy Ruth Stodghill, Shelby E. Sylvester*, Ronni Nicole Tilmon*, Callie Rose Turner*, Laura M. Vidrine*, Alyssa P. Vingiello*, William Graham Weaver*, Kenneth West III, Hannah Nicole White*, Eboni M. Williams*, Molly S. Williams, Bailey Marie Willis, Pui Ting Wong*, Allison Lea Wyles, Shelby Layne Young*
Sterlington:  Josie Elise Bush, Hannah Grace Collins, Brice Anderson Gillikin*,
Kennon Claire Halley*, Kristen Hope Hutson*, Julia Rose Simpson, Tyler Andrew Sylvestri, Katy Elizabeth Temple*, Luke Christopher Temple*, Madelyn J. West*, Carrington Elizabeth Merrell*

West Monroe:  Zachary H. Ainsworth, Alexandra Lea Albritton, Austin Taylor Audirsch, Abigail Aulds, Mary Frances Aulds, David Grant Beaird, Catherine Anne Bishop*, Emily Ruth Bishop*, Victor S. Bivens, Michael H. Black*, Sarah Elizabeth Booth, Chester Arthur Bradley IV, Kade Allen Brandon*, Kent V. Campbell, Anna E. Christiansen*, Cassidy Ann Clark, Joseph Kyle Coburn, Makenzie Rae Compton, John C. Cox, Whitney Marie Denton, Eric Joseph Dollar, Ferron E. Dollar, Katelyn P. Donald, Casey Nicole Fitts, Kayla Robin Fontenot*, Sari R. Freeman*, Sarah Elizabeth Gaston, Erin Taylor Gentry*, Caitlyn McKenzie Gibson, Destin Jones Givens, Emily Claire Greene*, Chandler Jane Guerriero, Allison Nicole Hale*, Lacey E. Hanemann, Jessica Catelin Hawkins*, Evan Garley Helams, Betsy Ella Hogg, Allison Anne Holtzclaw, Connor L. Howington, William Anthony Joiner*, Joseph Grant Joslin, Britniann Grace Kaufman*, Gary Karlton Kaufman*, Amanda Elizabeth Labude*, Laurelle Lund, Connor Jacob McIntosh, Talor Jessica McIntosh*, Adriane Grace Meggs*, Dustin Douglas Mitchell, Dillon James Morvant*, Taylor Brooke Nugent*,
Cole Lawson Owen, Kaylan D. Perkins, Darla Shiloh Phillips, Sydney Jewel Phillips*,
Tyler James Pitson*, Matthew T. Rice, Cole Roberts, Jonathan Terry Roberts*, Trayser Brett Sartor, Kayla Nicole Schubert, Anna K. Sikes*, Emily Paige Stephenson*, Anna Camille Tatum*, Bradley Charles Thomason*, Caitlin Nichole Tindell*, Steven Tyler Tippen, Ashley Marie Tubb*, Matthew Thomas Upshaw*, Andrew Jacque Vidrine*, Dillon Blaine Walker, Malia Munn Walker*, Katie Alexa Welch, Holden Thomas Zugger

PLAQUEMINES
Belle Chasse:  Warren M. Abadie, Maci Marie Hinkel
Port Sulphur:  Kierilyn Koreil Smith

RAPIDES
Alexandria:  Alexandra E. Barbe, Andrew G. Bell*, John Robert Berry,
Sarah Ashley Boothe, Drake Wimberly Daily*, Hannah L. Delgado, Samuel Aaron Dinnat*, Brian Lane Elkins Jr., Olivia Grace Funk, Eden Danielle Gills, Ke'asia Renee Elaine Green, Rachel E. Gremillion*, C. J. Hicks*, Noah Michael Hopkins, Mitchell Hutchison, Tristan Marie Kramer, Bailey Joseph Laborde, Brady Richardson Laborde*, Samantha Noel Lang*, Ashley Marie Lewis*, Lydia Kaye Margheim*, Matthew Luke Margheim, Taylor John Mathews*, Molly Ann Murray, Walker Harrison Neal, James T'frere Ortis*, Michael T. Osmun, Avery Reaves Polk, Lauren Elise Redmond*, Skylar Spree Taylor, Kirsten R. Willis*, Matthew Shea Willis*
Ball:  Caleb Dane Wug
Boyce:  Christopher James Auzenne, Jennifer A. Auzenne, Andrew S. Baggett*,
Taylor Nicole McFarland
Deville:  Madeline Marie Beauregard*, Jacob R. Brouillette*, Megan A. Green*,
Victoria Hardy*, David Chase Jones*, Kelli Colleen Lucas*
Hineston:  Devin Dewayne Locke
Lecompte:  Elizabeth Julia Booth
Libuse:  Lauren Brooke James*
Pineville:  Victoria Elizabeth Barber, Macaila Lee Bell, Hailey Veronika Chaudoir,
Cameron Charles Curtis*, Maria D. Gallent, Rachel Elizabeth Guess, Laura Megan Halbrook, Mohamad S. Hamideh*, Patrick Mason Hennings*, Michelle A. Hernandez*, Charles Montien Kendrick*, Conor Ian Kerry, Kathryn Elizabeth Lafleur, Brittany Rochelle Leger*, Miranda Paige McMickens*, Mary Reagan Moran*, Taylor Anne Pippen*, Blake Martin Randall*, Emma Marie Robinson, Jasmine Joy Rogers*, Meredith Verret*, James E. Wallace
Woodworth:  Sarah Appalucci-coleman, Emily Catherine Canerday, Cole M. Debevec,
Timothy McBride, Anna Maria Stephenson

RED RIVER
Coushatta:  Nakeeta M. Demery, James Michael Fair*, Steven Lee Longino,
Destiny Trinee Payton

RICHLAND
Delhi:  Elaine Patrice Ezell, Abigayle Renee Ryan*
Rayville:  Bradford Boothe Doughty*, William Aaron Gibson*, Deborah Elizabeth Herford, Orie O'Briant Morris*, Vineshkumar Virendra Patel, Kendall Leigh Williams*, Bailey Adams Woodward*

SABINE
Many:  Morgan Nicole Brown, Rachel M. Pittman*
Noble:  Brandon Anthony Parrie
Pleasant Hill:  Jakota Clay Harris

BERNARD
Chalmette:  Gabrielle C. Kirchem, Kelly Nicole Kneale*
Chalmtte:  Cody Edward Nussbaum

CHARLES
Des Allemands:  Drew Patrick Melancon*
Hahnville:  Anthony J. Cannon, Austin Dale Reyes
Luling:  Mia Elizabeth Bosco*, Michael Bourgeois*, Aimee L. Ecuyer*, Ashley Ellen Riddick, Rebecca L. Robert*, Dylan Joseph Sequeira, Ashley Lynn Waldrop*
Norco:  Peyton James Steib*
Saint Rose:  Al'ah Hamdi Zayed

HELENA
Greensburg:  Maggie Campbell, Taylor Elizabeth Glass

JAMES
Convent:  Marlie L. Poche
Paulina:  Peyton A. Duhe

JOHN
La Place:  Nicholas Joseph Harrington, Ashley M. Wingerter*

Laplace:  Jared Matthew Keating, Cheyenne A. Ortiz, Justin E. Turnbull
Montz:  Kyle J. Harris*

LANDRY
Eunice:  Shelby Denise Olivier*
Opelousas:  Olivia Celeste Buller, Tyler D. Williams
Washington:  Maggie Celeste Beard

MARTIN
Breaux Bridge:  Kaitlyn Paige Babineaux, Jasmine Nicole Leblanc

MARY
Baldwin:  Brooklyn Claire Mayon*
Berwick:  Randi Carol Hoff

TAMMANY
Abita Springs:  Matthew David Bryant
Bush:  Paul David Mire
Covington:  Kevin L. Dang*, Ethan Graham Desforges*, Connor P. Gruntz, Catherine R. Hunter*, Macey Elaine Ory*, Ashley L. Owens, Ryan Thomas Parker, Christopher Alton Rinderle*
Folsom:  Marcus Antoine Kety
Lacombe:  Luke Gabriel Moreau
Madisonville:  Nikolaus D. Durman*, Justin M. Sutton
Mandeville:  Jacob Charles Cambre, Casey Nicole Fernandez, Sarah Elizabeth Goodgion*, Hannah Carlyle Green*, Blade Christopher Griffin*, Luke Randall Hansen*, Danielle Johanna Howell, Ryan Raymond Jones, Dominic Louis Lallande, Erica J. Mataconis*, Samantha Elizabeth Santiago, Catherine Elizabeth Shiell*, Eric Marcelo Valverde, Gabrielle A. Wehner
Pearl River:  Madison Claire Doll*, Sarah Michelle Pazos, Faith Ann Washington*
Slidell:  Charles M. Adeola, Andrew Michael Bearden*, Michael C. Bearden,
Simon Pierre Blache*, Christopher John Cano, Christina Leigh Dorsett*, Austin Reed Dugas, Brianne Nicole Edmiston, Caroline Renee Fontenot, Rebecca Allison Fudally*, Jared Andrew Headrick, Adrianna Renee Iennusa, Brittany Ann Kastner*, Stephen P. Kessler, Judy La*, Marshall Colin Monnier, Hunter Joseph Rasnic*, Daniel Wilkin Spencer*, Reed Douglas Streets

TANGIPAHOA
Amite:  Matthew Lanier Ard, Marlie Louise Giardina*
Hammond:  Kraemer K. Jackson*
Loranger:  McKenna Rae Jenkins*, Anthony Vincent Spedale*, Juan Jose Valenzuela Jr.*
Ponchatoula:  Michael Sangpu Catalanello*, Jebadiah Ray Kraft, John Jacob Kraft IV*,
Lana Frances Larmeu, Tyler N. Leblanc*
Tickfaw:  Julie Marie Gaudin*


TENSAS
Newellton:  Sarah E. Head*
Saint Jospeh:  James Edward Gray*

TERREBONNE
Gray:  Blake J. Roberson*
Houma:  Brett M. Bergeron*, Cole William Bergeron*, Matthew Edward Braud,
Mary A. Burlette, Ann Claire Crain*, Destiny Nicole Hicks

UNION
Bernice:  Kailee Ashton Harkins*, Ashlyn Nicole Turner*, Gabriel Milan Witherington
Downsville:  Corey Delane Antley*, Taylor Rae Antley*, Andrew Thomas Aswell,
Ethan Allan Flanagan*, Tiffany Ann Frost, Brittany Key Hutton*, Ashley Jean Justus*,
Gabriella Lynne Lindsay*, Cory Adam Manshack
Farmerville:  William M. Baldwin, Shelby Dubos Hardey, Maggie Catherine Herrmann*, Haidyn Mackenzie Long, Andrew Blake Mashaw*, Tristan Taylor Salter, John David Sawyer*, Brooke Nichole Scott*, Deanna Williams Sepulvado*, Hassan M. Shahid, Jeremiah Lee Simpson, Melanie J. Tettleton*, Courtland Michael Satterwhite*
Marion:  Mary Elizabeth Hickman, Colby R. Johnstone, Eric Joseph Lane,
Logan Jannell Rhodes*
Spearsville:  Ragan Tyler Dendy, Robin Nicole Jiles

VERMILLION
Erath:  Jena Rose Suire

VERNON
Anacoco:  Jenna Marie Price*
Leesville:  Aaron S. Debray, Sara B. Duffy*, Lillyan M. Hyatt,
Scott McClellan*, Brooklyn Paige Robinson*, Shaylee Annmarie Stephens, Emily Faith Stuart, Ashley Elizabeth Swofford, Christopher Andrew Ward*
Pitkin:  Kaitlynn Maree Willis*

WASHINGTON
Bogalusa:  Johnna Marie Hartzog, Alex R. Keaton, Hannah M. Moore
Franklinton:  Parker Benjamin Bahm*, Jace A. Ball*, Hunter A. Cooper,
Chessa Kay Driskill*, Riley Bond Robertson

WEBSTER
Doyline:  Molly Joyce Day*, Daniel Austin Smith
Dubberly:  Clint Carroll Brittian*, Emily Marie Maness, Chelsea Shaw*,  Halea H. Shaw, Joshua S. Stahl*, Tyler J. Wallace
Heflin:  Allison Marie Powell*, Nicholas Ray Powell, Tarra Campbell Smith*,
Samuel Edwin Thrash, Lindsey Ann Warren*
Minden:  Abigail Frances Baker, Ragan Elizabeth Beard, Andrew L. Bogdan*,
Macie Lee Branch*, Zachary C. Brown, Ashlee Nannette Drake*, Travis L. Freese,
Ryan Andrew Garcia, Gracyn Lee Gorman*, Joshua S. Harden*, Sutton S. Jones,
Mitchell Allen Mays, Molly McCann, Kathryn Ann Murphy*, Alycia Nikole Parker*,
Hannah Carrell Parker, Thomas Austin Pevy*, Will Christian Plants, Caitlin Delaney Randle*, Chesney Nicole Reno*, Madysen Paige Roberts*, Jonathan Clay Simonton*, Austin R. Snider*, Allen Joseph Spillers, Thomas Murray Twyman, Anesia Dominique Wesley*, Spencer Lawless White, Catherine T. Willis*, Derek Noah Wood*, Jordan Taylor Wood*
Sarepta:  Macy Leann Franklin*, Korie Rebecca Fuller*, Allie N. Morgan,
Anne M. Theriot*
Shongaloo:  Chesly Johnston*, Tori Nicole Pesses*, Allison Grace Treece
Sibley:  Lane Thomas Hammons*, Brandi Victoria Kea, Alexis Milan Knott*
Springhill:  Chase Hayden Thompson*

BATON ROUGE
Port Allen:  Jacob Thomas McGee*

CARROLL
Forest:  Alexis A. Trisler
Oak Grove:  Matthew Stephen Beard*, Wyatt Ethan Bolding, Madison Ellis Bruce*,
Joshua D. Carroll*, Madison Elizabeth Dunn, Shane Chase Russell*, Hannah Elizabeth Schrock, Landon Todd Smith*, John Michael Stalling*, Allison Marie Ward
Pioneer:  Kody Steven Brown

FELICIANA
Saint Francisville:  Russell L. Biggs*, Adam C. Broussard*, Shaleen Hunt*,
James Maxwell Slezak*, John Hamilton Willis*

WINN
Atlanta:  Caitlyn Elizabeth Horne, Jancee Renee Lashley*
Dodson:  Aimee Freeman*, Mercedes Danielle Jordan, Mary Ann Rose*
Sikes:  Gavin Thomas Kelly*
Winnfield:  Tory Taylor Brister*, Micah S. Chesney, Nicholas H. Goins*,
Shelby Ellen Green, Kacie Marie Kieffer*, Alexandra Makay Vanblaricum*

MARYLAND
Frederick:  Lucia Rae House*, Thomas Andrew House

MICHIGAN
Dexter:  Jonah D. Hancock
Macomb:  James Hays Ehlmann, Samuel Steven Ehlmann*

MISSOURI
Cape Girardeau:  Anna Murray Garner
Liberty:  Miranda Claire Howland*
Parkville:  Morgan A. Keesee*

Summit:  Kathryn Sloan*
Wentzville:  Sean Colby Gilbert

MISSISSIPPI
Brandon:  David Kyle Mahaffey*, Lexi Rei Miller
Madison:  James Graham Ahlrich*
Natchez:  Blair Nicholas Eidt, Demarcus Tyrell Fleming
Ocean Springs:  Nathan Glenn Bolner*
Picayune:  Katie J. Lowell
Utica:  Edward James Auttonberry
Vicksburg:  Kenneth W. Cook*, Lora C. Johnson*, Mattea Elise Mobley

NEVADA
Henderson:  Tyler Ducote*
Moapa:  Zachary Holt

NEW YORK
Troy:  Lindsey Rosen*

OHIO
Chagrin Falls:  Daniel T. Williams Jr.

OKLAHOMA
Alex:  Randall M. Alexander*
Broken Arrow:  Caroline Baxter*
Faxon:  Jazmine Elizabeth Gnagey
Jenks:  Amy L. Maroney*
Lawton:  Tate Bradley Bolin
Tulsa:  Joseph Anthony Bingham*

PENNSYLVANIA
New Kensington:  Cassidy Lynn Gunsallus
West Finley:  Taylor Alexis Brumley

TEXAS
Abilene:  Katie Gail Green
Aledo:  Michael A. Neff
Allen:  Luke D. Guillemaud
Alvin:  Christina F. Faircloth*
Arlington:  Joshua David Haire*, Joshua John M. Jamero*
Arp:  Tanner David Starr*
Austin:  Alexa Marie Barr, Bailey M. Martinez*, Emma Nicole Mele*
Baytown:  Matthew Garrett Franklin*
Beaumont:  Zachary Logan Morreale

Burleson:  William Bryan Johnston, Kody Ray Russey*
Carrollton:  Kendall Lee Hoy*, Sinclaire K. Porier, Benjamin Ashton Rice*
Carthage:  Jacob Blissett, Trenton Slate Crooks*
Cedar Park:  Patrick Glen Harris
Celina:  Amanda Jean Aguilar*
Colleyville:  Anna R. Popkin
Cypress:  Shelby N. Moore
Dallas:  Stephen G. Bierschenk*, Jacovin Antwon Coats, Sydney Donahue Goudie*,
Sarah Ann Jolly*, Kenton M. Wilhelm*
Denison:  William Hudson Parker
Flower Mound:  Matthew Tyler Holcombe, Nicholas Olin McGuire*
Forney:  Joshua H. Childress, Marilyn R. Rizzato*
Fort Worth:  Joseph Bryan Hardy, Courtney Briann Harriman*, Hannah Noel Long*,
Rebekah Michelle Long
Friendswood:  Erika Marie Aamodt*, Johnathan Hua-zhi Wong*
Frisco:  Mitchell Brandone*, Austin Jewitt Cure, Kailee Hervey*, Alexis T. Jones, Hannah Elizabeth Jones*, Joshua Glenn Moore, Megan N. Nobles, Madison L. Padgett, Garrett L. Scott, Jacob Corbin Sennett*, Caleb Micheal Snook
Garland:  Ezekiel A. Lopez*
Georgetown:  Elizabeth D. McFarling, Annie Smith*
Gladewater:  Taylor J. Rode
Glen Rose:  Laurynn D. Phillips*
Grapevine:  Emily F. Tatum*
Greenville:  Connor Dylan Moss
Hallsville:  McKenna W. Barker*, Caden Mitchell Thomson*, Dara Winsted
Haltom City:  Jessica A. Burgess*
Heath:  Darth Hayden Dockins
Henderson:  Andrew Grayson Wylie*
Houston:  Kendall Jean Ayers, Kayla Renae Clark, Devon L. Dollahon, John William Fontenot*, Paulina Guerra*, Steven David Hicks, Anna McLeod*, Megan M. Milan, Cinthia Alica Rincon*, Parker A. Willmon*
Karnack:  Alissa L. Hattaway
Katy:  Tynea D. Starks
Keller:  Caroline Hughes McVay*, Hope Rheann Moreland*
Kildare:  Carrie Danielle Ragland
Lakeway:  Rebecca Anne Keathley*
League City:  Elizabeth Claire Smith*
Lewisville:  Anisa Ivonne Almeraz, Marcus Lee Ash*, Lindsay Renee French*,
Matthew Bret McDougal*
Liberty Hill:  Mikayla Stiles
Lindale:  Lane Preston Walters
Little Elm:  Cody Elijah Little
Longview:  Shane Edward Anderson*, Katie Angel*, Zackary Davis, Benjamin J. Fanguy, Kayla Faye Farrar*, Taylor Jennings-whisenhunt*, Victoria E. Laughlin,
Roderic Shaun Lloyd, Brendon Scott Mayhall, Bailey A. Mosley, Jordan C. Mosley,
Joseph G. Phillips, Cassandra J. Shoesmith*, Sarah Michelle Smith*

Magnolia:  Michael L. Bullock*
Manvel:  Kaylon Melancon*
Marshall:  Madison Raye Spears*
McKinney:  Madison E. Amick, Kathryn Dianne Jordan*, Blakeney Elizabeth Latson,
Ruston Paul Travis*, Izabella M. Ward
Montgomery:  Gabrielle Elise Banks*, Connor A. Bolleter, Chandler Nash*, Nathaniel P. Robb
New Braunfels:  Hayden P. Schmitz
North Richland Hills:  Taylor Nicole Moore
Ore City:  Miranda Faith McRee*
Pearland:  Kylie Alexandra Brame
Pilot Point:  Preslee Sue Gallaway
Plano:  Kyle J. Beardsley, Hannah N. Nolan*, Laurel Michelle Wyrick*
Richardson:  Grayson Wayne Knox
Roanoke:  Alicia G. Niemirowski, Piper Alexandra Wilburn
Rockwall:  Destinee A. Patterson, Jack Victor Strickland
Round Rock:  Ashley Ann Desoto
Rowlett:  Alexandra Blake Beauregard*
Saginaw:  Emily Rene Gregg*
San Antonio:  Timothy C. Clarkson, Kylie Elizabeth Leone, Jose G. Moreno Jr.*,
Autym C. Scales, Angel Cymone` Sims, Jessica L. Yako
Sanger:  Jaret Gillum, Morgan Taylor Turkoly
Simms:  Colton Scott May*
Sour Lake:  Tyler S. Fontenot*
Southlake:  Kirrily N. Gross
Sugar Land:  Sydne Morgan Goldstein*, Sharon Y. Shih
Tatum:  Bailey Kyle Skinner
Temple:  Thomas W. Hughes
Texarkana:  Katelyn Elizabeth Dobbins
The Woodlands:  Mason C. Mills*
Tomball:  Jeffrey Hazen Cook, Zachariah Creed Walker
Tyler:  Elizabeth Nycole Ezell, Richard Grant McCarty, Daimen J. Moody, Kennedy Renshaw*, Stephanie Elise Renshaw, Kathleen Elizabeth Schmidt*
Van Vleck:  Leah Marie Hanna
Waskom:  Matthew I. Gonzales*, Dustin Thomas Horton, Dominick G. Phillips
Waxahachie:  Matthew P. Louque*
White Oak:  Samantha Crossland*

UTAH
Farmington:  Berkley M. Calapp

VIRGINIA
Suffolk:  Leann Tengowski*

VERMONT

Arlington:  Amber N. Harrington

WASHINGTON
Bothell:  Jeremiah Robert Spring
Malaga:  Randi Roberts
Moxee:  Mariah Marie Rojas
Oak Harbor:  June Magno Amador

WISCONSIN
New Berlin:  Jordyn Taylor Rolli*
Written by Judith Roberts – jroberts@latech.edu