'Still Mount,' 'Life Drop' teams lead Top Dog Idea Pitch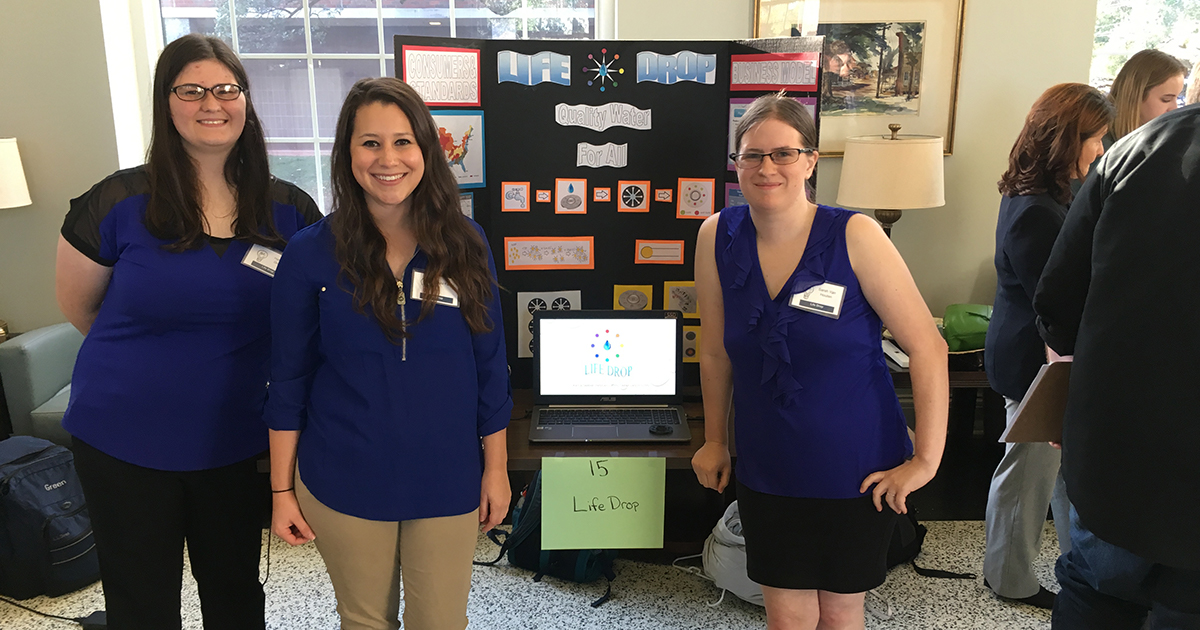 Louisiana Tech student teams pitched their new product/service ideas during the 2017 TOP DOG Idea Pitch sponsored by the Center for Entrepreneurship & Information Technology and Bulldog Entrepreneurs on Tuesday, October 24.
This year's event featured 20 teams delivering five-minute pitches about their ideas to see how professional judges rated their concepts. Students and community members visited each team's booth and voted with Bulldog Bucks for their favorite ideas. The Idea Pitch gives teams exposure to experts who give feedback about their ideas and to potential customers, which help teams gauge market interest.
The Still Mount team won $500 for having the highest number of student Bulldog Bucks votes. Still Mount is a product that stabilizes a camera or smartphone for use in action filming in the extreme sports market. The Life Drop team had the highest judge score total. Life Drop offers an inexpensive and rapid water-testing device that is easy to use in the field.
The next event for the Idea Pitch teams is the final round of the TOP DOG New Venture Championship on April 27. This event offers teams a chance to win money and six months incubator space to help them make progress toward turning their ideas into reality. Teams are mentored by business professionals; Bulldog Entrepreneurs will sponsor helpful business planning seminars in the months before the New Venture Championship.
For more information about the TOP DOG events, contact Debbie Inman at
debinman@latech.edu
.
Teams participating in the 2017 TOP DOG Idea Pitch included the following:
Automatic Engine Shutdown: "Automatic switch that allows an engine to be shutdown automatically when it wrecks or flips" —Johnny Negrete, Haley J. Dishman
Brake Bud:  "Give your brakes a break" — Dustin Coleman, Bryce Davis, Garrett Gibson, Vanecia Winston
CheckPlate:  "To help you make things" — Garrett Allen, Kraemer Jackson, Tate Leitz, Alex Pledger, Michael Tolar
HandiRack:   "In search of an industrial designer to create a prototype for a bag holder for wheelchairs" — Layla Sauer, Mathew Brown, Jami Brown, Camille LeBlanc
HemoCycle:  "Clean blood: Made simple" — Ryan Botts, Joshua Jacobs, Colton Patterson, Steven Pirvu, Caitlin Snell
Kool Kids Pack: "Improving families' recreational lives, one stroller at a time" — Logan Bazo, Michael Foster, MaCara Herbert, Denver Houghton, Jared Keating, Kristen Shaffer
Life Drop:  "Life Drop – Quality water for ALL" — Hannah Green, Kayla Farrar, Sarah Van Houten
Mercs and Mechs: "A VR Mech fighting game that puts you in the hot seat"— Jacob Daniels, Robert Morton, John George Bartel II,
Poly-Vations Trash Master:  "A user-installed pressure release valve for any trash can; this makes the removal of full trash bags an easier and more enjoyable experience" —Charles Crosby, Grant Dixon, Steven Ellis, Conrad Langston, Josh Watkins
Renew Rides: "Our product is an automated, single user, 3-D printed, electric vehicle rideshare system (i.e. automated taxi) powered by renewable technologies" — Tyler Sonsalla, Hector Rivera
Roof Tiles: "Providing electric power on your terms" — Nabamita Pal, Joshua Joffrion, Madhavi Kumara
RWH Filter Unit:  "A rainwater harvesting funnel that doubles as a water purifier" — Brian "BJ" Elkins
Self-Cooling Hard Hat: "Keeping you cool while you work like a mule"— Drew Weekley, Victoria Badeaux
P-lite: "DC-powered Bluetooth-enabled module that syncs LED lighting to music playing on a Smartphone" — Yuam Xu, Paul Puneky, Rafael Torrealba
Planners for Progress: "Plan today for a better tomorrow" — Jacob Cambre, Taylor Giddens, Maddie Patton, Skylar Giddens
Still Mount:  "For when life gets unsteady" — Adam Dodd, Stephen Hudson, Uriel Salazar, Christian Smith, Nikki Spiehler
Sun Belt:  "It works while you do" — Daniel Crain, Kyle Giangrosso, Ryan Jones, Benjamin Lirette, Fallon Mitchell, Josh Raymond
Ultiemate:  "The Swiss Army knife of ties" — Devin Locke
Vivir:  "Allow those who cannot physically experience the life they dream of through virtual reality" — Jon Emas
– Hannah Bustamante, HannahB@latech.edu, 318.257.5281