Plans Take Wing For College Of Business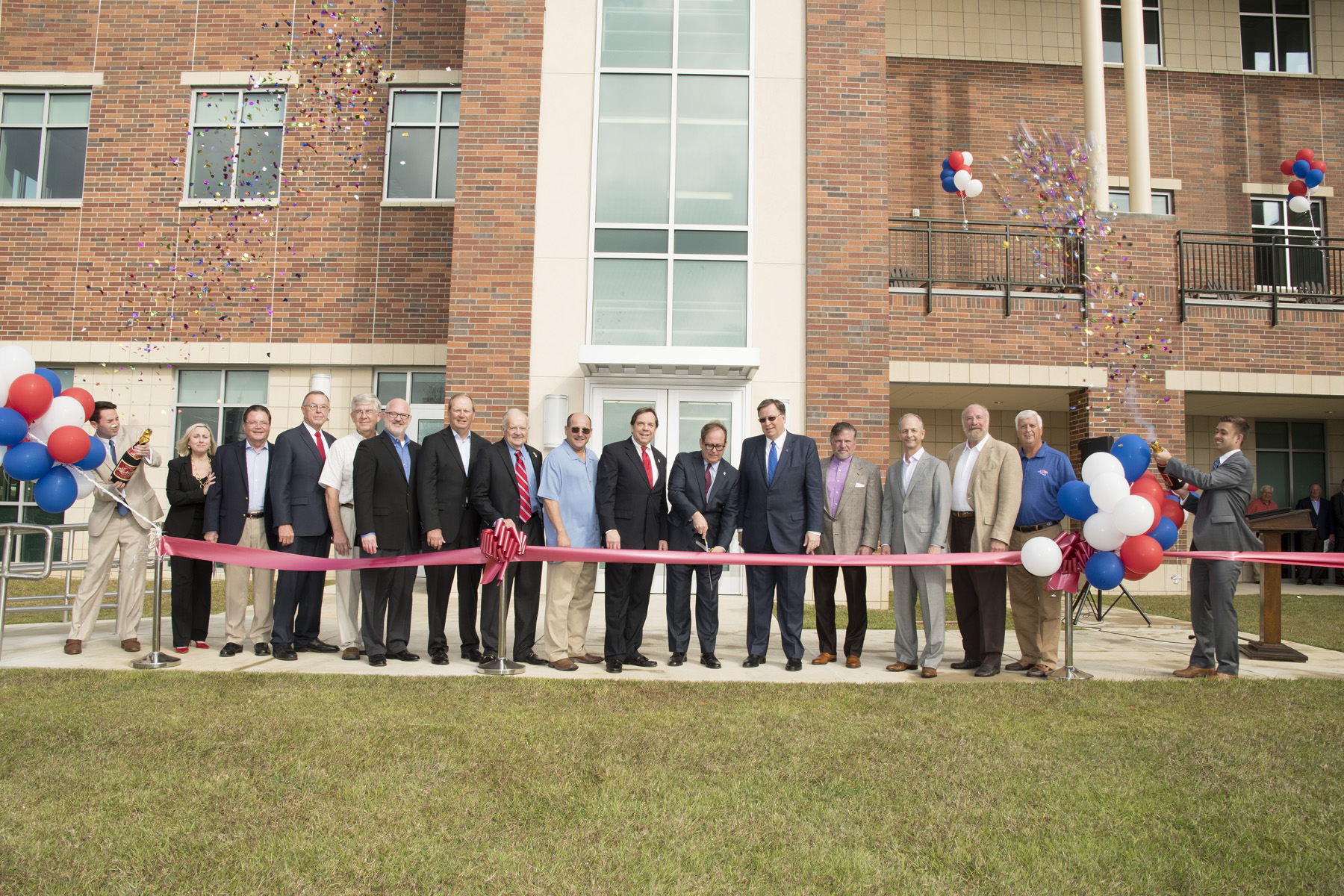 Confetti and a ribbon-cutting ceremony commemorated the opening of a new wing for the Louisiana Tech College of Business.
In early November, Tech students and faculty, donors to the wing and others gathered to witness the official dedication of the construction. Remarks were made by Tech president Les Guice and College of Business dean Chris Martin.
"Not only does the 20,000-square-foot new addition accommodate our growth, but it also enables us to provide an unparalleled educational experience for our business students," he said. "Our new state-of-the-art facility encourages heightened collaboration and teamwork among students, replicating what graduates will find when they move on from Tech to the business world."
Martin said the building provided a space for students to hone their expertise.
"Our active learning classrooms are designed to strengthen the critical thinking, problem solving, collaboration, and communication skills that are required by top companies," he said. "For example, in Ray's Trading Room, our students have been conducting in-depth financial research on companies, industries, and markets around the world. The room is enabling simulated trading and providing the data to support the analysis and decision making of our students working with the College's new Student Managed Investment Fund. The level of student excitement is unprecedented."
Lesley Tucker, a senior marketing major, said as a College of Business ambassador, she was anticipating the ribbon-cutting event and looking forward to seeing the effects of the new addition.
"I think this new wing is going to bring many opportunities and potential students to Tech, especially with Ray's Trading Room," she said. "I feel like it leaves us room to grow with Tech's plans for expanding the University. I think this a great step for us."
"I spend a lot of my time here (at the College of Business)," she said. "It's been a great experience with how friendly all the professors are and how invested even Dean Martin is and even Dr. Guice too. They fully support you; because the placement rates are so big, there are always opportunities for internships and job positions and different things. They are always there to push you to make sure you succeed in the real world."
Bruce Singleton, a donor to the project and a 1985 graduate of Tech, said it was an honor to be able to give back.
"It is a privilege to celebrate the legacies of those who have walked Tech's halls, while at the same time supporting the College of Business as they nurture and develop our future business leaders through this incredible state-of-the-art facility," he said. "It is a bright light on the Tech campus, and offers a multitude of learning opportunities for our students."
– Kacie Kaufman, managing editor, The Tech Talk,
kjk019@latech.edu
, 318.257.3201