New graduates encouraged to overcome obstacles, encourage others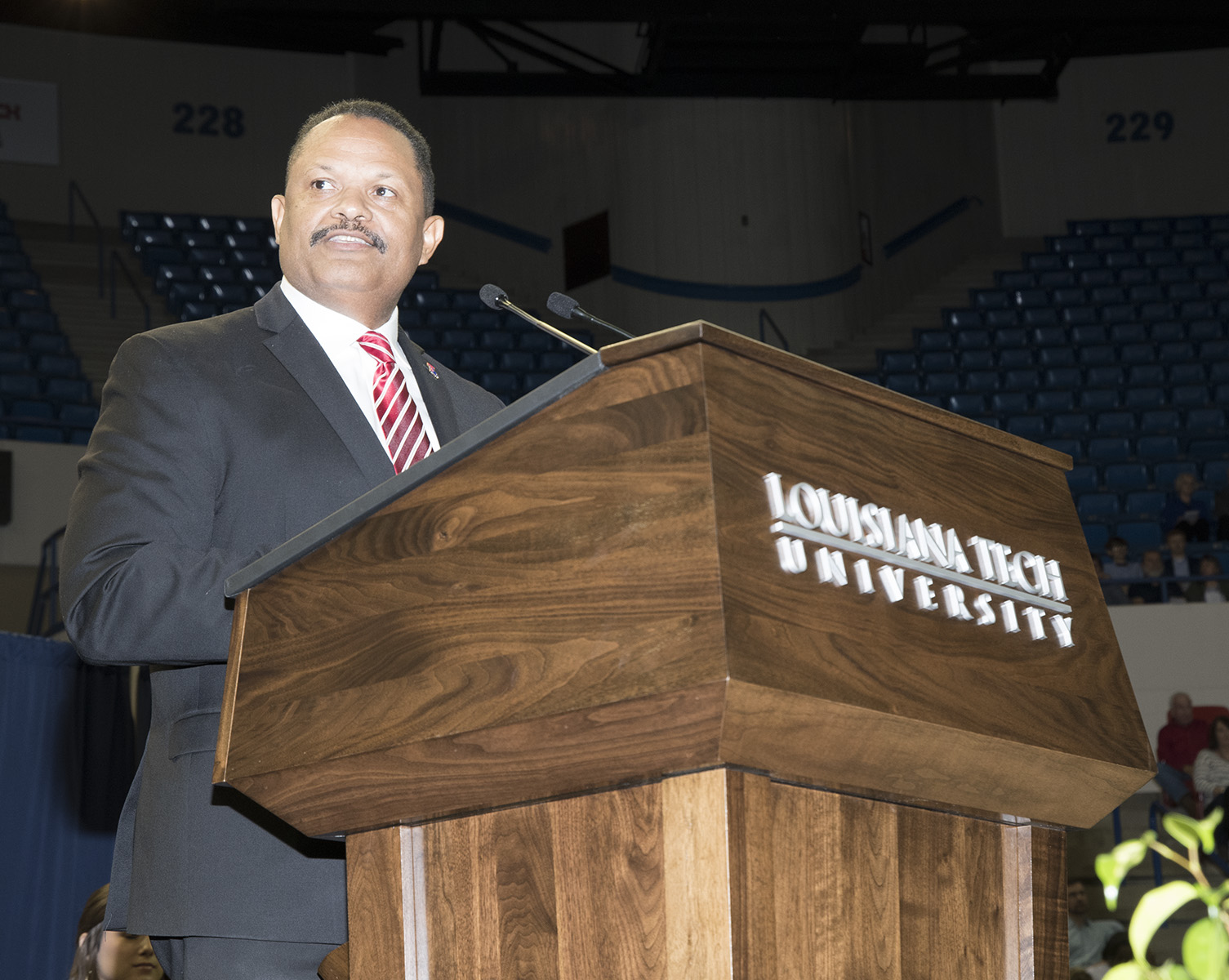 Louisiana Tech University held its fall commencement ceremony Saturday, Nov. 18, in the Thomas Assembly Center, and 284 degrees and one dual degree were awarded.
Commencement officially marked the end of the fall quarter at Louisiana Tech. Winter classes will begin Nov. 29.
John F.K. Belton, District Attorney for The Third Judicial District, served as keynote speaker for the event and gave his personal story of overcoming odds and obstacles.
Belton said he was born with a disease that left his legs crooked, which caused him physical challenges.
"I couldn't walk or run like the other children. My dream was to run like them," Belton said. "I had loving parents. My mother encouraged me to focus on the positives, not the negatives…My father inspired me in a different way. He was firm. He overcame obstacles of poverty and inequality.
"He was shot defending his country. He bled for his country. He was decorated for his bravery, and when he returned home, his own country denied him certain basic rights.
"He is my hero. He was never bitter. He taught me America is still the greatest country in the world, despite its issues."
Because of his parents' faith, Belton said he was eventually healed and went on to play high school and college football, receiving accolades for his performance on the field.
"I am the black Forest Gump," he said. "Run, John, run – run, graduates, run."
Belton said his challenges continued in college, where a counselor told him he wasn't college material.
"Graduates, don't ever let man define who you are. Let God's word define who you are," Belton said. "My parents taught me not to be a victim of circumstance, but to be a victor over circumstances."
Raquel Broussard, a Lafayette native who graduated Saturday with her master's degree in counseling and guidance, echoed Belton's words of perseverance.
"No matter how hard it gets, keep pushing," she said. "It's worth it at the end."
Brock Malbrough, who received his bachelor's degree from the College of Engineering and Science, said he loved every second of his time at Tech, including the challenges.
"There were ups and downs, but it was a pleasure to push through the challenges," Malbrough said. "There are always going to be challenges in life, but always keep your head up and never stop pushing forward."
Belton encouraged graduates to surround themselves with individuals who would speak positives in life.
"You will face challenges," he said. "Remember that you are uncommon. Remember that you are more than victorious. Remember, run."
Judith Roberts, jroberts@latech.edu, 318.257-4907