Louisiana Tech opens Cyber Training Center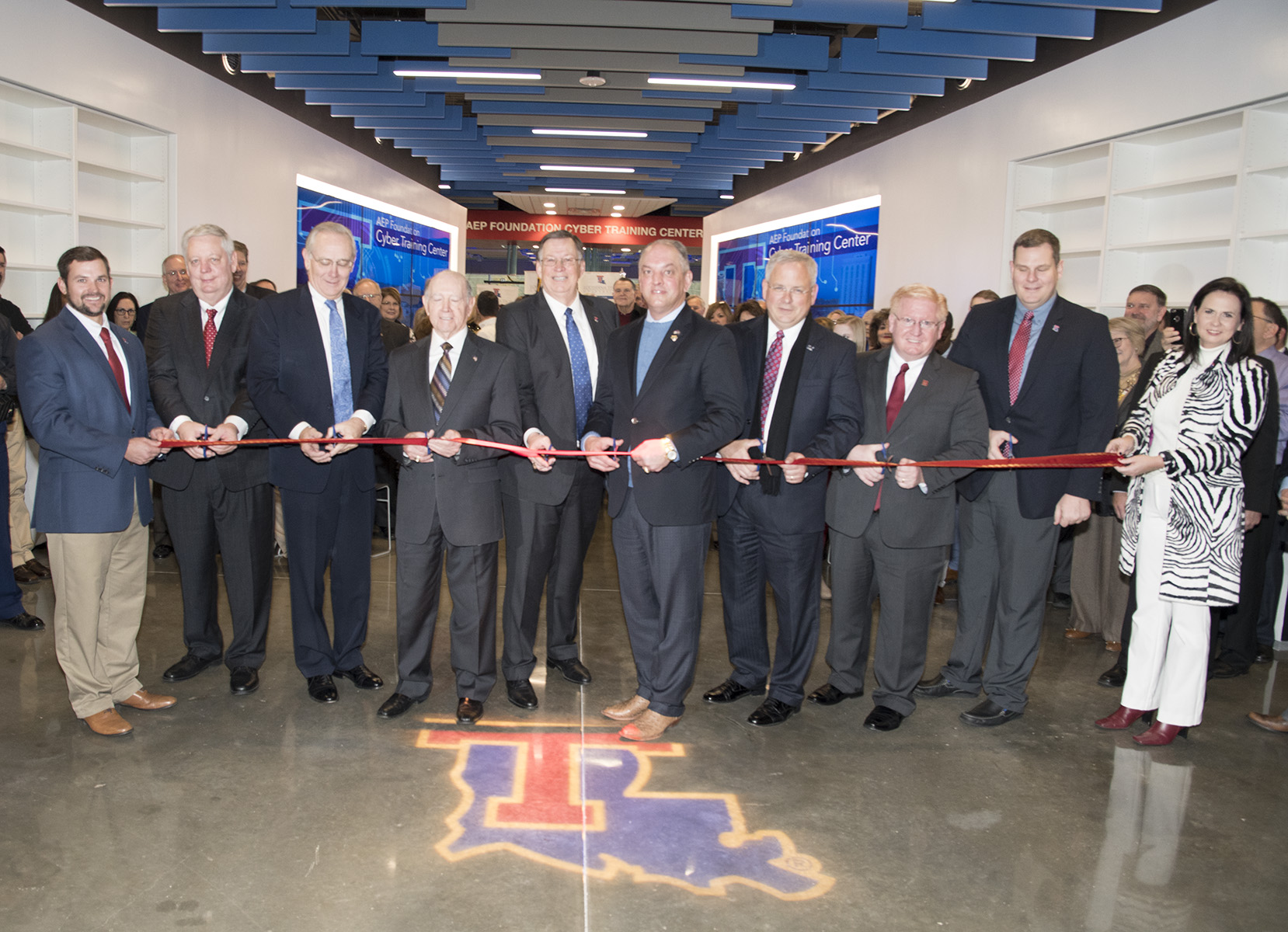 A ribbon-cutting ceremony Thursday morning at the National Cyber Research Park in Bossier City commemorated Louisiana Tech's most recent step toward delivering both greater college and career opportunities to Shreveport-Bossier, and greater cyber support and training to both the area's students and the nation's military.
In a ceremony attended by Gov. John Bel Edwards, state and local dignitaries, and several members of the University's administration, the Louisiana Tech Academic Success Center (ASC) officially opened in a building the University shares with Bossier Parish Community College (BPCC).
The jewel of the ASC is its Cyber Training Center, a facility designed to promote education, research, training, and discovery in a broad range of cyber technologies, techniques, and procedures.
"Today we celebrate strategic workforce development collaborations that will empower area residents with in-demand, high-paying careers that have exceptional growth potential," Tech president Les Guice said. "These partnerships are creating life-changing opportunities for people in our region and state. Louisiana will be stronger for years to come as the impact of these collaborations and programs expands."
The Cyber Training Center will prepare students for one of the fastest growing, well-paying, most in-demand professions in the world.

The ASC is designed to guide populations — BPCC students, active duty military, veteran and non-traditional students – to four-year degrees and career advancement. Tech's partnerships with BPCC, the Cyber Innovation Center (CIC), and CSRA — a premier player in the federal government's mission to remain a step ahead in every aspect of cyber and defense operations —made the center possible, along with a $1 million gift from the American Electric Power (AEP) Foundation and AEP president, chairman, and CEO Nick Akins, a Tech alumnus (1982, 1986). AEP and CSRA helped outfit the Cyber Training Center.
"This newest reality for Tech and for Shreveport-Bossier will not only increase opportunities for students to pursue cyber careers and strengthen the future workforce, but it also builds upon a public-private partnership that is critical to the region's future growth," Akins said.