ULS chairman Al Perkins to serve as winter commencement speaker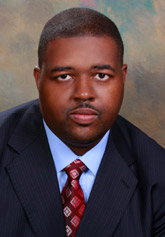 Alejandro "Al" Perkins, partner in a Baton Rouge law firm and Chairman of the Board for the University of Louisiana System, will serve as the keynote speaker for Louisiana Tech's winter commencement ceremony at 10 a.m. Saturday, March 3, in the Thomas Assembly Center (TAC) on the Tech campus.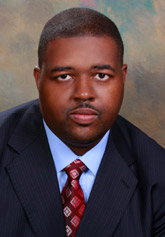 Those family and friends who are unable to attend commencement can
watch the event via Facebook Live
.
Perkins' family includes wife Dina and daughters Alexia and Zaiya.
A native of Dallas, Perkins earned his undergraduate degree in political science from Xavier University of Louisiana in 1999 and his Juris Doctorate from Southern University Law Center (SULC) in 2004. After a two-year judicial law clerkship for the Honorable Judge Wilson Fields at the 19th Judicial District Court, he joined Hammonds, Sills, Adkins and Guice law firm. Al is a litigator specializing in complex litigation, general liability, workers' compensation, labor and employment, education law, and insurance defense. He is the youngest partner of the firm and also an adjunct professor at Southern University Law Center.
In July 2016, Perkins was appointed by Gov. John Bel Edwards to the Board of Supervisors for the University of Louisiana System. In January 2017, he was selected by his fellow board members to serve as the Chairman of the Board for the University of Louisiana System.
"Chairman Perkins has provided inspiring leadership for our System over the past year," Tech president Les Guice said. "He supports us, challenges us, and helps us communicate the powerful impacts of our System for the State of Louisiana. He works tirelessly to advance educational opportunities for our citizens."
Perkins said he wants to leave Tech's winter quarter graduates with the knowledge that "they are significant right now," he said. "You don't have to wait 10 years until you've landed your first big case or successfully performed your first surgical operation or created something wonderful and new in science that changes the world. What you are doing right now is important.
"I want them to remember that people have invested in them and that people have a right to an expectation concerning the return on their investment," he said. "Be a productive citizen in your community. As part of the Tech Family, conduct yourself in a way that reflects the product we put out at Louisiana Tech. Each one of them can do that right now."
Perkins said his serves with the Board because he believes that "education is the pathway to changing community, whether that community is a town, a board, an office, even a family. I believe that 100 percent. When you incorporate education into a community," he said, "you see a change in that community."
"I want to impact people," Perkins said. "Education sets a new trajectory for people. You can look at family after family. Wherever you came from, your ethnicity, the gender, it doesn't matter: educate people and you will see change. So higher education truly is an investment. It's fun to see the positive difference it makes."
Perkins has had the distinction of being recognized by both of his Alma Maters, Xavier University and Southern University Law Center. In 2015, Xavier University recognized Al as one of its top "40 under 40" for his vast accomplishments and service to his community. Southern University Law Center awarded Al the honor of 2013 Distinguished Alumnus in recognition of his many accomplishments to the legal profession and unwavering commitment towards ensuring others have access to education. He received the President's Leadership Award from the National Bar Association in 2016 and 2012.
In addition to his leadership in the legal community, Perkins is a Louisiana Arts and Science Museum Board Member, National Annual Fund Chair for Xavier University, and Vice President of the Xavier University Alumni Association-Baton Rouge Chapter. He is a strong financial supporter of many organizations including his alma maters, and he is extremely involved in the local, regional and national legal societies,
Winter commencement officially marks the end of the winter quarter at Louisiana Tech. Spring classes are scheduled to begin March 7.