Six Louisiana Tech biological sciences students earn awards at annual meeting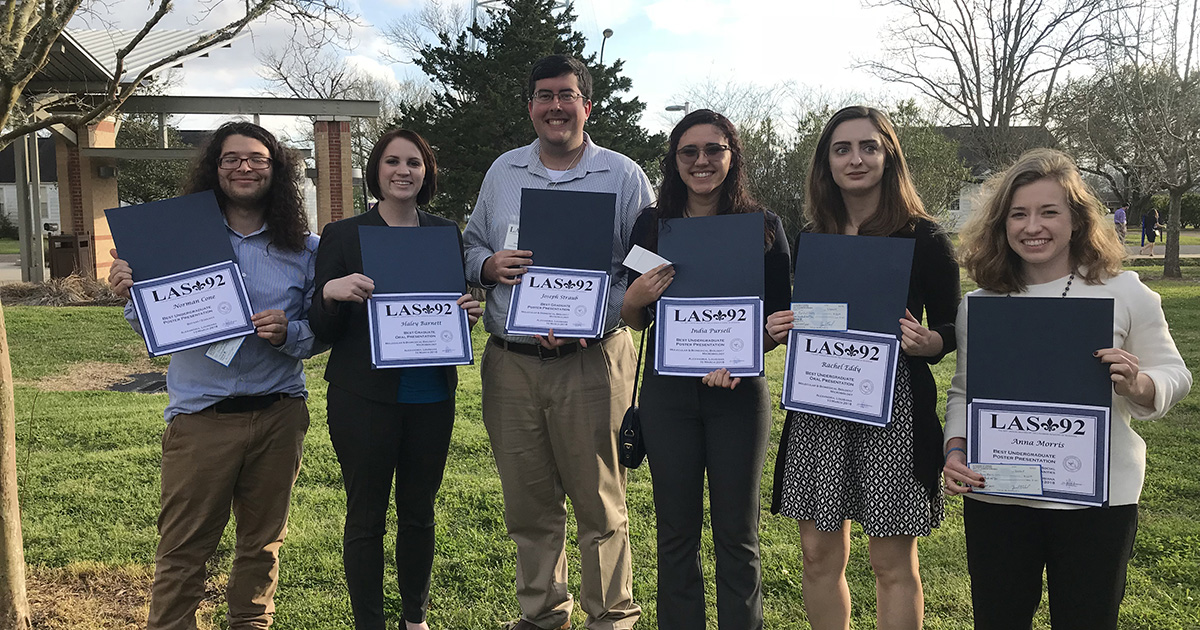 Students from Louisiana Tech's School of Biological Sciences earned six awards this weekend at the 92nd annual Louisiana Academy of Sciences meeting at LSU-Alexandria.
Undergraduate students, graduate students, and faculty from various disciplines met to share their research through poster and oral presentations. With the support of the College of Applied and Natural Sciences, 20 students and three faculty from Tech left Ruston at 6 a.m. Saturday to present their work and learn from their colleagues during this one-day conference.
Students participated in microbiology, molecular and biomedical biology, botany, zoology, agriculture, environmental science, and science and humanities. Awards were given for the best poster and oral presentation in each of the science categories.
"This is a great accomplishment and recognition for our students of their hard work in research labs and coursework," said Tech's Dr. Jamie Newman, School of Biological Sciences assistant professor. "It's always a joy and pleasure to recognize our industrious students."
Winners from the Biological Sciences at the 92nd Louisiana Academy of Sciences Annual Meeting:
Haley Barnett, Graduate, Division of Microbiology/Molecular and Biomedical Biology, First Place Poster Presentation: 'Investigating the Role of Extracellular Cues of PEGDMA Hydrogel Biomaterials on Stem Cell Fate' (Mentors: Dr. Jamie Newman and Dr. Mary Caldorera-Moore)
Norman Jesse Cone, Undergraduate, Division of Botany/Zoology, First Place Poster Presentation: 'Temperature and Density-Dependent Effects on Growth and Survival of a Common Generalist Butterfly' (Mentor: Dr. Natalie Clay)
Rachel Eddy, Undergraduate, Division of Microbiology/Molecular and Biomedical Biology, First Place Oral Presentation: 'Optimization and Characterization of the Osteogenic Differentiation of Human Mesenchymal Stem Cells on Tailorable Hydrogel Scaffolds' (Mentor: Dr. Jamie Newman)
Anna Morris, Undergraduate, Division of Science Education/Social Science/Science and Humanities, First Place Poster Presentation: 'Digital Painting and Medical Illustration' (Mentors: Dr. Jamie Newman & Mr. Nick Bustamante – Studio Art)
India Pursell, Undergraduate, Division of Microbiology/Molecular and Biomedical Biology, First Place Poster Presentation: The Use of Biomimetic Hydrogels to Direct Stem Cell Differentiation for Tissue Engineering Applications' (Mentor: Dr. Jamie Newman)
Joseph Straub: Graduate Student, Division of Microbiology/Molecular and Biomedical Biology, First Place Oral Presentation: 'The Role of MED31 in the Regulation of Mesenchymal Stem Cell State' (Mentor: Dr. Jamie Newman)
Additional Student Presenters from the Biological Sciences at the 92nd Louisiana Academy of Sciences Annual Meeting:
Jacob Cambre, Hannah Logan, Avery Bryan, Undergraduates, Poster Presentation: 'The Role of Notch 3 in Regulation of Adipose Derived Stem Cell State' (Mentor, Dr. Jamie Newman)
Claire Jones, Graduate Student, Oral Presentation: 'The Use of Reactive Oxygen Sensitive Green Fluorescent Protein to Determine Reactive Oxygen Species Production in E. coli and Candida albicans' (Mentor: Dr. Pat Hindmarsh)
Mengcheng Liu, Graduate Student, Oral Presentation: 'The Role of Notch3 in Regulating Stem Cell State' (Mentor: Dr. Jamie Newman)
Casey Morin, Graduate Student, Oral Presentation: 'RatSectPro as a Natural Alternative for Reducing Red Imported Fire Ant Feeding and Nests' (Mentor: Dr. Natalie Clay)
Pedro Simoncini, Ryan Philobos, and Cameron Robicheaux, Undergraduates, Poster Presentation: 'Phylogeography and Cryptic Diversity of Slimy Salamanders (Plethodon glutinosus complex) in the Interior Highlands' (Mentor: Dr. Don Shepard)