Louisiana Tech professor, alumni earn LES awards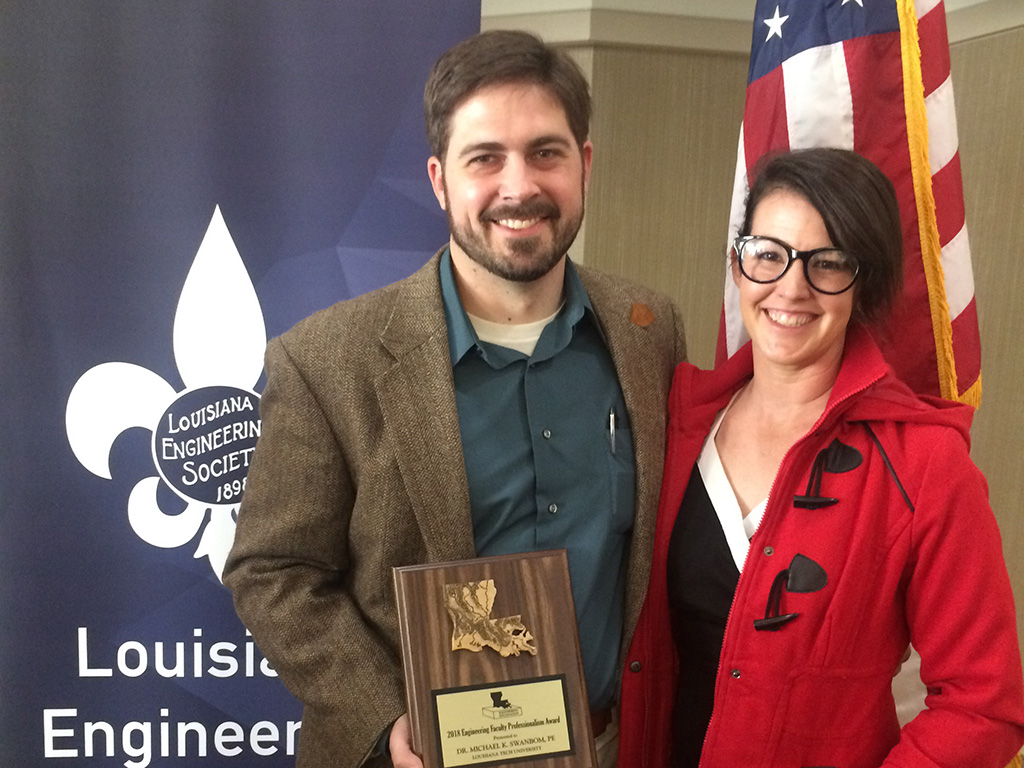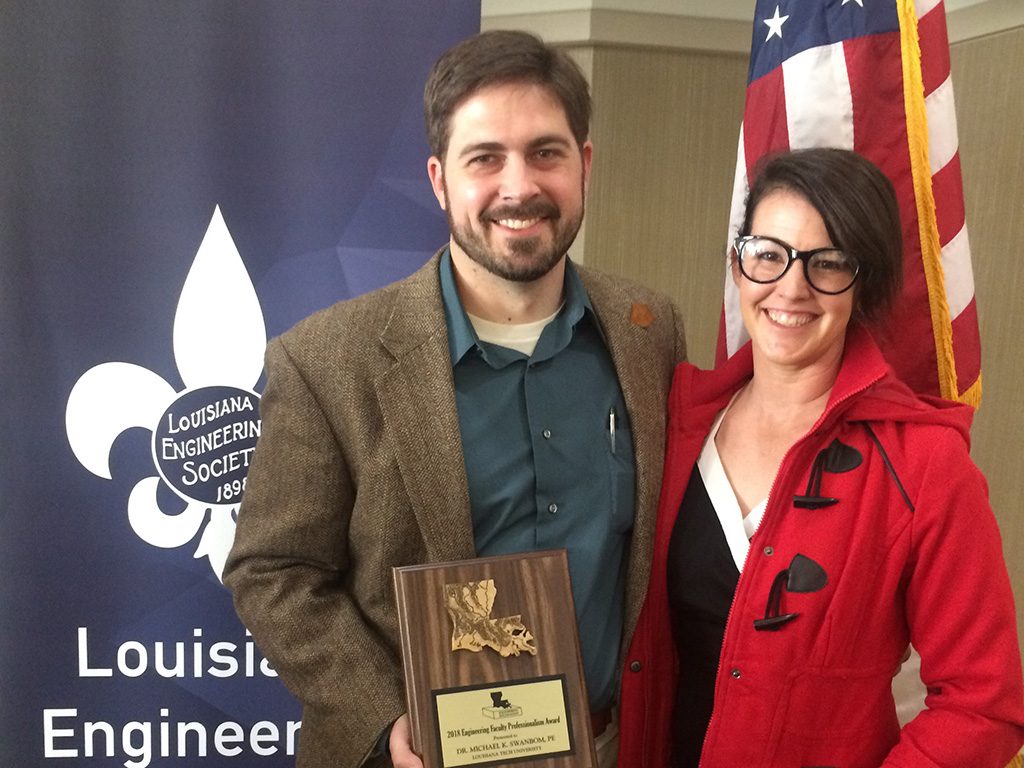 Dr. Michael Swanbom, senior lecturer of mechanical engineering and program chair of instrumentation and controls engineering technology at Louisiana Tech University, has received the 2018 Engineering Faculty Professionalism Award from the Louisiana Engineering Foundation. The award was presented to Swanbom at the 22nd Joint Engineering Societies Conference held in Lafayette.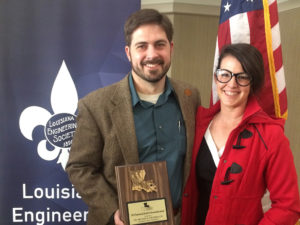 The Engineering Faculty Professionalism Award is given to Louisiana Engineering Society (LES) members who are licensed professional engineers at their universities. Swanbom earned the honor for his dedication to engineering education at Louisiana Tech.
He has been a lecturer with the Louisiana Tech College of Engineering and Science for more than 10 years, teaching a range of freshman and sophomore engineering
Living with the Lab
courses as well as upper-level Mechanical Engineering courses. He helped develop the honors engineering program at Louisiana Tech.
In addition to the Engineering Faculty Professionalism Award, Swanbom been selected by students as a College of Engineering and Science Outstanding Professor on several occasions, and was awarded the 2014 F. J. Taylor Undergraduate Teaching Award.
At the same event, the LES awarded two Louisiana Tech College of Engineering and Science alumni with Louisiana Engineering Society Honors Engineers Awards. These awards are given to individuals who show excellence in engineering fields.
Joey Riggin, P.E., P.L.S., civil engineering 2006, earned the F. Hugh Couglin Young Engineer Award. The F. Hugh Coughlin Young Award Key and Certificate are given to an engineer who is 35 or younger and has demonstrated capability in his or her chosen field of engineering. Riggin is a Project Engineer with Lazenby & Associates, Inc., a Civil Engineering and Land Surveying firm in West Monroe.
Ali Mustapha, P.E., F.NSPE, F.ASCE, civil engineering 1985, earned the Lifetime Achievement Award. The Lifetime Achievement Award is given to LES members who have made significant contributions to the advancement of engineering and the objectives of the Society throughout his or her career and have eminence in engineering or related sciences. Mustapha is currently the Administrator for the Caddo Levee District in Shreveport.
For more information about the LES, visit its website at
https://www.les-state.org/
. To learn more about Swanbom's approach to engineering education, check out his YouTube channel at 
https://www.youtube.com/c/TheBomPE
.