Business hosts second annual etiquette dinner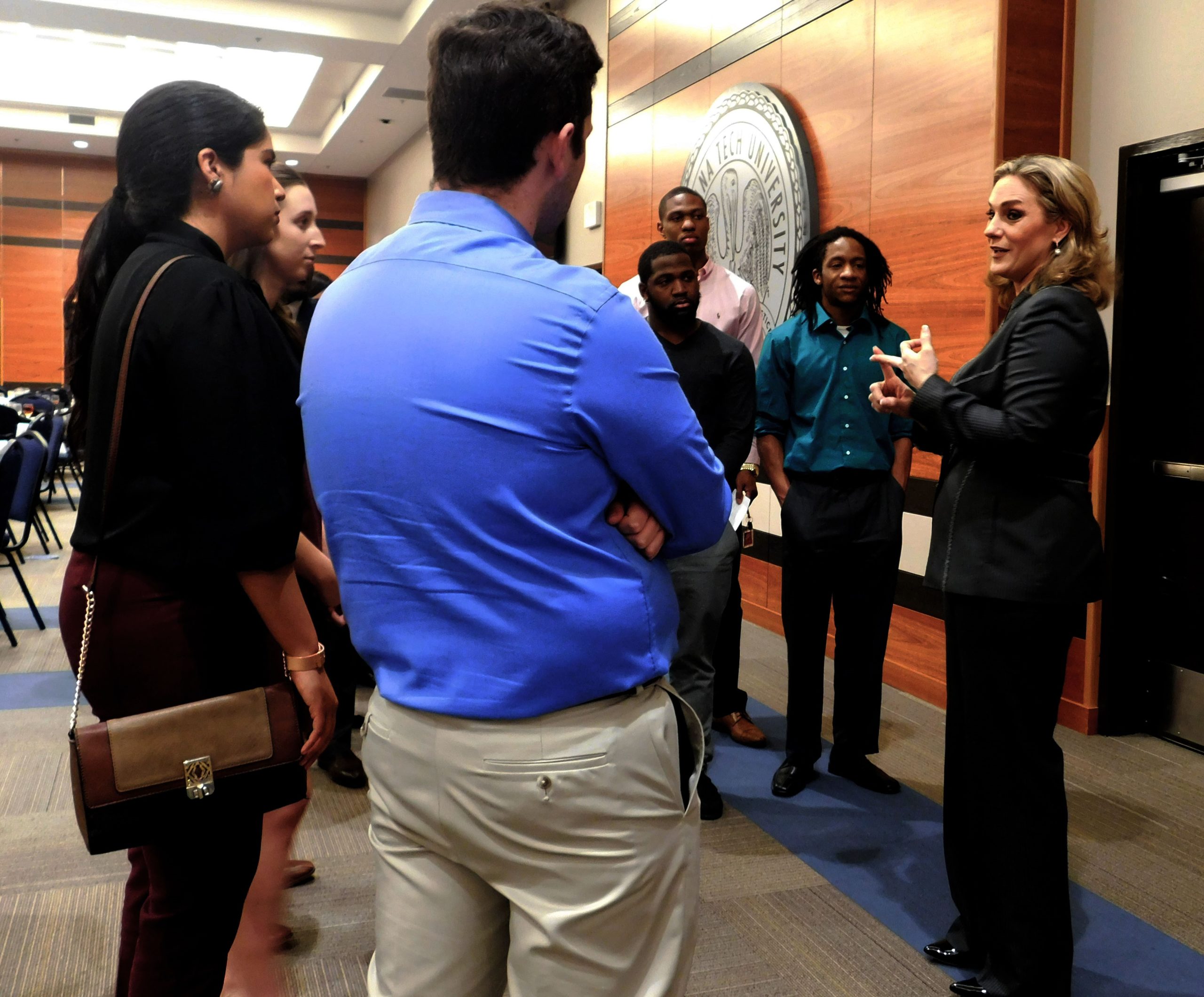 The College of Business at Louisiana Tech University hosted the second annual Etiquette Dinner on March 27 in the Davison Athletics Complex. Sponsored by Graphic Packaging International, more than 160 students attended the event to hone the professional skills that will set them apart in a business setting.
"Training in areas such as etiquette and professionalism are no longer just considered an advantage, but a requirement for today's competitive job market," said Jessica George, director of student services and placement for the College of Business. "This event offered students a valuable professional development experience to polish their business dining etiquette and networking skills."
During the four-course meal, featured speaker Dr. Beverly Thompson, president and executive counsel of Brooks Thompson Consulting, shared the rules of proper dining etiquette as well as interview and business meeting tips.
"Business etiquette is a soft skill that is so critical in the workforce today. As a business owner, I have both hired and fired people based on their soft skills," said Dr. Thompson. "Today we all eat out of Styrofoam boxes and are on the go, but etiquette has to be practiced. Etiquette is a lifetime engagement."
In addition to dining etiquette, students from across majors within the College of Business learned the dos and don'ts of professionalism including how to properly shake a hand and when to engage in business conversation.
"The dinner taught me that etiquette really matters—so much so that it can make or break the job opportunity of a lifetime," said sophomore marketing major Kellie Mounger, of Baton Rouge, who noted she was surprised to learn that getting up from the table during dinner is a faux pas.
Mounger used the opportunity to network, as well. Graphic Packaging employees attended the event to mingle with students and discuss job opportunities within the company.
"Graphic Packaging International is always thrilled to sponsor this type of event," said Graphic Packaging Senior Vice President and Treasurer Brad Ankerholz. "When searching for new talent, we look for both technical skills and soft skills. I'm pleased that Louisiana Tech is providing this kind of education for students, as it's critical to allow them to develop in ways that will benefit their futures."
To help meet the challenge of the increasingly competitive business environment and job market, the College of Business regularly hosts professional development events to equip students with both personal and professional skills. Dedicated to educating, advising and preparing students in every capacity possible for successful entry into the job market, the College of Business equips them with the tools necessary to thrive in careers.
From cultivating relationships with employers to offering customized support and professional and career development initiatives, College of Business graduates are well-positioned for success. In 2017, more than 93 percent of undergraduates placed in the career or graduate program of choice.
"The College of Business did an outstanding job putting on this dinner," said Mounger. "I️ learned so many useful lessons and was able to network and create connections that are already helping me pursue my career path."