COES names outstanding students, faculty, COES Cup winners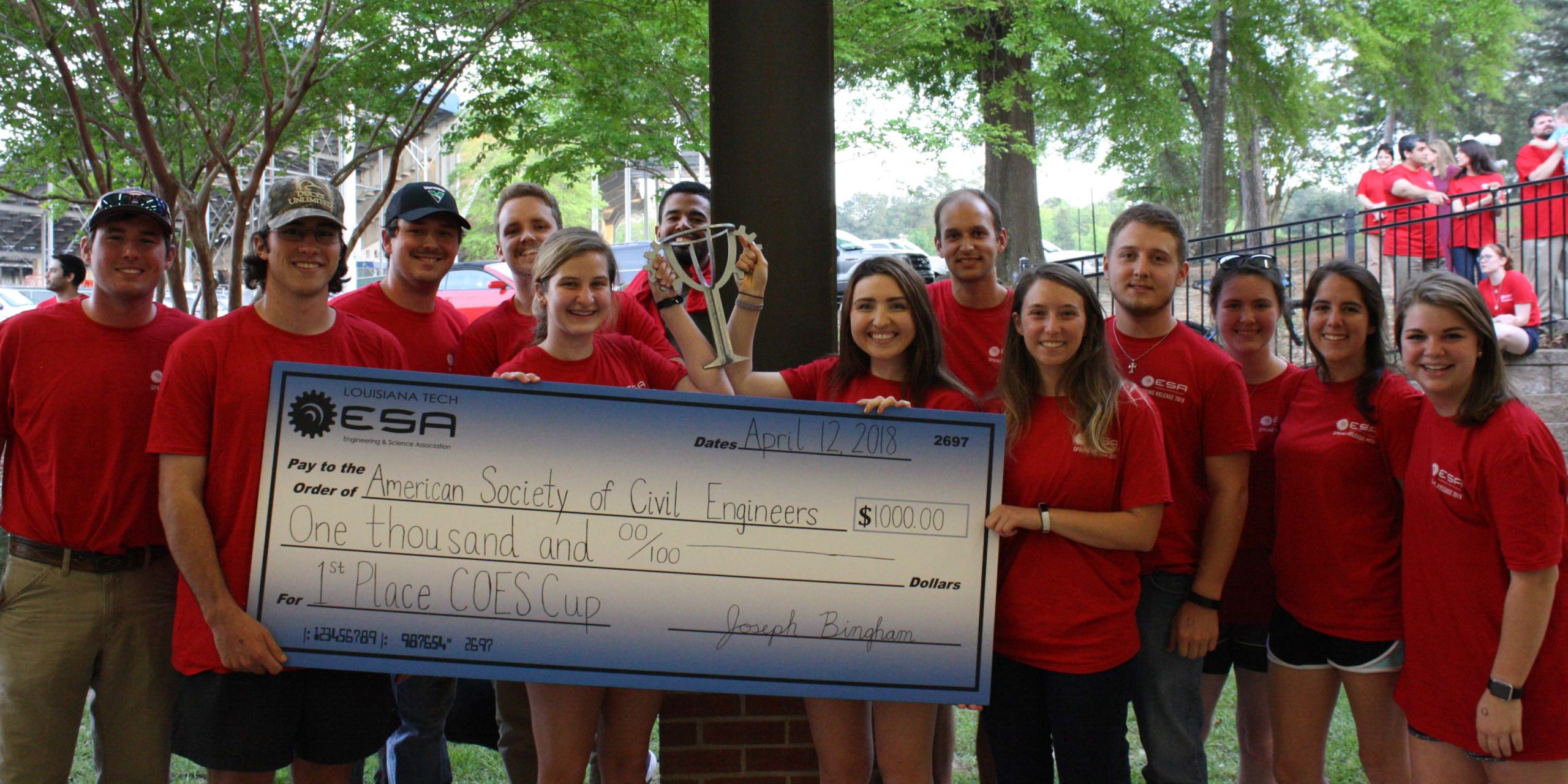 The Louisiana Tech University College of Engineering and Science has announced its Outstanding Students and Faculty and the Engineering and Science Association has announced the COES Cup winners for the 2017-2018 academic year.

Outstanding Students are selected by faculty based on academic excellence and service to the College, University and community. Outstanding Faculty are selected by graduating seniors. The College announced these awards at the annual Spring Release, an event where students, faculty and staff from throughout the College enjoy crawfish and sides in an evening of fun and fellowship.
The College of Engineering and Science 2017-2018 Outstanding Juniors are as follows.
John Aguillard (Electrical Engineering)
Stephen Bierschenk (Mechanical Engineering)
George Cazenavette (Computer Science, Cyber Engineering)
Rachel Hegab (Biomedical Engineering)
Christopher Rodriguez (Cyber Engineering)
Marshall Schoth (Mechanical Engineering)
Dillon Benoit (Civil Engineering)
Shelby Bishop (Construction Engineering Technology)
Pablo Johnson (Computer Science, Electrical Engineering)
Mason Mills (Electrical Engineering)
Mary Kylene Pickett (Nanosystems Engineering)
Rachel Shumate (Mechanical Engineering)
Quinton Townsel (Chemical Engineering)
The 2017-2018 College Outstanding Seniors are as follows.
Haley Dishman (Mechanical Engineering)
Samuel Johnson (Chemical Engineering)
Kelly Kneale (Biomedical Engineering)
Ryan Laborde (Construction Engineering Technology)
Moath Mohammed (Construction Engineering Technology)
Courtney Smith (Civil Engineering)
Matthew Upshaw (Civil Engineering)
Kayla Farrar (Biomedical Engineering, Nanosystems Engineering)
Courtney Geroux (Industrial Engineering)
Lucia House (Mathematics, Electrical Engineering)
Christopher Kotar (Mechanical Engineering)
Sarah Pazos (Physics)
"We are very proud of our students who were selected as outstanding juniors and seniors," Allie De Leo, director of enrollment management and employer relations, said. "These students are chosen based on their academic performance and their involvement not only on campus, but also in the community. We are very pleased with their accomplishments thus far and cannot wait to see what they accomplish in the future."
The 2018 Outstanding Faculty are Dr. Eric Sherer, assistant professor and program chair of chemical engineering, and Dr. Jonathan Walters, lecturer of mathematics.

At the same event, the Engineering and Science Association (ESA) announced the winners of the annual COES Cup competition. Student organizations earn points toward the competition by participating in ESA sponsored events, community service and activities that affect campus and by representing Louisiana Tech at off-campus Engineering and Science Days, national conferences and competitions. Winning teams earn bragging rights and monetary awards to apply to future activities. ESA awarded the Cup to the American Society of Civil Engineers (first place, $1000), the Society of Women Engineers (second place, $750) and the National Society of Black Engineers (third place, $500).