Thanks to donors, Phase 1 of Noble Trees funded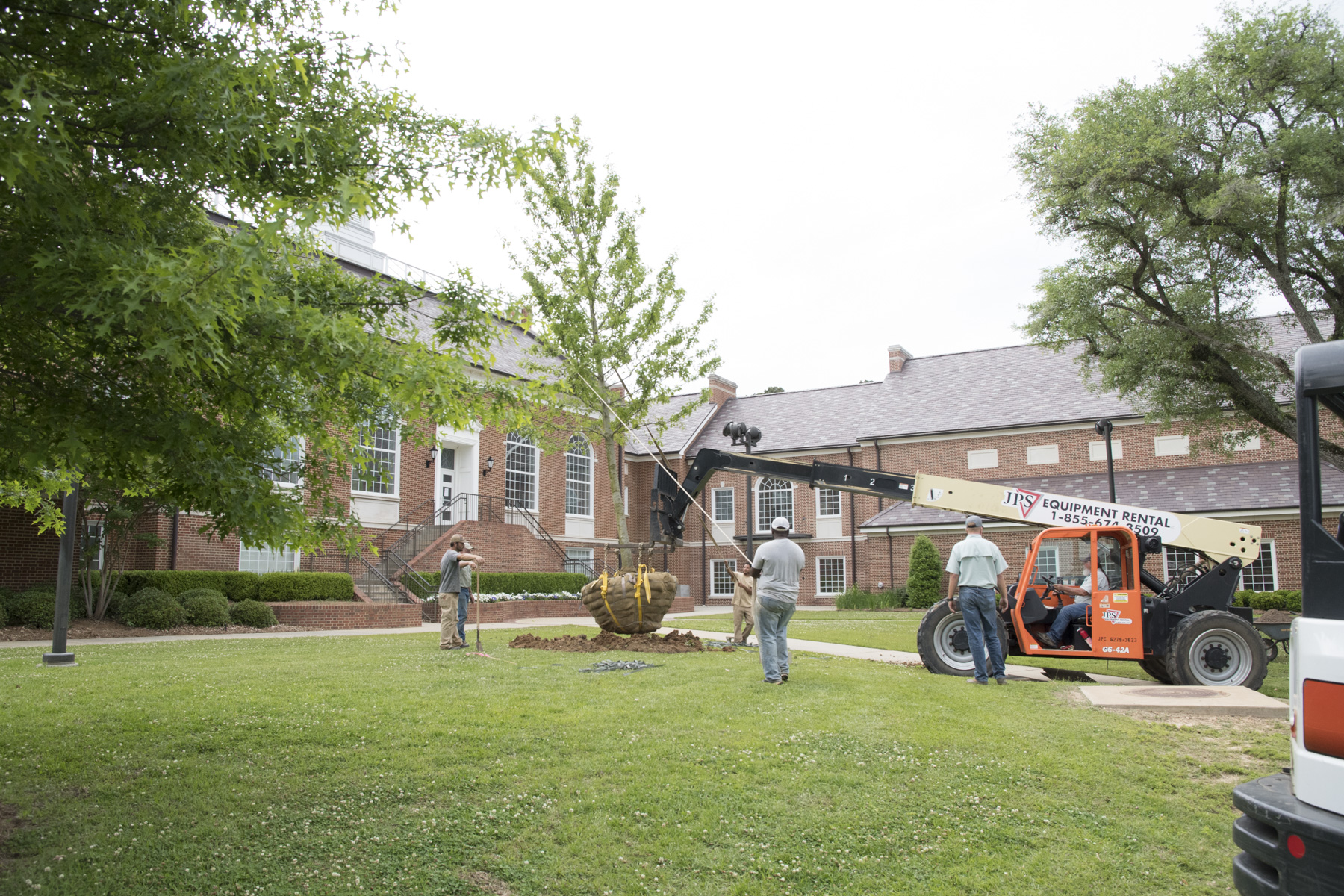 There was no better way to celebrate Arbor Day at Louisiana Tech University than by fully funding the Noble Trees crowdfunding project, thanks to a group of generous donors committed to the beauty of the campus.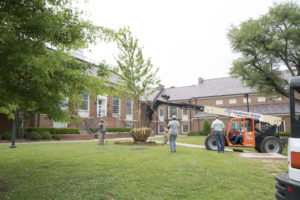 A pleasant walk through Louisiana Tech is solid verification that Louisiana Tech is in the Arbor Day spirit more than ever before. So far, 190 donors have given $118,460 to the Noble Tree fund. The goal for this first phase, which includes new trees in Legacy Park, the Quad, and Keeny Circle, was $75,000.
"Thanks to the leadership gift of Tim and Elaine Petrus, matching funds provided by the Argent Financial Group, and so many alumni, faculty, staff, students, and friends, we have exceeded our goal for Noble Trees," Tech President Les Guice said. "This first phase of a more comprehensive campus improvement project is underway, and we will keep our campus community informed on its progress. Thank you all!"
The first group of trees was recently planted in Legacy Park and another group found a home in Keeny Circle and the Quad.
"I certainly want to recognize Elaine Petrus for her major leadership gift as well as for her inspiration and guidance in the planning phase," Guice said of the 1976 Tech graduate and resident of Fort Worth. "Her experience in development of urban treescapes in Fort Worth and her leadership with the Louisiana chapter of the Nature Conservancy have been most beneficial. It has been most gratifying to see the numbers of people who are so supportive of this project."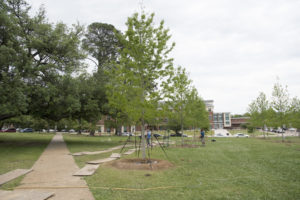 A landscape master planner and an arborist helped the University determine how to increase the health of existing trees, remove trees that are near the end of life, and plant new trees that will restore the core of the campus. This will lay the foundation for a Campus Green that will eventually run from Keeny Hall to Memorial Gym.
Recent studies show that universities with the best physical campus environments tend to have stronger student retention and graduation rates.
When combined with an additional planting near Tech's new Legacy Park Apartments, Phase 1 of this project will result in a gain of more than 80 trees throughout campus. In the past two years, the University has planted over 300 new trees on campus. Tech's near-term goal is to place 1,000 new trees across campus.
A new series of LED light fixtures is nearing completion in the Quad, and the Lady of the Mist will soon feature nighttime lighting. When completed, Tech's paths will be better lit, and the new trees and landscaping will provide an improved evening atmosphere.
"We are incredibly proud of this project, designed to enhance the experiences of those who come on our campus while preserving the meaning of our alma mater, with its pleasant walks and noble trees phrase, for future generations," Guice said.
This initial phase of Noble Trees was funded through the
Tech Alumni Bull Market website
. Funds that exceed the $75,000 accomplished goal will enable the University to move forward more quickly with other campus beautification projects.