College inducts new Order of the Engineer members
The College of Engineering and Science at Louisiana Tech University has inducted 98 new members into the Order of the Engineer. The Order of the Engineer is a national organization that is open to engineering seniors and graduates from colleges with ABET accredited curricula, registered professional engineers and special engineers throughout the United States.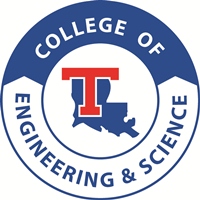 At the ceremony, the following inductees received rings and professed the Order of the Engineer Obligation to maintain high standards in the engineering profession. The Obligation contains parts of the Canon of Ethics of major engineering societies, and initiates voluntarily pledged to uphold the standards and dignity of the engineering profession and to serve humanity.
The following members were inducted in the 2018 ceremony.
Brandon Ashcraft (Monticello, Arkansas)
Jarrett Bailey (Coushatta, Louisiana)
Catherine Beck (Destrehan, Louisiana)
David Berry (Robeline, Louisiana)
Matthew Blohm (Bush, Louisiana)
Michael Bourgeois (Luling, Louisiana)
Morgan Auzenne Bowman (Coushatta, Louisiana)
Mitchell Brandone (Frisco, Texas)
Tyler Bridges (Bossier City, Louisiana)
Lane Brister (Ruston, Louisiana)
William Byerley (Mandeville, Louisiana)
Brittany Castello (Ethel, Louisiana)
Kristen Ashley Chiasson (Destrehan, Louisiana)
Joshua Chopin (Denham Springs, Louisiana)
Dustin Coleman (Alexandria, Louisiana)
Chris Conway (Benton, Louisiana)
Charles Crosby (Spearsville, Louisiana)
Jonathan Culp (Monroe, Louisiana)
Philip DeFatta (Bossier City, Louisiana)
Sanskar Dhungana (Kathmandu, Nepal)
Rachel Dickson (Natchitoches, Louisiana)
Haley Dishman (New Iberia, Louisiana)
Adam Dodd (Shreveport, Louisiana)
William Douglas (Choudrant, Louisiana)
Mason Dunbar (Marksville, Louisiana)
Lacie Duplessis (West Monroe, Louisiana)
Brian Elkins (Alexandria, Louisiana)
Charles A. Ellis (Little Rock, Arkansas)
Ernesto Eterovic (Santa Cruz, Bolivia)
Kayla Farrar (Longview, Texas)
Courtney Geroux (Bay St. Louis, Mississippi)
Garrett Gibson (Benton, Louisiana)
Justin Gondran (New Iberia, Louisiana)
Matthew Goodwin (Waterproof, Louisiana)
Hannah Green (West Monroe, Louisiana)
Grant Grefer (Mandeville, Louisiana)
Patrick Hammett (Jamestown, Louisiana)
Cameron Henry (Sulphur, Louisiana)
Ron Holmes (Baton Rouge, Louisiana)
Denver Houghton (Benton, Louisiana)
Ashley Hutton (Downsville, Louisiana)
Hana Jembere (Los Angeles, California)
Canese Johnson (Marreo, Louisiana)
Samuel Johnson (Huntington Beach, California)
Mercy Karanja (Nairobi, Kenya)
Isaiah Kelly (Shreveport, Louisiana)
Justin Kelly (Grayson, Louisiana)
Skyler King (Gabrills, Maryland)
Kelly Kneale (Chalmette, Louisiana)
Christopher Kotar (Thibodaux, Louisiana)
Aaron Landreneau (Smackover, Arkansas)
Jacob Laney (Hilton Head, South Carolina)
Lana Larmeu (Ponchatoula, Louisiana)
Margaret LeBrun (Columbus, Mississippi)
Tate Leitz (Pearl River, Louisiana)
Jordan Lofton (Ruston, Louisiana)
Errol Hunter Long (Benton, Louisiana)
Vanya Luttrull (Sugar Land, Texas)
Hithaishi Maldeniya (Ruston, Louisiana)
Jamie McKeever (Calhoun, Louisiana)
Miranda McMickens (Pineville, Louisiana)
Carson Mendel (Madisonville, Louisiana)
Roy Messina (New Orleans, Louisiana)
Mattea Mobley (Vicksburg, Mississippi)
Christopher Mondragon (Hamburg, Arkansas)
Leah Murray (Beverly Hills, Florida)
Gloria Mwebaza (Columbia, Maryland)
Johnny Negrete (Gretna, Louisiana)
Joel Newsom (Eunice, Louisiana)
Brandon Parrie (Noble, Louisiana)
Jordan Patrick (Kenner, Louisiana)
Cody Patterson (Benton, Louisiana)
Justin Patterson (Benton, Louisiana)
Dylan Perniciaro (Ruston, Louisiana)
Brooklyn Mackenzie Philpot (Waskom, Texas)
Alex Pledger (Bossier City, Louisiana)
David Reicks (Cabot, Arkansas)
Matthew Rivera (Ocala, Florida)
Laura Rogers (El Dorado, Arkansas)
Camille Savoie (Baton Rouge, Louisiana)
Hayden Schmitz (New Braunfels, Texas)
Kevin Severin (McKinney, Texas)
John Sherman (Alexandria, Louisiana)
Christian Smith (Tyler, Texas)
Nikki Spiehler (Pearl River, Louisiana)
Anna Stephenson (Woodworth, Louisiana)
Jessica Supple (Calhoun, Louisiana)
Charles Szekacs (Haughton, Louisiana)
Justin Taylor (Shongaloo, Louisiana)
August Vidacovich (Ponchatoula, Louisiana)
Thomas Vogel (Lake Charles, Louisiana)
Charlotte Wade (Sulphur, Louisiana)
Cydni Ward (Harvey, Louisiana)
Monica White (Covington, Louisiana)
Jacob Wilkinson (Vidalia, Louisiana)
Luke Williams (Keithville, Louisiana)
Trevor Williams (Shreveport, Louisiana)
Jessica Yako (San Antonio, Texas)