Student service beautifies retirement community
Residents in the Pecan Villa Retirement Community of Ruston will have fresh vegetables and a more attractive landscape for many years to come, thanks to a group of students involved in the Plant Science program at Louisiana Tech University.
Greenscape, the University's plant science club, recently completed the installation of a raised bed vegetable garden at the retirement community. Members held a plant sale in April to raise money for the project, and some materials were donated by local businesses.
"Pecan Villa staff and residents are excited about the garden as it provides an outside activity and fresh vegetables to put on their table throughout the year," said Dr. Paul Jackson, Plant Science professor and club sponsor. "Our students are well-rounded and service minded, and this project was their idea right from the beginning. They wanted a way to share their knowledge and enthusiasm with the community, and I think this is a great way to do that."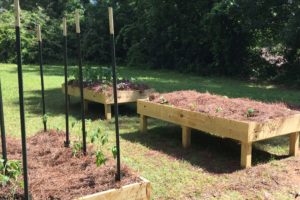 Bell peppers, basil, yellow squash, zucchini, tomatoes, and okra were planted in four raised beds were built in total with two of them designed to be two feet off the ground on legs in order to keep the residents from having to bend down to tend to lower-growing vegetables.  Two other framed beds were built closer to the ground for taller vegetables like okra and tomatoes. Student members of Greenscape will assist with maintaining the garden each year.
Though it was spearheaded by Greenscape members, the project was an interdisciplinary effort as well. Members of the Construction Engineering Club transported the beds to Pecan Villa after Tech Farm student workers helped construct them with help from Tech Farm Manager Waggoner Russell and Beef Cattle Manager Benny Hennen. Alumni even got involved as Tech horticulture graduate John Kavanaugh donated soil for the beds.