Monica Bennett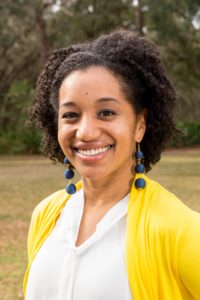 When Monica Bennett left New Orleans and high school for college and Ruston, she did it after measuring Louisiana Tech against her own four standards for the college she felt would be right for her:
Neither too far nor too close to home
Large enough to have many campus activities, but not so large that she would feel lost in a crowd
Affordability
A good academic reputation
"Louisiana Tech met all four," she said. "It was an easy choice!"
Bennett has made the most of her decision. She earned her bachelor's degree in mathematics in the spring of 2007 from Tech, then attended graduate school at Baylor and earned her Ph.D. in statistics there in 2011. Today Bennett, 33, is a biostatistician for Baylor Scott & White Health in Dallas.
She's also on Tech's Alumni Association Board, a member of the Alumni Association, and a regular donor to the University's Potts-Bradford Scholarship, created to honor the legacy of James Earl Potts and Bertha Bradford-Robinson, the first male and female African-American students to attend Louisiana Tech. Not only does she support Tech by sharing her experiences as a student, but she donates some of her time and money to make sure others will have the same opportunities for a Tech education that she had.
"While in college we grow tremendously as people," Bennett said. "We learn an unthinkable amount of information and form countless relationships. The best way to remember how far we've come, how much we've been taught, and how valuable those acquaintances have been, is to stay connected to the place where it all happened. Joining the Alumni Association is an easy step to not only stay informed with new developments at the school, but also to show how proud we are to have had all the wonderful opportunities that a Louisiana Tech education provides."