Engineering and Technology Management program named a Best Online Master's in Engineering
The Louisiana Tech University Engineering and Technology Management program has been named among the "25 Best Online Master's in Engineering Management Programs" in the United States for 2018.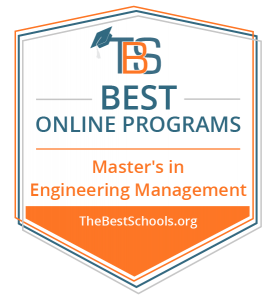 TheBestSchools.org has ranked the Engineering and Technology Management (MSETM) program No. 18 in the nation for students earning a master's degree in engineering management. The Louisiana Tech program earned the ranking based on six criteria: academic excellence, strength of faculty scholarship, reputation, financial aid, range of degree programs offered by the College of Engineering and Science and strength of online instruction methodology.
Students in the program complete a stringent interdisciplinary curriculum that includes courses in statistics, economics and decision making, project management, financial management, engineering administration, and operations research. All students in this program have the option to complete the training for Six Sigma Green Belt certification and Six Sigma Black Belt certification through electives.
The program's tough curriculum combined with its flexibility in scheduling provides students with skills to advance in the workforce while allowing them to balance classes and other responsibilities, such as full-time employment.
"The MSETM program at Louisiana Tech has given me not only the ability to quantify, analyze, and optimize processes, but it also enabled me to confidently take on the project management and financial responsibilities associated with engineering design and construction," program alumnus Jason Howell said. "I was able to enroll concurrently in an MBA program and complete both degrees while working full time. I never missed a day of work."
Howell continued, "My professors were available anytime I had a question. I never felt isolated. In fact, the classroom forums made thinking through problems with other students both easy and expected. The skills I have gained as a result of this program have impacted my performance at my current job in a meaningful way. I am very glad that I chose to invest my time in the MSETM program at Louisiana Tech."
"As a professional engineer looking to grow into a leadership position, the MSETM at Louisiana Tech was the perfect graduate program for me," current student Stephanie Minter, P.E., added. "I always knew that I wanted to go to grad school, but returning to late night cram sessions while retaining my full-time job seemed to be an impossible feat.  Tech's MSETM program coordinator and professors have allowed the necessary flexibility for accommodating my work schedule and unexpected changes in schedule.  As challenging as it has been, pursuing the degree part-time while designing Riverbank Protection for the Mississippi River and conducting project oversight full-time has been one of the most enriching learning experiences of my life."
The best online master's degree in engineering management program rankings are available at https://thebestschools.org/rankings/best-online-masters-engineering-management/. For more information about the Louisiana Tech Engineering and Technology Management program, go to http://coes.latech.edu/engineering-technology-management/.