Laser-like focus lands Tech grad in NASA's flight director chair
Problems with his vision as a boy allowed Paul Konyha III, a 1996 Louisiana Tech graduate in mechanical engineering, to see that his wish of one day becoming an astronaut was not an option.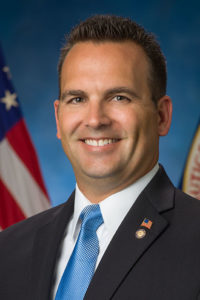 But he didn't allow that to take his eyes off his goal to "stay in the space game," said Konyha, who last week was one of six men and women selected by NASA to join the elite corps of flight directors who will lead mission control for a variety of new operations at the agency's Johnson Space Center in Houston.
Dating to NASA's first flight director in 1958, the 2018 class brings the total number of flight directors the agency has had to only 97.
And Konyha, a testament to perseverance and passion as the oldest of the newest class of flight directors at age 45, is one of them.
"The opportunity to realize your dream may not come when you're 25," Konyha said. "They key is you've got to stick to it."
NASA says its newest class "will have the opportunity to oversee a variety of human spaceflight missions involving the International Space Station, including integrating American-made commercial crew spacecraft into the fleet of vehicles servicing the orbiting laboratory, as well as Orion spacecraft missions to the Moon and beyond."
It's wasn't so easy for Konyha, but fighting for your dream seldom is. After graduating from high school in Mandeville, he wanted to go to "a school close to home and a good 'tech' school," so he came to Ruston to study mechanical engineering and because of the "excellent reputation of the Air Force ROTC detachment."
"Mechanical engineering was more in line with my aerospace interests," Konyha said. "Electrical engineering is more abstract; mechanical engineering is more tangible, something I could get my hands on.
"How hard it was," he said, "was eye-opening."
He didn't just learn what to study but "how to study properly," at Tech, he said.
"It required you to develop more grit, some tenacity, and just grind through your studies," he said. "And you had friends doing the same thing. It helped to feel as if you were on a team, helping each other. We made each other keep going."
And that's what he did when he left Tech in 1996: he kept going. Konyha served in the United States Air Force from 1996 until 2016, when he retired as a lieutenant colonel after holding a number of operations, engineering, and leadership positions for multiple space systems. Since then, he has led the design, test, operations, and disposal of all Department of Defense (DOD) payloads on crewed spacecraft for the DOD's Space Test Program office at Johnson Space Center.
Along the way he earned a master's degree in military operational art and science from Air Univeristy, and a master of science degree in astronautical engineering from the University of Southern California.
"We have a history of service in my family," Konyha said. "So when I was only a kid I knew I was interested in space, and I knew I wanted to serve. I didn't necessarily know which branch; I just wanted to get in the space game."
He encourages students who might want to do the same to begin in the STEM field—science, technology, engineering, and mathematics.
"That's a great way to start," Konyha said. "And remember that's it's not just what you study but how you study."
Konyha is a great example that if you do that and love the chase, then even the sky's not the limit.