Louisiana Tech students earn 12 LaSPACE assistantships
Twelve Louisiana Tech University students have been awarded coveted student research assistantships from the Louisiana Space Consortium (LaSPACE).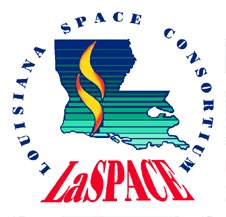 Three Louisiana Tech graduate students earned assistantships through the LaSPACE Graduate Student Research Assistance (GSRA) program, and nine Tech undergraduate students earned assistantships through the LaSPACE Undergraduate Research Assistantships (LURA) program.
Haley Barnett (doctoral student in molecular sciences and nanotechnology), Hannah Green (master of engineering, biomedical) and Zachary Swart (master of molecular sciences and nanotechnology) were awarded assistantships through the LaSPACE Graduate Student Research Assistance (GSRA) program. Barnett, Green and Swart earned the awards for their biomedical research relevant to both aerospace studies and LaSPACE human resource development objectives. LaSPACE issues a maximum of five GSRA awards each year.
Undergraduate students in a variety of programs received LURA awards. John Aguillard (electrical engineering), Evan Glynn (mechanical engineering), Rachel Hegab (biomedical engineering), Kristen Hutson (biology), Madison Padgett (biomedical engineering), Bethany Perez (biomedical engineering), India Pursell (biology), Kaitlynn Willis (biology) and Trevett Young (chemical engineering) earned assistantships through the program. These nine students received their awards for research that they will continue to engage in with faculty on NASA-related aerospace, space sciences and aeronautics research.
"It is very exciting to see so many of our students apply for and being awarded LaSPACE student research assistantships," Dr. Mary Caldorera-Moore, LaSPACE Louisiana Tech campus representative and assistant professor of biomedical engineering said. "The LaSPACE undergraduate research assistantship (LURA) provides them with their first opportunity to gain invaluable research experience."
"I'm thankful for the opportunities and experiences that have resulted from my time performing research at Tech. Research has not only allowed me to improve my techniques in the lab," Barnett said. "But has helped me communicate our work in the scientific community. The support and guidance from my advisor, Dr. Caldorera-Moore, has been instrumental in the successes I've experienced thus far."
"The ability to contribute to and perform research as an undergraduate might be my favorite thing about my education at Louisiana Tech," Aguillard added. "My time spent in our research labs, especially Dr. (Arden) Moore's lab over the past two years, has helped me to grow tremendously. This LURA award will help to further advance both our nanowire research and my research skillset. I'd like to thank LaSPACE for their support of our project, as well as Dr. Moore for his guidance and mentorship."
The LaSPACE Consortium is a member of a nationwide organization that partners NASA with colleges, universities and other space related institutions to promote scientific research, workforce development and public outreach to develop and strengthen long-term research capabilities that will make significant contributions to the research and technology Mission Directorates of NASA.
GSRA and LURA Assistantships
Barnett will work with Caldorera-Moore in investigating the role of surface chemistry of biomaterial scaffolds on human adipose stem cells for muscle regeneration.
Green will work with Dr. Bryant Hollins, lecturer of biomedical engineering, on rib bone incorporation in paper-based microfluidics for improved sample mixing.
Swart will work with Dr. Adarsh Radadia, assistant professor of chemical engineering, on local oxidation nanolithography on graphene ion-sensitive field effect transistors.
Aguillard will work with Moore, assistant professor of mechanical engineering, on a solution-processed copper oxide nanowire arrays for space-based short wavelength IR sensing/data transmission.
Glynn will work with Moore on the evaluation of ferrofluidic manipulation as a means of achieving high reliability surface emissivity control for spacecraft.
Hegab will work with Caldorera-Moore to develop 3d dynamic hydrogel tissue scaffolds for the regeneration of astronaut's cardiovascular and skeletal systems.
Hutson will work with Dr. Gergana Nestorova, research assistant professor at the Louisiana Tech Institute of Micromanufacturing, to study the effect of high-energy radiation on the formation of 8-hydroxy-deoxyguanosine.
Padgett will work with Caldorera-Moore to research cell loaded hydrogels for chronic wound healing and tissue regeneration applications.
Perez will work with Dr. Scott Poh, assistant professor of chemistry, to research the point of care detection of radiation-induced oxidative stress using H202 responsive electrochemical probe.
Pursell will work with Dr. Jamie Newman, assistant professor of biological sciences, to research differentiation of adipose-derived stem cells on biomimetic hydrogels to induce myogenesis.
Willis will work with Nestorova to study the effect of proton and photon radiation on mitochondrial mass and oxidative activity.
Young will work with Dr. Andrew Peters, assistant professor of chemical engineering, to research coarse grained molecular dynamics simulations of raster solvent annealing.