TTC team project LOCKBLOCK earns multiple awards at the 2018 Silicon Valley International Inventions Festival
Louisiana Tech University Trenchless Technology Center (TTC) research has earned three awards at the Silicon Valley International Inventions Festival in Santa Clara, California.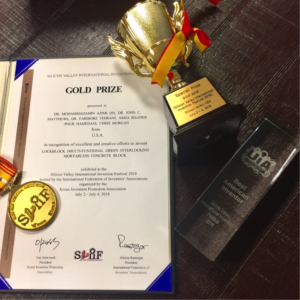 TTC team members Dr. M. Azimi (Louisiana Tech), Dr. John Matthews (Louisiana Tech), Dr. Fariborz Tehrani (California State University–Fresno), Asma Bagher Pour Hamedani (Louisiana Tech) and Chris Morgan (Louisiana Tech) earned the gold medal from the festival, the "Best American Inventor" award from the United Inventors Association and the Special Prize from the Korean Invention Promotion Association for their LOCKBLOCK product.
LOCKBLOCK is a new generation of sustainable, multi-functional, interlocking mortar-less concrete blocks that increases construction productivity, safety and resiliency, decreasing construction duration, labor and cost. LOCKBLOCK's special design provides self- alignment facilitated by the interlocking features in both vertical and horizontal directions, and works as a strong adjustable damper to absorb energy from vibration sources such as earthquakes.
The team proposes using interlocking geometry to enable mortar-less construction, as well as lightweight, recycled aggregates and green concrete to improve the ductility of the system and to reduce the environmental footprints. They also propose incorporating passive damping systems to improve energy dissipation, ductility and flexibility in case of any strong vibration.
 "This product by its wide range of applications, adaptability and abilities will change the future of construction and save lives, time and cost," Azimi said. "This achievement is a result of great teamwork, and I would like to express my highest level of appreciation to the TTC team for their support and encouragement. I would also like to express my thanks to my lovely wife, for her endless support and inspiration; she is one of the main team members in this project."
Matthews, TTC Director, says that he is proud of the work the TTC team put in to the project and the awards that the product earned in the competition, which included more than 100 products from more than 20 countries.
"The TTC is very proud of these awards, and the LOCKBLOCK research, which was led by Amin. He is an extremely hard worker and valuable asset for the Center."
The TTC is a cooperative research center that coordinates research between academia, government and industry and leads the way in trenchless construction innovation around the world. The center draws on the research skills of interdisciplinary faculty and staff, strengthening its ability to develop and transfer information and products.
For more details about the award-winning project, please contact Azimi at azimi@latech.edu or 318.243.8106.