Tech professor promotes STEAM activities through community outreach
Dr. Erica Murray, research assistant professor with the Louisiana Tech University Institute for Micromanufacturing, led summer STEAM activities during the Lincoln Parish Library 2018 Science Rocks! summer program.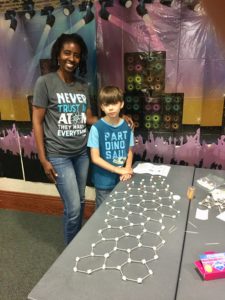 "I want the children to realize that science affects our daily lives and is not just a subject that they study in school," Murray said. "I hope that these activities will help increase their familiarity, comfort level and interest toward science."
Lincoln Parish Children's Department Librarian Pamela McLaughlin, says that she reached out to Murray to present STEAM (science, technology, engineering, art, and mathematics) activities to help both children and their parents understand the impact that science has on their daily lives.
"The inspiration and stimulus for the STEAM activities were to show children and parents that science is all around them every day and that science can be exciting and fun," she said.
With those goals in mind, Murray presented two sessions with activities that illustrated basic science concepts using common foods and household products. By using ingredients that attendees were already familiar with, Murray hoped to remove some of the mystique from science.
During the "Rainbow Science STEAM Activity," more than 50 children made a rainbow of colors as they learned about acids and bases. They were delighted to see the results of mixing red cabbage infused water with shampoo, dishwashing detergent, vinegar and other common household products, which caused a chemical reaction resulting in vivid colors.
During the "Building Atomic Structures STEAM Activity," nearly 30 children learned about atoms and molecules and were guided in creating atomic structures for diamonds and graphite using marshmallows and toothpicks. They learned that pencil "lead" is actually graphite made of carbon atoms like a diamond, but the atoms are arranged differently in the lead. The kids had fun building their structures and then eating the marshmallows.
"I'm so glad to see a Tech influence at the local library," said Chereis Wilson, parent of attendee C.J. Wilson III. "It was a wonderful program. Dr. Murray was captivating and was able to explain a complicated subject to children so that they could understand and get excited about it."
"It is my hope that reaching kids in ways that are familiar and fun will help to break down barriers that discourage students from learning science while encouraging more students to pursue science education," Murray said.
Support for these STEAM activities was provided by the Monroe-Grambling (LA) chapter of The Links Incorporated, which is an organization dedicated to providing community outreach services.