Louisiana Tech concludes summer sessions with commencement
Louisiana Tech University graduated 292 students during its single summer commencement ceremony Thursday morning in the Thomas Assembly Center.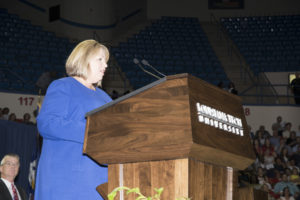 During spring commencement in May, a total of 1,061 graduates — the largest class in University history — walked across the stage during two separate ceremonies.
During her commencement address, Dr. Angela Kennedy, CEO of the Commission on Health Informatics and Information Management Education and a former faculty member at Louisiana Tech, suggested to the graduates that they'd probably shared many of the same Tech experiences; Kennedy completed undergraduate and graduate work at Tech, then spent 19 years on the University faculty before retiring in October 2017.
"I've spent half my life on the Tech campus," she said. "I know that at times, it seemed like college would last forever. Then just like that, in the blink of an eye, here we are."
And still, this is only the beginning, she said.
"Education never ends," Kennedy said. "You'll never stop learning; you'll never stop researching; you'll never stop searching for new information."
To illustrate a couple of life lessons about tackling fear and solving problems, Kennedy used stories from the life of her grandmother, a lifelong Lincoln Parish resident everyone called Granny Jack. Born in 1921, Granny Jack lived alone for 44 years after her husband passed away, a very independent and strong-willing personality. She once visited Kennedy during a classroom lecture in George T. Madison and addressed the class: "You're going to learn a lot in here; life's going to teach you the rest."
Once when her car wouldn't start, Granny Jack popped the hood and came eye to eye with what she thought was a rattlesnake. Police and a person from the zoo confirmed that it was actually a python. It took two men to remove the nine-foot snake.
"I wanted to scream," Granny Jack. "But I didn't. Just looked him in the eye."
"Fear," Kennedy said, "is a state of mind. It exists only because we let it. Use your knowledge and instinct to face challenges. Shoot for perfection, achieve excellence, and you'll gain wisdom."
Kennedy closed with some lines from "Oh, The Places You'll Go" by Dr. Seuss:
"You have brains in your head
You have feet in your shoes.
You can steer yourself any direction you choose.
You're on your own.
And you know what you know.
And YOU are the one who'll decide where to go…"
In addition to their diplomas, the graduates from each of Tech's five academic colleges and the Graduate School received their Tenet Medallions inscribed with the 12 Tenets of Tech and their year of graduation. The Tenets of Tech are guiding principles and personal characteristics that students and graduates are expected to embrace and uphold during and after their time at Tech.
"The tenets will still be valuable to you if you continue to make them a part of who you are," Tech president Dr. Les Guice told Tech's most recent graduating class. "I'm looking forward to seeing the positive difference you'll make in our world."
Summer commencement officially marks the end of the summer quarter. Fall quarter classes begin on Sept. 6.