Ferguson to join University Advancement as COES Development Director
Devin Ferguson of Ruston will join Louisiana Tech University's Advancement Division as Director of Development for the College of Engineering and Science (COES) on Oct. 1.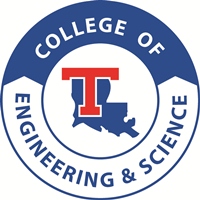 Ferguson brings a decade of experience at Southwestern Assemblies of God University in Waxahachie, Texas, to the position. He served the private university there in roles from admissions to alumni and fundraising. In addition, he brings to Tech extensive experience consulting with nonprofit organizations on communication support and campaigns. 
"Devin's experience working to tie alumni goals for their alma mater to fundraising support will be valuable to our College of Engineering and Science as we work to increase scholarship and facilities support for this cornerstone of Louisiana Tech," said Brooks Hull, vice president of University Advancement. "In addition, he has served our local community in the banking industry since moving to Ruston earlier this year and has established relationships with the community that will be beneficial as our University strengthens connections with alumni and friends."
Ferguson earned his bachelor's degree at Southwestern Assemblies of God University in 2008 and earned his master's degree in nonprofit administration (MNA) in 2015 at North Park University of Chicago. While working toward his MNA, he also earned graduate certificates in nonprofit management, nonprofit governance, and fundraising management.
"We're excited to welcome Devin to the COES team when we are in the midst of incredible growth in the College," said Dr. Hisham Hegab, COES dean. "We continue to increase our footprint on campus with the new Integrated Engineering and Science Building and to develop innovative academic programs like cyber engineering and cyber security. In addition, we are growing research opportunities for our faculty and students that will make an impact for economic development throughout the region and state."
"I am thrilled to join Louisiana Tech at such an exciting time in the University's history," Ferguson said. "We have had such an impact on the development of science and technology curriculum in areas like biomedical, nanotechnology, and cyber engineering, and I am looking forward to seeing what the next innovation is from our University.
"To continue to lead the state in science, technology, and engineering, we will continue to need support from alumni and friends who want to make our University's unparalleled educational experience – and our impact on job and industry development – available to more Louisiana residents."