Students share Doggone Good Ideas, win prizes
Ten Louisiana Tech students had the opportunity to share their innovative ideas during the Doggone Good Idea event Sept.18 at Tech's Rawle Enterprise Center.
Each contestant had only one minute to stand before an audience and review panel to pitch their own product. At the end of the event, a judge's choice and audience favorite were awarded a cash prize.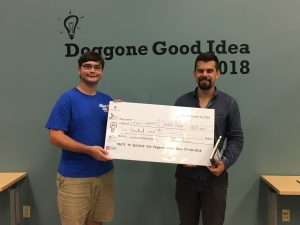 Joseph Ham and Devin Wagener tied for audience favorite and went home with $100 each. Ham presented the idea of a smart phone application that would listen to the user sing a song and then develop a list of songs that sound closest to what tune they are looking for.
Wagener shared his idea of digital student IDs over the current card IDs used at Tech. His example was using a thumbprint scanner to gain entrance into university buildings and classrooms rather than scanning a card. Wagener said this could help with efficiency as well as security on campus.
Allison Parrott, a senior engineering major and judge's choice of the event, said participating in the competition opened doors to many new opportunities in her entrepreneurial journey.
"This was one idea I had that, originally, no one thought was very good," she said. "I feel really validated now knowing that the judges were interested by it. Getting feedback and exposure on my own ideas is a little anxiety inducing, but it was extremely beneficial overall."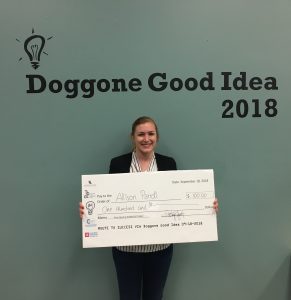 Parrott's concept is an automatic carbon monoxide detection and ventilation system. This device would be able to continuously monitor carbon monoxide levels, alert occupants of unsafe levels, and automatically open an outside vent to begin dispersion of the deadly gas.
"Most carbon monoxide detectors are equipped with simple alarms but cannot take any action," she said. "This device could also be helpful to a variety of fields that work with piston-powered engines, such as aviation and automotive industries."
Along with scoring the competitors, the three panelists were also able to ask questions about each participant's product as well as give them tips about what to consider next in their venture.
Melissa Dobson, director of sponsored projects at Tech, was one of the panelists. She explained to the contestants the importance of making connections and listening to other people's ideas.
"Don't be afraid to ask questions," Dobson said. "Get a good team involved and they will help flesh out those ideas. It is always good to share ideas and hear people out. Be confident in your idea, but if you have to change it or modify it a little bit, that's OK."
Tom Futrell, an assistant professor in graphic design at Tech, was also a Doggone Good Idea panel reviewer. His advice to the contestants was to be persistent in their journey.
"One thousand people can have the same idea," Futrell said. "One hundred people try the idea and quit when they fail. Ten people quit when they fail a second time. Only that one person can make it work."