Dr. Jamie Newman
Jamie Newman earned her Ph.D. at MIT in biology, but that didn't change her makeup. She is all about relationships, about cultivating them, about one student and one person at a time.
As a lab technician between graduating from Amherst College and beginning as a graduate student at MIT, Jamie worked as a barista at Seattle's Best in Cambridge, Massachusetts. As a grad student, she was a bartender at Muddy Charles Pub, a small bar on MIT's campus.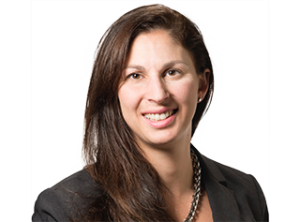 Then before beginning her faculty appointment at Louisiana Tech, Jamie — by then Dr. Jamie Newman — did research with faculty in biomedical engineering and worked part-time at The Fashion of Ruston, a women's clothing store in what's become her home.
"That always surprises students when they learn I did this, but it was a great way for me to build a community family in Ruston, and that family has continued to support me in my career at Louisiana Tech," said Newman, who met her husband, Brad Cicciarelli, when both were graduate students at MIT; Brad graduated first, took a job as a lecturer at Tech, and three years later when Jamie had completed her doctorate, the pair married and Jamie moved to Ruston.
"When I met the owner of The Fashion, Kelly Hogan, she said, 'Jamie, you have a Ph.D. from MIT and you want to sell clothes?' I also heard that other employees at the shop were not sure we would have much in common or get along," Jamie said. "I told Kelly that I have always enjoyed meeting people in my community, and over the 18 months I worked there and the five years since then, I became great friends with my coworkers and regularly visit the shop to see my first Ruston family."
Since Jamie grew up in Los Angeles and spent 12 years in Massachusetts, moving to Ruston was a "big change," she said, and "working downtown was a great way for me to learn more about Ruston and the close and supportive community that exists in this town. It is important for me to know about and be a part of my community, and I am so appreciative of the opportunities I have had in Ruston and at Louisiana Tech."
She knew she liked biology as a high school freshman when, performing experiments in the lab with other students after school, she saw DNA on an agarose gel. Just like that, "I knew I had found my academic passion," she said.
She assumed she'd become a doctor, but a summer research program after her freshman year in college changed that. Staying in Amherst to train with teammates on the cross country team led to the opportunity to work in the lab with immunologist Dr. Richard Goldsby, and that experience put her on the path toward a career in research.
"I loved being in the lab," she said, and that passion grew during the summer after her junior year when she was accepted to a program at Cold Spring Harbor, an "incredible prestigious research campus," she said, "and the home of Dr. James Watson, one of the two scientists credited with the discovery of the structure of DNA."
Still more time in the lab as a student and as a lab technician at MIT confirmed for her two things: "I wanted a career in research, and I wanted it to include teaching and mentoring.
"Sixteen years after graduating from Amherst, Dr. Goldsby is still a mentor and friend," she said. "What he did for me was life-changing, and I wanted to give future students the same opportunities that he gave me."
Jamie's best trait as a teacher might be that she loves biology. She failed her first genetics test at MIT. But an instructor — a Noble Prize winner who'd failed his first test in grad school — saw her passion, got her a tutor, and explained to her the difference between lab and course work.
"Grades are important," she said, "but a passion for the material is more important. It's that passion that will allow a student to make connections, appreciate the context of the information being presented, and apply what they've learned beyond the exam they initially learned it for."
With foresight and funding, she created the Newman Lab, a place of research and teamwork for primarily undergraduate students, along with graduate students enrolled in the master's degree program in biological sciences or molecular science and nanotechnology or the doctoral program in molecular science and nanotechnology (MSNT). Students in the lab work diligently on specific research projects, write grants that provide them with a stipend or support for their research projects, and present at local and national conferences.
"I am so happy to have had the opportunity to create the lab for them and for me," she said of her "lab family."
"I don't know what impact I have had on all of the students who have come through my lab, but I know the impact they have had on me," she said. "They have taught me to be a better mentor and advisor. They have taught me to have patience and to treat everyone as an individual; not everyone learns the same and not everyone should be advised the same. They have shown me stronger dedication and perseverance than I ever had to demonstrate, continuing to work, undeterred, in the face of significant hardship or tragedy.  They have challenged me to learn new areas of science, work with colleagues across campus, and practice my own communication skills. They have frustrated me at times, as I do them, just like a real family, but in the end all of the students who have come through my lab and who are in it now have made me so proud.
"If I can teach them some biology," she said, "teach them how to share their knowledge with others, and support them finding their passion, then I've done my job. "
Her real family is Brad and their two children: Jacob turns 4 in November, and Mallory will be 2 on Halloween. Jamie makes sure that 4-8 p.m. is family time.
"Being away from our families has its challenges, but we have found a great community in Ruston," she said. "As a family we love going to Lincoln Parish Park to feed the ducks, run the trails, and play on the playgrounds."
Her colleagues joke that they know when her children go to bed because they suddenly get a lot of emails from her.
"I am passionate about helping students," she said. "I do love molecular biology and I love research. I like that research is all about solving puzzles and that the work we do is contributing a piece to larger puzzles. For me, though, the research lab and my teaching are opportunities to engage with students. I learn from them and I get excited about new findings with them. The grants we write will provide them stipends and fund their research projects; the publications we submit are the culmination and recognition of their hard work in the lab. My interactions with faculty across campus allow me to better advise students and be able to have a professional network that may help them find their own academic and career path."  
Students are aware of more of those career paths now because of Tech's focus on interdisciplinary learning, something Newman has embraced and pursued. Tech's Visual Integration of Science Through Art program, or VISTA, is a prime example of interdisciplinary opportunity. Through VISTA, faculty from art, biology, and biomedical engineering work together to offer students a unique opportunity to pursue a dual passion for science and art.
"The benefits of these opportunities for students is that they find a career path they are passionate about and want to pursue," Jamie said. "In biology, as I did, many students enter thinking they will go to medical school, in part because that is what they have seen — we all visit doctors — and because they want to help people, and because they like biology. There are so many more things students can do with an interest in biology. Introducing them to courses in technical writing and communication prepares them to careers in public health. Integrating art and science introduces them to a career in visual communication and scientific visualization. Programs like UTeach help them to be educators in biology, and the list continues. 
"There are endless opportunities for students to find ways to combine their skills and knowledge," she said, "and we have the awesome opportunity as members of the University to help them do that."
-30-