ENRICH Center to host Temple Grandin lecture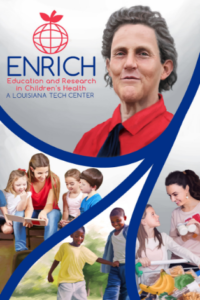 Dr. Temple Grandin, professor of animal science at Colorado State University, consultant to the livestock industry on animal behavior, and autism spokesperson, will speak at 7 p.m. Dec. 6 in Howard Auditorium on the Louisiana Tech University campus.
Grandin's talk will be presented as a part of the kick-off celebration for the ENRICH (Education and Research in Children's Health) Center, which works to enrich environmental, psychosocial, and physical health outcomes for children through research, education, and outreach.
Throughout her life, Grandin has used her first-hand experience as a person with autism to color her interaction with animals and her research into their behavior. Her story connects the two disciplines and allows those who work with animals to learn from those who work with special-needs children and adults – and vice versa.
In 2010, HBO made a film about Grandin. Her knack for "thinking in pictures" – a phrase made popular in the HBO film and in one of her many books – has allowed her to connect with animals in ways most people never could. Her unique ability has completely altered the way we view livestock and the way we treat them.
This is a free, ticketed event. Tickets will be available via links that will go live on Nov. 6 on the ENRICH Center, College of Applied and Natural Sciences, and School of Human Ecology websites and social media.
This lecture is sponsored in part by Louisiana Farm Bureau.
Learn more about this event