An Equipment Care Reliability Engineer at International Paper's Valliant Mill in Hugo, Oklahoma, Brittany Belcher has been fascinated with equipment, processes, and how machines work since she saw shows like How It's Made and Unwrapped on television.
"Mechanical engineering seemed like it would be a good fit, because it played to my strong suits of math and science while also challenging me technically," said Belcher, who is also serves as the mill's Preventative Maintenance Leader. "I also liked that mechanical engineering had such a broad range of job possibilities in the field."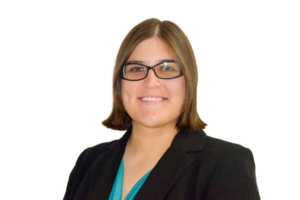 She visited the Louisiana Tech campus with a friend and an alum in 2009 and was intrigued, during a tour of the College of Engineering and Science, by the hands-on problem solving that was integrated into the freshman curriculum.
"I was also impressed that students had the opportunity to work with a lathe in the machine shop and could participate in competitive competitions like Eco-Car and Concrete Canoe," Belcher said. "The small classes, combined with an open-door policy, led to a more personalized learning experience, which I really liked."
The College's Grand Challenge Scholar Program broadened her viewpoint of engineering.
"It helped me realize that many problems require you to understand the qualitative and quantitative analysis to create sustainable solutions," she said. "My favorite part of the program was participating in the Top Dawg Competition with Kendall Belcher (another Tech alum) and qualifying to compete in New Venture Championship."
While it was that experience that encouraged her to get her MBA with a concentration in marketing analysis. It was her overall Tech experience that encouraged her to be a leader and servant.
"Tech's Society of Women Engineers was a huge passion of mine," she said. "I served in several leadership roles and eventually took the role of president. During that time, I learned the importance of helping others and giving back to the community. We hosted professional development workshops for students, worked with the National Society of Black Engineers (NSBE) to launch the Recycling Program, and held and participated in community events such as Girl Scouts Day, Tech Beautification, Relay For Life, Earth Week, and Big Event."
Her current job with International Paper includes optimizing the plant's equipment maintenance strategies with the goal of achieving zero unscheduled downtime.
"To do this," she said, "I identify gaps in our equipment care program, then I work with teams around the mill to develop effective, sustainable solutions that will ensure equipment reliability. The key to success in my role is to have buy-in at all levels of the mill from maintenance to management, and to ensure that we are continually implementing best practices."
One way Brittany strives to make sure her company aims to do its best is by "keeping our Computerized Maintenance Management Systems (CMMS) up-to-date and efficient for all end-users," she said.
She monitors this on a daily basis, she said, to assure International Paper has "an accurate database of equipment maintenance history; by doing so, we have better data for equipment failure analysis, allowing us to create more optimal equipment care routes.
"Mechanical engineering is a challenging but very rewarding degree," Brittany said. "No matter what you plan to do with your degree, it will be important to work with others. Make sure you get involved in extracurricular activities and work on developing your leadership, teamwork, and communication skills."