A love for animated films and the art that goes into them painted Louisiana Tech student Cinthia Rincon into a corner.
She came to Tech for its award-winning aviation program. But a sudden shift to another kind of art besides flying proved to be the right change for her.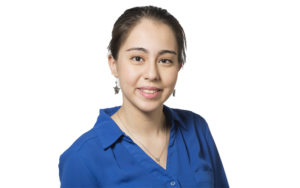 Rincon has decided that, for her, the sky's still the limit.
"My goal is to become an artist whose work you have to memorize the night before your art history exam," said Rincon, a decorated senior studio art program major from Houston.
A moment last March is one she still finds "so surreal," she said; "I can't believe that this actually happened."
Last spring Rincon, who will also graduate with a pre-medical illustration minor, and fellow ART310: Digital Painting student Anna Morris, were recognized for their outstanding work in the relatively new program with a special weekday luncheon attended by University President Les Guice, faculty, and other administrators. Both Cinthia and Anna had their picture taken with the president; the University shared a press release about the recognition of the pair.
Both presented projects related to illustrating genome editing, and each put her own perspective on this current and sometimes controversial topic. During the luncheon, it was announced that their artwork would be featured on the new Frontiers in Biomedical Research Seminar Series brochure, and they were given their own Wacom tablets to continue their pursuits in digital painting.
Digital Painting was the first class created for Tech's new minor in pre-medical illustration, an interdisciplinary minor combining courses in art and biological science to prepare students either for application to graduate school in medical illustration or to allow students to pursue a dual passion for art and science.
The class began with a collaboration between School of Design chair Nick Bustamante, School of Biological Sciences associate professor Dr. Jamie Newman, and biomedical engineering assistant professor Dr. Mary Caldorera-Moore. But the program became reality with a generous donation of a class set of Wacom tablets by Tech alumni Justin and Jeanette Hickley, who remain involved, both in the class and in the development of a pre-medical illustration curriculum.
Rincon has also been recognized by the School of Design as an "Outstanding Student" and has received numerous awards and scholarships.
She is currently working on an undergrad thesis that focuses on art as a form of communication. In addition to her demanding classroom schedule, Rincon is involved with the VISTA program, which combines the use of science and art to create images and infographics for their clients.
Following graduation, Rincon plans to take a year off to build up her portfolio and work on other personal projects before attending the Medial Visualization grad program at the University of Illinois at Chicago.
"As an undergraduate Cinthia is producing work at a graduate level," said Tech's studio art chair Nick Bustamante. "She is a dedicated and truly exceptional young artist."