If you ask a question or offer an opinion to Joey Slaughter, he could probably answer you or share an opinion of his own just by showing you a piece of his artwork.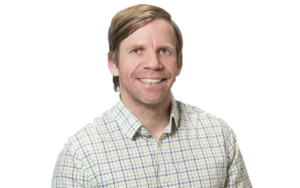 "My work starts off with words/phrases, from music or archived conversations," said Slaughter, associate professor of Studio Art for Louisiana Tech. "The colors match moods or the impact the phrases have on me. The shapes match a sort of thought process in action, similar to the thought cloud or word balloons you see in comic books; mine just don't look like clouds…they are isolated instances of a relationship between those phrases and emotions. I imagine processes in the brain to be abstract, and busy."
At this point, "just black and white" is not something he'd seriously consider. "Color is an important part of my work," he said; "I use it to describe emotions."
He comes by his passion honestly, the son of an artist mom who "encouraged me through making," he said. "Ever since I can remember, I've been interested in art; I've never wanted to be anything but a maker/creator. It can be anything, really, from renovating houses to paintings — the energy is almost the same."
He won the first in his long line of awards for his work at one of the South Arkansas Art Center's art shows when he was in high school. Recently he completed the Sam and Adele Golden Residency, an opportunity supported by the Golden Paint company and Golden Artist Colors, Inc., in New Berlin in upstate New York.
"An artist residency is a place where visual artists, writers, filmmakers, dancers, or other creative professionals go to produce work for an extended amount of time," Slaughter said. "Residency programs are a great place to create, network, and grow as an artist. Being awarded the Golden residency was an amazing experience. It gave me time to experiment with an unlimited supply of materials. The residency also allowed me to meet and network with some amazing people."
Slaughter gets to do that daily at Tech, where he's taught and created since 2007 after moving back to north Louisiana and home.
"I was living in Los Angeles doing freelance work but mostly working as an art handler," he said. "My parents are from Ruston, and while visiting them in 2002, I was asked to apply for an art position at Grambling State University. I have been teaching ever since."
He continues to be involved in both solo and group exhibitions, in acquiring grants and contributing to publications, in sharing his work and expertise as both a visiting lecturer and artist, and in service to the community as either a juror or a participant in auctions and benefits.
"Tech School of Design has an impressive faculty," Slaughter said. "We all have our strengths and we all get to teach them.  We have amazing facilities, and students get a diverse education in art. The only update I would like to see is the opportunity for more travel to museums and other cities to see art firsthand."
Additional information