School of Design's 'Pisces Bridge' top dog in AIA LA competition
Louisiana Tech's School of Design continues to build something special.
The biggest winner — and with the smallest budget — in the prestigious annual design competition conducted this fall by the American Institute of Architects Louisiana Chapter (AIA LA) for architecture firms across the state was a project by the Louisiana Tech ARCH 335 Design/Build Studio class for its Pisces Bridge, designed and constructed for MedCamps in Choudrant.
The project won one of seven Honor Awards presented and also won the most prestigious Members' Choice Award, which Tech's Design Build Coordinator and assistant architecture professor Brad Deal called "an incredible experience."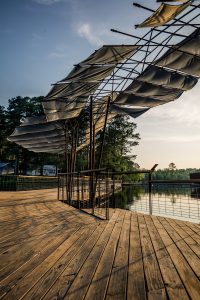 "The projects of our little design build studio are born of modest means and novice student construction," said Deal, who led the project along with Co-lab Director and associate architecture professor Robert Brooks. "To have them recognized at the professional level reminds us all that high quality work can be entirely independent of the budget even outside of the hypothetical academic studios. It teaches our students that if they can be inspired to work hard and focus on opportunities rather than limitations, amazing things are possible, and I'm really happy that they are able to continue to be rewarded for their hard work with this AIA honor award."
A nationally recognized panel of judges selected the 16 winning projects from 73 entries in seven categories. Other AIA awards won by ARCH 335 in the past few years include the following:
2016 Members Choice Award "Larkin Gibbs Memorial Pavilion"
2016 Award of Merit "Larkin Gibbs Memorial Pavilion"
2016 Award of Merit "Hero's Launch"
2016 AIA Gulf States Award of Merit "Larkin Gibbs Memorial Pavilion"
2016 AIA Gulf States Award of Merit" Hero's Launch"
Deal's Grand Prize in the 2016 AIA iLookUp Film Challenge with the short film "Arch335: Rebuilding MedCamps," and Second Place in the 2017 AIA iLookUp Film Challenge for "Pisces."
"We can't confirm the actual budget numbers of the other projects," Brooks said, "but I think it a reasonable assumption to say there were projects with budget(s) in the millions. And our budget was $25,000. To put that in perspective, that ended up being $7.14 per square foot.
"For me," he said, "it's proof that with the right amount of passion, persistence, and tenacity, good design can be accessible for all."
The innovative 340-foot floating bridge and shade structure across Lake Alabama connected Camp Alabama's two sides and reduced the distance between activities for children with mental and physical disabilities who attend summer MedCamps there, and for others who use the facility. Named for the mythological figure of two connected fish, the project enhanced access to fishing with features such as rod holders, lowered guard rail sections, and gated fishing jetties. The design also incorporated reclaimed 55-gallon barrels and discarded steel rods from area oil and gas operations.
Seventeen students were involved: Ian Bardwell, Mac Blades, Sydney Cathey, Iana Dingle, Lacey Hanemann, Mackenzie Keller, Josh Maxfield, John Moosa, Johnathan Nasser, Karlie Neilson, Edward Nieto, Madeline O'Rear, Cody Pate, Ernesto Pena, Terry Scott, Andrew Swain, and Briana Trapp.
"This is the coolest thing I have ever had the honor to be a part of," said Hanemann, now a graduate student from West Monroe. "It really is an overwhelming emotional experience that I'm still processing…This experience, despite its frustrations and bad days, has been the most important gift I've been given. Human beings are at their strongest when they are acting selflessly. A lot of people don't get the opportunity to learn that lesson, especially not in this capacity."
"The amount of dedication put towards this project by myself and everyone else was not fueled by the hopes of getting a good grade but rather by the hopes of making a difference for the campers," said grad student Jonathan Nasser of Bossier City. "I feel that this particular project has also changed me substantially. I find myself wanting to go above and beyond for other people."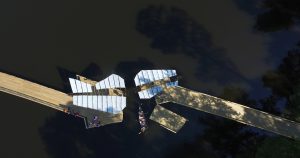 "Brad and I share the belief that education outside of the traditional classroom is not only worthwhile but also inwardly meaningful and outwardly powerful," Brooks said, "(and) that design can represent that which we aspire to as a compassionate and hopeful part of the next generation of architects, and that architecture can be humble, yet mighty."
How many man-hours did it take to complete? "Suffice it to say — many," Brooks said. "There were a couple of weeks of pre-planning that were necessary on mine and Brad's part. But as far as the student involvement, from concept to completion, the project was done in 10 weeks. There was about a week or so of work left after the quarter ended, but that was accomplished with a handful of students."
The difficulty of building over the water and the sheer scale of the project seemed to have placed this project out of the realm of feasibility for student work. But…
"In the months leading up to the project," Brooks said, "the donation of more than 120 55-gallon plastic drums from area car wash facilities and 15,000 linear feet — that's more than four tons — of scrap steel rod from a local oil and gas company allowed the studio to develop an inexpensive floating modular frame that would become the structural system for the floating bridge."
"There are a few people other people we have to thank though, because without them, none of it would be possible," Deal said. "I'm grateful to Caleb Seney and his incredible team at MedCamps for their unwavering trust and the continued opportunity to work together, to Karl Puljak and the leadership at Louisiana Tech for their support of the design build program, and of course to the AIA for recognizing and rewarding the efforts of so many that have gone into our program and this project."
Honor Award recipients that Tech bested for the Members' Choice award include a contemporary design of a medical office in a new, modern building, a shade-water pavilion, the renovation of a former conference center into a sushi restaurant in New Orleans, a performing arts facility in sub-Saharan, equatorial Africa, a community of five modern row homes constructed in a vital, re-emerging, post-Hurricane Katrina neighborhood on a previously vacant corner lot with 150-year-old live oak trees, and a multi-family development of 300 apartments in three buildings in California.