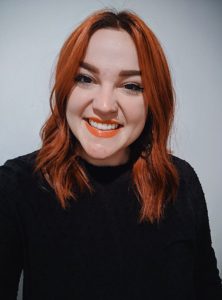 A graduate of Airline High in Bossier City, S. M. Prescott chose to attend Louisiana Tech because "it was an accessible, quality education," she said.
"I chose to study art because I was following the things that brought me the most joy," Prescott said. "The art program at Tech honed my technical skills and pushed me conceptually. However, I think the most important lessons came from soft skills learned through the mentorship of my professors. They help to pinpoint and name your strengths so you grow both as an artist and as a human being."
She is currently a 2019 Master of Fine Arts in Community Arts candidate at the Maryland Institute College of Art (MICA). Since her graduation from Tech last year, she's been teaching various ages of aspiring artists, both in school and in community settings. Her current class is a group of senior adults.
"I've been creating community-centered arts activism projects, pursuing my own personal practice around Queer Theology and gender justice, and exploring new mediums, including fiber and performance."
Prescott was the undergraduate winner in Studio Art at Tech's College of Liberal Arts Academic Excellence Luncheon in 2017 and was the undergraduate Best of Show winner in the School of Design's Annual Student Show in 2016.
"Making," she said, "is joy."
But getting to the finished product is often harder than it looks.
"Art is work and should be seen as labor, just as any job should," she said. "We use our entire beings to manifest these ideas and forms. We live our work and our work is our lives."
Her advice to School of Design freshmen is to "trust the process. Trust yourself." It's the same advice she gives herself.
"I see myself continuing to trust the process," Prescott said, "trusting myself, and manifesting that which I find beautiful, true, and just."