Wyatt named executive director of Tech's Enterprise Campus
A valuable member of Louisiana Tech University's Innovation Enterprise Team for 15 years, most recently as director of the University's Technology Business Development Center (TBDC), Kathy Wyatt has accepted a new role as executive director of Tech's expanding Enterprise Campus.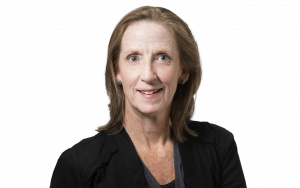 "She will join our efforts to build mutually beneficial external engagements with corporate partners to support our University mission of an unparalleled educational experience and national scale impacts through research, innovation, and economic development," said Chief Research and Innovation Officer Dr. Davy Norris. "Ms. Wyatt has helped build our entrepreneurial ecosystem working with students, faculty, and community entrepreneurs, and supporting development and commercialization of intellectual property emerging from our research enterprise."
The Enterprise Campus helps groundbreaking organizations connect with and leverage the power of Tech in ways that are mutually beneficial to the success and growth of the business enterprise, Tech students, and both the University and region.
In her role as Executive Director of the Enterprise Campus, Wyatt will work to support Tech's tenant companies, corporate partners, start-up ventures, and emerging entrepreneurs to maximize their opportunities for success and enhance the impacts of these activities for both Tech and the surrounding area.
"Ms. Wyatt will help lead the 'build-out' of our Enterprise Campus into a vibrant technology business district that will both connect our campus with downtown Ruston and grow new high quality jobs for our graduates and our community," Norris said. "We thank her for taking on this important responsibility for our institution."
"I am excited and grateful for the opportunity to continue supporting University leaders President Les Guice and Dr. Davy Norris with achieving Louisiana Tech's mission for economic development, innovation, research and educational excellence," Wyatt said, "while helping to build and strengthen mutually beneficial collaboration between corporate partners and the University.
"My years of experience with Louisiana Tech provide knowledge about the skills and interests of our Innovation Enterprise team members, as well as the University's expertise, procedures, and priorities," she said. "This allows my efforts to be more directly and immediately focused on the expansion and growth opportunities, needs and plans of the Enterprise Campus and our business tenants."
Prior to joining Tech, Wyatt was Community Development Director for the City of West Monroe. She worked at the Northeast Louisiana University's (now ULM) Small Business Development Center during and immediately following her college studies. Wyatt received bachelor's and master's degrees in business administration from Northeast Louisiana University.  While attending college, she owned a business that provided employment for up to five part-time workers.
As TBDC's director, Wyatt worked with state and local economic development agencies to support business development and growth in north Louisiana. She is a mentor for Tech business plan competitors and student-owned businesses, is a Kauffman Foundation certified FastTrac program facilitator and administrator, and served from March 2003 until September 2006 as director of Tech's Small Business Development Center.