Program chair for Louisiana Tech's cyber engineering program, Dr. Miguel Gates feels his team sets the pace when it comes to educating in-demand graduates for this fast-growing field.
"In the words of the great American racecar driver Ricky Bobby, 'If you ain't first, you're last,'" said Gates, referencing the funny, fictional star of Talladega Nights.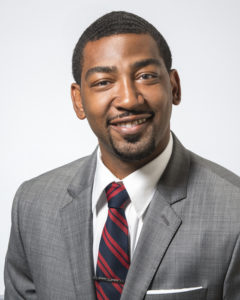 The point is, this is fast-lane stuff, this cyber engineering. Pedal to the metal and hold on to your hat. And Tech has led since the race started.
"Tech happens to be the first to offer a program of this kind in cyber engineering, which differs from a traditional cybersecurity program because we offer a full engineering curriculum," said Gates in referencing America's first undergraduate cyber engineering program, launched at Tech in September 2012.
"Cyber engineering (CYEN) is a growth industry with potential to greatly change the world in which we live; that justified our need to develop a program of this kind," Gates said. "To date, the program has produced 46 graduates; almost all have found positions in industry prior to graduation."
Companies that have hired Tech's CYEN graduates include GDIT, IBM, Lockheed, GE, CGI Federal, and Fenway Group. "This is because we train our students to be original thinkers, problem solvers, and technical leaders," Gates said. This is a credit to our faculty, whose passion and knowledge is on par with that of any other university's, as well as our Industrial Advisory board, which is filled with highly trained professionals fully dedicated to our program."
From Batesville, Mississippi and South Panola High ("Go Tigers!," he said), Gates earned his B.S. in computer engineering from Jackson State in 2006 and his M.S. there in 2008. Then he moved to Ruston to pursue his Ph.D. in engineering with a concentration in Cyberspace, a goal he completed in 2013.
"I chose Tech for a couple of reasons," he said. "It was affordable, it was close to home for me, and mainly, I fell in love with the campus and the research that was being done here when I visited. I met with (my future advisor) Dr. Rastko Selmic on my initial visit and he showed me his lab, where they were doing research with wireless networks and Unmanned Aerial Vehicles."
Gates' dissertation involved both wireless networks and UAVs, so after his visit with Selmic, "I was sold," Gates said.
Tech's cyber engineering program is best described as "the fusion of computer science and electrical engineering, applied to the cyberspace domain, with a good mix of mathematics and humanities thrown in for good measure," Gates said. "Within this domain, the cyber engineering program has adopted a focus in security: students are educated in areas such as encryption, network security, digital forensics, and cloud computing.
"The purpose of the undergraduate program at Tech," he said, "is to prepare graduates with the knowledge and skills in integrating basic computer science, electromagnetic sciences, and mathematics with engineering fundamentals to design and develop useful technology, but we also prepare students to be technical leaders in cyber security with a thorough understanding of the associated security concerns, social and political impacts, and ethical consequences. Our students are exposed to a mix of academic course work, student professional activities, and design activities."
Gates is adviser to the National Society of Black Engineers (NSBE) and the Association of Cyber Engineers (ACE), has worked summer camps to encourage high school students' interest in STEM education, and is always thinking of stimulating ways for faculty to incorporate STEM into their classrooms.