A junior with a 3.9 GPA and a heart for service, communication and media studies major and Louisiana Tech debate team captain Maura Yeagle spends a lot of time talking to, of all people, herself.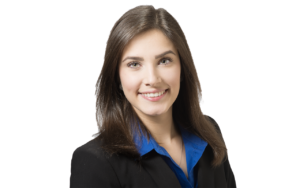 Reminding herself that she can't accomplish every single thing right now. Telling herself that she must make wise choices daily about how to devote her time. Remembering that decisions involving academics can't be made lightly, and that being a perfectionist concerning every detail of a project probably has little benefit.
It's worked so far. She's a College of Liberal Arts Student Ambassador, a member of the National Society of Leadership and Success, a reporter, designer, and writer for The Tech Talk, Speak and Lagniappe, an intramural sports athlete, and an awarded semi-finalist in both individual and team debate tournaments across the nation; Yeagle is ranked in the Top 20 nationally in the International Public Debate Association.
"I credit a lot (of my success) to the team because of the priceless skills I've learned and developed by joining," said Yeagle, who's been on the debate team for two years. "Debating has allowed me to hone my critical thinking skills, find and perfect my speech style, learn how to work as a part of a team, and build my leadership qualities. All of the abilities I've attained from debate cross-apply to my major in communication: I more effectively work in groups — especially when assigned a leadership role — I more effectively communicate in my writing and research for my communication classes, and I more effectively present my research and campaigns to clients." 
Yeagle led the local homeschool speech and debate club in Ruston in her mid-teens and became interested in Tech's Communication and Media Studies program through that.
"From there," she said, "I toured Tech and fell in love with the program when some of the curriculum I would be learning was described to me in a meeting with a faculty member."
Yeagle is an ambassador for the program and for the College because she feels from her experience that Tech's School of Communication "has an incredible faculty who devote their time to you and care about your success as a student and person," she said. "All of our professors are highly qualified and almost, if not all, of the professors have real-world experience about the fields they teach. They have open-door policies, the secret key to getting the most benefit from the program if you're a student willing and excited to learn.
"The classes are small, so you'll get to know your classmates, will be able to learn from them one-on-one and grow with them during your time at Tech," she said. "You may hear this idea that Tech is a family, and at first I was not sure this was even possible, but I can tell you it is very true. If you're a communications major, Robinson Hall becomes like a second home where you get to see your family — your professors and classmates — almost every day; you laugh and learn and live life together."
Yeagle has taken advantage of the opportunity to contribute to Tech's on-campus publications, something that allows any student "to become published, add to your portfolio, and get paid for the work you do," she said. "Your degree in communication will give you an edge when applying for other positions at Tech and when applying for jobs outside the University. The School of Communication also offers scholarships to students who join the Tech Debate Team and want yet another opportunity to further their communication and critical thinking skills, both of which are highly sought after by employers. The possibilities are endless."
Yeagle is a candidate for the highly competitive and prestigious Truman Scholarship, given in April to one student from each state to an undergraduate student planning to work toward earning an M.A., then work for a minimum of three years in public service. She's a solid candidate, she feels, because she has "well-established leadership qualities that make me the prime candidate to be a change agent," Maura said. "I believe my passion for public service and my vision for the change that can be achieved in society demonstrate my ability and drive to be a catalyst for building a better future in a world that needs it desperately.
"Throughout my life, I've been building my leadership skills, honing my communication capabilities, expanding my education beyond the classroom, and opening my heart as an advocate for people who are less fortunate," she said. "Not receiving the award would not change my love for humanity nor would it change my commitment and drive to succeed in helping others on an international level. The scholarship would, however, help facilitate my goals to commit my career and life to public service, to act as a leader for change, and to implement the many visions I have for building a better society."
She feels she can best do that by serving as a Public Relations Specialist — and eventually Director — for an international non-profit.
"I see myself in five years nearing the end of my graduate program at a prestigious university that offers a master's degree in communication where I would specialize in Public Relations while working part-time with a non-profit in the area," Yeagle said. "In 10 years I see myself working fulltime for an international non-profit, developing, presenting, and applying my campaign strategies to the organization."