Sai Spurthy Sathineni will begin her job training January 28 with Cisco Systems Inc., a leading networking company and an emerging leader in the Cyber Security industry.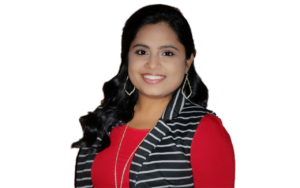 But the new cyber engineer had no idea what to choose as a major when she was a senior at Deridder High and looked at a Louisiana Tech course catalog.
"Once I saw the title 'Cyber Engineer' I was certainly intrigued," Sathineni said. "As a person who loves and has a passion for computers, this was my golden opportunity. Technology controls everything in our life today, and I wanted a career in this growing field. Louisiana Tech's cyber engineering (CYEN) program has prepared me to be a critical thinker, a problem solver and a technical leader in the cyber field."
Currently pursuing her online masters in Cybersecurity Technology from University of Maryland University College, Sathineni will begin her fulltime position in Richardson, Texas this spring. As a Network Engineer for Cisco, she'll be mentored by some of the industry's brightest minds while she gains experience, plus she'll have the opportunity to earn certifications in all sorts of the industry's areas of expertise.
It wasn't always easy, getting to this point. There was that Computer Network Security class, for instance, the class with the day-long CyberStorm component at the end of the quarter.
"You have to be willing to learn on your own time, explore deeper into the topics introduced in the class, and then be able to apply it on the final day," said Sathineni, one of the program's 46 graduates since the CYEN program, the first of its kind in the United States, began in September 2012. "It's up to you to learn because you'll work in teams, so you have to step up and learn so you're not overshadowed by your team."
That very concept of team and family is what helped Sai soldier on.
"Tech's campus has a very authentic feel to it, and I felt like I was home on my first visit," she said. "Tech has a family-oriented environment and makes everyone feel welcome. I also love that everything at Tech has a story behind it: The Lady of the Mist, the Tech Seal, the Medallions … Also Tech has the best engineering programs and is quite affordable compared to some other schools. Tech continues to grow as it's updating and adding new housing, new parking, and the new Integrated Engineering and Science Building (IESB). It makes me extremely proud to be a Louisiana Tech alumna.
"The best advice I can offer (prospective cyber engineers) is to utilize each summer to your fullest, which means getting an internship to get industry experience," she said. "Internships will give you a clear understanding of what you would like to do and, more importantly, what you do NOT want to do."
Sathineni has gone from finding "Cyber Engineer" in a Tech catalog to becoming one in real life. And now, she'll go to a company she feels will offer her training from some of the most prominent professionals in the industry.
"I knew I was in good hands for my education at Louisiana Tech," Sathineni said, "and Cisco provides me the same feeling that I will be in good hands while learning industry standards and advancing my career."