Forest High senior Judith McDaniel — today Dr. Judith Roberts — was in the back of her parents' old Buick when she flipped the coin.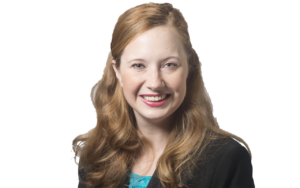 To do some shopping, she and her family were on the way to Vicksburg from her Louisiana home across the river in small-town Oak Grove, and Roberts was soon on her way to college. But where? She'd applied at several area schools, but in her mind, there was no clear choice.
So…heads or tails.
"I wish I had a better answer here," she said, "but that's the truth."
A 2005 journalism and English Tech graduate and a Tech faculty member today, Roberts can't remember which side the coin landed on or even its size. But thanks to the Fates, it landed on whichever side she'd decided Louisiana Tech represented.
"Turns out," she said, "Tech was the perfect option."
Seems clear now. As a high school senior she was the human mascot for the Forest Bulldogs, the ol' red and blue. Sound familiar?
She tip-toed around Ruston at first but soon found her footing in a newly discovered love and through a popular mentor and convincing faculty.
"I planned to study law originally, but over time, I just wanted to tell people's stories," she said. "And when I came to campus, I was thrilled to be learning from Wiley Hilburn, who was so well known in the community as a great journalist. He was such a charismatic individual, such a good mentor.
"The journalism faculty as a whole were still active in writing and had so much knowledge," she said. "They cared for their students; that was apparent. They wanted all of us to succeed, and because of that, we wanted to succeed for them."
She still learns from people and listens and tells their stories, "but now," Roberts, who was nominated for the F. Jay Taylor Undergraduate Teaching Award last year, said, "I get a chance to help others do that. And it's amazing."
In Fall Quarter, her copy editing students partnered with residents from Ruston Nursing Home for a writing project that told the life stories of the residents.
"So many times," Roberts said, "certain members of society go unseen or unheard, and I want to instill in my students the desire to tell everyone's stories."
Since the fateful coin flip, her story has grown to include husband Kyle (B.A. journalism '05, M.A. psychology '11) — "We talk WAY too much politics," Roberts said — and their daughters Alice, 5, and Penny, 2. Alice is already a reader and Penny is book-looker-througher, sometimes in the middle of the night; "she woke me up last night doing that," Roberts said. "I could hear it over the monitor.
"It goes back to being a lifelong learner," she said. "If students graduate and think they know everything there is to know, we've done something wrong in our teaching. My goal is to properly equip students to become lifelong learners."
Communication majors must "be adaptable, but I think that's the same for all majors," said Roberts, who feels most students of any major would find help in the adaptability arena through a few classes offered in Tech's Department of Communication and Media Studies.
Communication 202, Media Literacy: "Such an important class. Students learn how to use the media to achieve their personal goals instead of the media achieving its goals through a passive audience."
Communication 203, Interpersonal Communication: "It's great for all students because it helps students learn how to communicate better professionally and socially."
Communication 440, Social Media: "Such a fun class; students learn how to use social media to highlight themselves personally and businesses they could work for in the future. Social media is everywhere, and businesses need young, creative individuals to help them succeed today."
"I love that journalism is changing. I love that media is changing," she said. "It's bold, it's creative, but the basics are still the same: good reporting, good interviewing, good writing. We have so many different ways to tell a story now, and that is so much fun to learn and teach. I love seeing what students do in class projects, because they always blow me away. Our students at Tech are creative and passionate, and I love seeing that shine."