Jon Salter, a senior Kinesiology and Health Promotion major, has a passion for exercising, moving, and helping others reach and exceed their goals to achieve healthy living.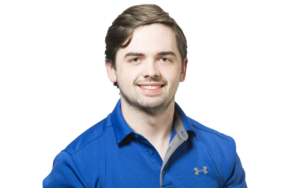 While growing up, Salter always enjoyed exercising. After a back injury from powerlifting, he had to find other ways to do to what he loved. He spoke with his high school advisor and did some research, and Salter realized that he could pursue his passion for exercising as a career.
Though he came to Louisiana Tech knowing his degree route, he wished that he had started the program with the same tenacity he now executes in his studies. Salter implores fellow students to "go into the department that really interests you, go to your classes, build relationships with professors, and more preparation and dedication to your passion will follow." 
Salter has worked for the Lambright Fitness Staff throughout his college career and is a certified personal trainer. However, Salter shows the most passion for his role with Rock Steady Boxing and the opportunity he has to be a first-hand witness and encourager for healthy life transformation. 
"Impacting people is not just about clients getting into better shape, but helping them meet and exceed their goals of possibly coming back from a deficit with high impact interval training that leads to a better quality of life," he said. "Watching a Parkinson's patient not being able to stand up from a chair without assistance to jogging up and down the court without any assistance is pretty remarkable!"
Salter believes in improving others' way of life by encouraging his clients to "think about right now and getting to your goal. Look at where you were before, then to where you are now, and see the improvement."
Salter credits the faculty of the Department of Kinesiology on "how personable they are and how they will just help you, because they truly care for you. They really make you come out of your shell and empower you to be the best you can be. We all like exercise and we all like to help people. It's the perfect combo!"
Both inside and outside of the classroom,  Salter is grateful for the best friends and family-like bonds that he has receive in the Department of Kinesiology.
With classes, training, working out, Rock Steady, and working for Johnson Physical Therapy, Salter has dedicated his life to helping others share his passion. He's grateful for the incredible leaders and mentors who have guided him along the way, such as his advisor Jessica Szymanski and Rhonda Boyd, who taught him helpful and effective ways on how to best work with senior adults. He also credited department chair, Dr. David Szymanski, who "ignited my interest for resistance training and not just rehabilitation."
Dr. Jereme Johnson, DPT, has had a major impact in Salter's passion for physical therapy. Following graduation, Salter will enroll in Physical Therapy school and hopes to one day own his own therapy clinic where clients of all ages and needs can receive top-quality therapy care in a comfortable atmosphere.