Troy O'Laughlin enjoys his job as a chemical engineering so much he even has a favorite chemical: polyethylene. Who knew?
"My last two jobs have involved marketing and manufacturing of high density polyethylene, which is used in applications such as fuel tanks, milk jugs, and household chemical storage," O'Laughlin said. "I really enjoy walking through a grocery store and seeing products that I know came from my plant."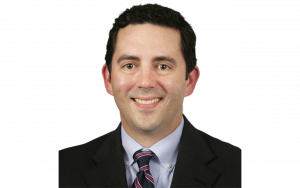 And this from a guy who didn't even know what he wanted to do when he arrived at Louisiana Tech from Shreveport and Caddo Magnet High in the mid-90s, the first person in his family to attend college.
"I knew I liked math and science, so a high school friend suggested chemical engineering," said O'Laughlin, today the technical manager for ExxonMobil Baton Rouge Polyolefins Plant and a '99 LA Tech graduate in chemical engineering. "I wish I could say that I made a fully informed decision, but I have to credit God's direction in my life — and maybe a little luck — in choosing a major that has been very rewarding and beneficial to me."
O'Laughlin's responsibility is to manage the plant's technical organization: the process engineers, laboratory and quality department, and the capital projects team.  He's also the site liaison with ExxonMobil's headquarters business team and works with other functions (sales, supply chain, technology, and marketing) to drive the strategic direction of the business and manufacturing site.
"The most enjoyable part of my job is mentoring new engineers to our company and site," he said. "It's important for them to know that I'm available for questions and interested in seeing them succeed both professionally and personally."
O'Laughlin's support of young engineers extends often to the Tech campus and its College of Engineering and Science; he's served on the ExxonMobil Engineering Recruiting Team for the University for nearly 15 years.
"ExxonMobil has afforded me the time to come to campus to recruit our next generation of engineers," O'Laughlin said. "The company has also encouraged my other activities on campus, such as being a member of the ChemE Advisory Board. Also, ExxonMobil has a 3:1 Education Matching Gift Program, which maximizes the impact of my financial gifts to the University."
One of Tech's newest engineers will be Brennan O'Laughlin, Troy's oldest son, set to become a freshman chemical engineering major in the fall of 2019. Troy's wife, Heather, graduated from Tech with an MA in Audiology. Time will tell for the younger children — Ryan (16) and Kylie (8) — but Tech has one of its biggest fans and recruiters inside the O'Laughlin home.
"I loved my time at Tech," said O'Laughlin, who sings in the choir and teaches Sunday school at First Baptist Church of Zachary. "The most meaningful experience at Tech was meeting Heather; we married during my senior year and just celebrated our 20th anniversary. My best memories involve activities at the Association of Baptist Students, late night tennis matches with friends, working for the Tech police department, and very late nights studying and finishing homework in Wyly Tower."
Begin a good student wasn't always easy, O'Laughlin said, but it was worth it.
"I initially struggled with calculus because I didn't have a chance to take that in high school, but the most difficult (class) by far was CMEN 202 — Chemical Engineering Calculations," O'Laughlin said. "This class was the first to significantly challenge my way of thinking. I quickly realized that the simple, linear thinking that served me well in high school wasn't going to be enough in engineering.
"I don't think I ever really doubted that I could do it; maybe I was a bit naïve, or perhaps too overconfident," he said, "but once I made it through calculus, I knew for sure I'd be able to persevere."