Engineering lecturer receives professional achievement medal
Dr. Michael Swanbom, senior lecturer of mechanical engineering and instrumentation and control systems engineering technology and member of the Integrated STEM Research Center at Louisiana Tech University, has been selected to receive the Louisiana Engineering Society (LES) James M. Todd Technological Accomplishment Medal.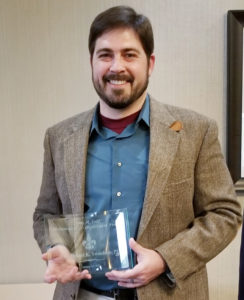 The James M. Todd Technological Accomplishment Medal is awarded annually to professional engineers who provide distinguished service in technologically advancing or making significant discoveries to the fields of engineering. The purpose of the award is to encourage and inspire other engineers to make professional contributions to their fields.
Swanbom is the past president of the Monroe LES chapter and is serving as president of the 2018-19 Louisiana Tech University Senate. He is a faculty advisor for the Louisiana Tech Eco-marathon Team, which has earned numerous design and fuel economy awards since 2009. In 2016, Swanbom launched the Instrumentation and Control Systems Engineering Technology program at Louisiana Tech. In 2018, he was awarded a National Science Foundation Advanced Technological Education grant jointly with Louisiana Delta Community College to create a curriculum and pathways to help high school students prepare for both two-year and four-year programs in instrumentation technology. Swanbom also serves as the Director of CyberDiscovery camps at Louisiana Tech, which introduce high school students to principles of cyber citizenship and security.
"When I took the oath of the Obligation of an Engineer, I recited this statement: 'were it not for [a] heritage of accumulated experience, my efforts would be feeble,'" Swanbom said in accepting the award. "Receiving this award spurs me to remember the generations of rugged intellectual shoulders upon which our society and its technological innovations rest. I am truly honored."
Swanbom received the award at the Joint Engineering Societies Conference Jan. 23. Readers wishing to sample Swanbom's educational presentations are invited to view his lectures and examples on his YouTube channel.