SGA completes busy fall quarter
Over the last four months, Louisiana Tech University's Student Government Association (SGA) has been busy engaging the student body with events like Welcome Week, Homecoming, and Political Action Week.
The organization first helped welcome new Bulldogs onto campus with Dog Haul 2018. Student organizations lent a helping hand to move freshman and returning students into their residence halls and apartments.
"We not only spread the SGA love, we also welcomed the next generation of Tech students and their families to our wonderful campus," said SGA President Matt Flynn.
During Welcome Week, the entire City of Ruston, including Mayor Ronnie Walker, and Louisiana Tech's staff collaborated with student organizations to welcome students for a new quarter. Events were hosted by organizations as diverse as Union Board, Residential Life, and Campus Ministries.
The SGA issued Tech Leadership Council (TLC) applications Sept. 13. TLC cabinet members then chose over 70 freshmen to serve in the Fall 2018 TLC class. This diverse group of students meets once a week and will complete service projects for the university during their year in the program.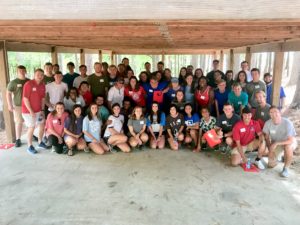 In October, Homecoming Week was top priority for SGA members. Directors Summer Carney and Harrison Potts organized a week packed with over 15 events for the student population. Donation drives, pep rallies, T-shirts, and competitions promoted school spirit throughout the week. 
SGA members closed fall quarter with Political Action Week. The group invited campus political organizations to participate in the event, which stressed the importance of participation in government. The week's events included a voting drive, political party debate, thought walls, and a write-your-legislators session.
"Our job as a Student Government Association is done through members' tireless efforts and dedication," Flynn said. "It is important to remember that our mission as a student government is to connect with our peers, administrators, and local and state government. We are so grateful to serve and represent students."