Engineering professor receives state professionalism award
Dr. Mickey Cox, professor of electrical engineering, electrical engineering technology, and instrumentation and control systems engineering technology at Louisiana Tech University, has been selected to receive the 2019 Engineering Faculty Professionalism Award from the Louisiana Engineering Foundation (LEF).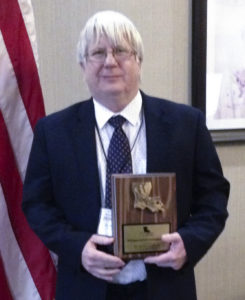 The LEF presented the award to Cox at the 23rd Joint Engineering Societies Conference. The organization confers the Engineering Faculty Professionalism Award to faculty who encourage their colleagues and who serve their students and engineering fields by promoting professionalism within their universities.
"I very much appreciate this recognition from the Louisiana Engineering Foundation," Cox said of the award.
Cox has taught electrical engineering to students at Louisiana Tech for more than 35 years. He has taught courses on power systems, electric machinery, electronics, electromagnetic fields, communications, controls, and engineering design. His research interests include electrical power systems and electrical machinery, and he has been awarded projects from industry and government agencies to further his research in these areas.
Cox is a Registered Professional Electrical Engineer in Louisiana, a senior member of the IEEE (Institute of Electrical and Electronics Engineers), and is a long-term member of the American Society for Engineering Education. He received his Bachelor of Science and Master of Science in Electrical Engineering from Louisiana Tech. He received his doctorate in electrical engineering from Louisiana State University.