As Louisiana Tech's College of Business (COB) grows at both the undergraduate and graduate levels, Dr. Doug Amyx, an Oklahoma transplant and Bulldog professor since 2000, is happily right there in the middle of it.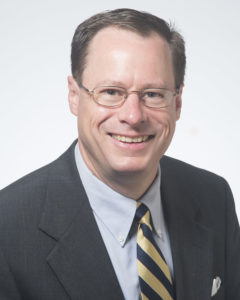 "Some things we are proud of include the new wing of the COB building that opened up last fall, the new Financial Trading Room that also opened up last fall, our corporate partnerships with General Dynamics IT and CenturyLink, and the Executive MBA Program," said Amyx, associate dean of graduate studies and research programs.
There's also the Online MBA program, which ranked No. 1 for "Best Value for Online MBA" in 2017 and No. 2 in 2018 by Online MBA Today. 
"Our Online MBA and the College of Business were highly ranked for the first time in 2018 by US News & World Report and again this year," he said, and the College's new certificate related to the MBA — the Graduate Certificate in Business Administration—should help grow the graduate program.
"And," Amyx said, "we seek to make the MBA even more relevant to students outside the College of Business by creating concentrations that complement the MBA and provide a useful and marketable specialty focus that organizations need and desire."
"But overall," Amyx said, "I am most proud of being associated with the outstanding faculty, staff, and students in the COB and throughout Tech. Tech has truly been a very special place for me and I look forward to many more years."
He landed at Tech largely because he wisely took his dad's advice to earn a PhD in marketing.
"Best advice I ever followed," said Amyx, pronounced 'AIM-ix,' a name he researched and discovered is from the British Isles. Amyx is not: he's from Lawton, Oklahoma, where his dad was an accounting professor and department head/dean at Cameron University.
"He knew that accounting was not for me," Amyx said, "but knew I enjoyed marketing and felt that being a professor was a worthy and fulfilling profession.
"There are many job opportunities in marketing because it covers so many different aspects of business," he said. "There are careers related to industrial sales, distribution and logistics, customer service, hospitality, entertainment, retailing, data analytics, marketing research, marketing management, product management, services marketing, advertising and promotions, and so much more. Right now, marketing is the largest major in the College of Business, and we have an excellent placement rate both for our COB undergraduates and all of our graduate students."
Amyx is sterling example of a marketing degree's versatility. His job today is one the requires him to be a recruiter, advisor, problem solver, programs creator, program administrator, and admissions decision-maker, among other things. One of his pre-Tech jobs when he lived in the Dallas-Fort Worth Metroplex was customer motivation and satisfaction research as a consultant for both the Arizona Diamondbacks and the San Diego Padres major league baseball teams.
"I loved consulting for them," he said. "Both ball parks were beautiful, but the Padres facility was outdoors in San Diego; hard to beat their weather and scenery. The Diamondbacks' park was an impressive place but had to be indoors due to the heat. Their roof was retractable, which was very interesting to witness."
His position as the Burton Risinger Endowed Professor is one that honors the late Risinger, who passed away in 2000 at the age of 87; for 30 years, he was dean of Tech's College of Business Administration, as the college was called then.
"I know he was very well-liked and respected at both Tech and in the community," Amyx said. "I'm deeply grateful to him and others like him who have graciously and generously donated money for our professorships at Tech. That support allows us to travel to conferences, gather data, or acquire additional resources such as software that are essential to our scholarly work."
In 1986, Amyx earned his BBA (Bachelor of Business Administration) from the University of Oklahoma, where he had business classes with a few celebrities, "notably (NFL Hall of Famer) Troy Aikman and (linebacker/actor) Brian 'The Boz' Bosworth," he said. He earned his MBA from the University of Texas-Arlington and his PhD from Oklahoma State.
"My dissertation was on how patient choice — or lack of choice — of a physician affects patient satisfaction," he said. "It was three experiments collected from patients at Oklahoma clinics. I received the chicken pox as a reward for my data collection."
His other teaching experience was at Texas Woman's University, where the male enrollment is only 10 percent and the school has no football team. Now he's at a University that has a football program that's one of only two in the country — Wisconsin is the other — with five bowl wins in five years.
"They sell T-shirts at their bookstore," he said, "that read 'TWU Football—Still Undefeated'."