Sometimes, you have to take an unconventional path to get you where you want to go.
Chad Armond, Class of 1998, was a computer engineering major at Louisiana Tech and is today a software developer, most recently at a private company in Houston after working with NASA for the past 17 years.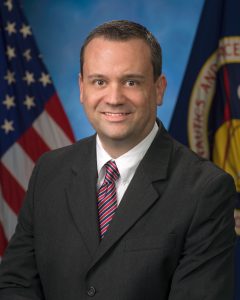 But his degree from Tech is a BS in Electrical Engineering.
Twenty years ago, computer engineering at Tech was a combination of electrical engineering and computer science.
"A computer engineering degree wasn't accredited at that time," Armond said, "so students in that program received a BS in Electrical Engineering since they had met all of the core EE requirements."
The world has changed greatly since then, and so has that part of Tech's curriculum. The University's Computer Science program's faculty has obtained more than $18 million in research grants in the most recent decade alone. And computer engineering has exploded into several precise but collaborative sciences, the newest one being Cyber Engineering, a major Tech was the first in the world to offer.
But no matter what his actual degree was in, Armond knew he was leaving his Ruston hometown fully prepared.
"I really didn't consider anywhere else for college," he said. "I knew it was a good school and it was nearby, so it made sense to me to go to Tech. I feel like I got a great education there, and I would choose it again if I could do it all over."
After almost 20 years at NASA and Johnson Space Center in Houston — "The decision to leave was a really difficult one," he said. "NASA is a great place to work" — his new job involves developing software for Pride Automation, only 10 minutes from the home he and wife Stacey have long shared with their two daughters in the Clear Lake area of Houston.
"(Pride Automation) developed a software application for NASA and found it could be useful in the private sector," he said. "So we're enhancing that software for the oil and gas industry, as well as for other industries that could benefit from it."
This new job private-sector gives him more stability and an opportunity to grow professionally, and to it he brings those nearly two decades of experience with NASA, where his primary responsibility as a Software Engineer was the maintenance of an imagery management system he'd built exclusively for NASA.
"NASA is no ordinary workplace; It's a historical institution, one recognized around the globe," he said. "I've had some amazing experiences, from working with astronauts, to seeing a live Space Shuttle launch, to test driving a lunar rover — on Earth, of course."
His first professional job after Tech was — wait for it — at Tech.
"I worked as a computer programmer for Tech, starting out part-time as a student and later full-time after graduating," Armond said. "I worked on various applications to support the business offices of Tech, like comptroller, financial aid, registrar, and housing. I did other things like automating scholarship processing and building Tech's first website for students to access their accounts receivable information online."
After launching all that, he left for Johnson Space Center.
"I was quite happy at my job at Louisiana Tech," he said. "I enjoyed the work and worked with some really great people. But when an opportunity came up to work at NASA, I just could not pass that up."
In 2007, he received the "Silver Snoopy" Award, the astronauts' personal award given for outstanding performance. The Silver Snoopy pin is flown in space and then presented to the recipient with a commendation letter. Fewer than one percent of the aerospace program workforce receives it annually, making it an extra special honor. 
"I was shocked and humbled," he said. "It was given for process improvements and cost savings as a result of the work I'd done building the imagery management system."
Armond's in a new chapter now of a story that began back at Tech, which proved versatile enough to accommodate his talented family.
"My siblings and I all chose fields that we enjoyed and in which we excelled," he said. "My brother Andrew has always had a love of reading and possessed an innate musical talent; those majors (English and music) fit him well. My sister Allison got her degree from Tech in math education and has taught advanced high school math for many years.
"I've always enjoyed science and math," Armond said. "As a kid, I loved to take apart things to see how they worked. At the age of 10, I wrote my first computer program, which started a love of coding. So computer engineering seemed like the perfect major for me."