Cast of 'Begets: Fall of a High School Ronin' announced
The Louisiana Tech University Department of Theatre recently announced the cast for its Spring production of Begets: Fall of a High School Ronin, by award-winning playwright Qui Nguyen, directed by Mark D. Guinn.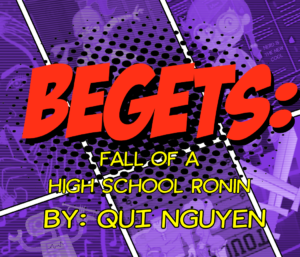 Arthur W. Stone Theatre will become the hall of an all-American high school overrun with shogun bullies in this action-packed samurai adventure. Emi Edwards, played by junior Theatre major Madelynn Deason, is a geeky girl who has found the courage to fight the shoguns and defend geek-kind.
However, in her journey to right wrongs, will her own cravings for popularity and power corrupt her quest to save the school? Will she able to establish a new world order? Or will violence just beget more violence?
Begets: Fall of a High School Ronin will be on stage at 7:30 p.m. April 9-13 and 2 p.m. April 14 in Stone Theatre. For more information, contact the Tech Theatre office, 318.257.2930.
The cast is as follows:
Madelynn Deason as Emi Edwards (Simsboro)
Kaitlin Riley as Inside Girl (Waco, Texas)
Blair O'Blanc as Mary (Lake Charles)
Jacey Rae Russell as Laura Austin (Morrilton, Arkansas)
Maggie McAdams as Andrea Armstrong (Henderson, Texas)
Tia Rene Williams as Counselor Theresa (New Orleans)
Kalyn Cormier as Jillie Lee (Lafayette)
Kelsey Meshell as Thatcher (Bossier City)
Priscilla Porter as Sarah (Memphis, Tennessee)
Rose Bowman as Mom (Liberty City, Texas)
Meagan McMillian as Crystal (Haughton)
Caleb Keith Mcclain as Krysty (Iowa)
Paulina Guerra as Chantal (Houston)
Jacie Brent as Rocker Girl (Minden)
Dylan Maldonado as Geek (Shreveport)
Miranda Theodos as Freshman (Dubach)
Tony Slapper as Patrick (Covington)
Colton Askew as Trey/Hurt (Gladewater, Texas)
Adam Seth Thompson as DJ MC (Columbia)
Daniel Spiropoulos as Principal Parker (Texarkana, Texas)
Manuel Garcia-Rada as VP Francone (Shreveport)
Tanner Norred as Walter (Choudrant)
Jordan Myles as Dustin (Benton)
Cameron Harmeyer as Dad (Covington)
Quan Sam Sun as Sheldon/Burnout (Ningbo, Zhejiang, China)
Cameron Vidos as K-Dawg (Kingwood, Texas)
Alex Bourgeois as Bandbot (Bossier City)
Emma Montgomery as Ensemble (Ruston)
For more information on the Louisiana Tech Department of Theatre, visit louisianatechtheatre.com.