Pinning ceremony held For Nursing's 2019 Winter graduates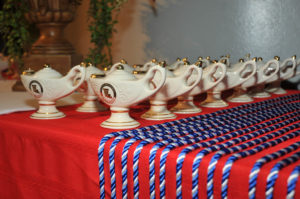 The Division of Nursing held its traditional pinning ceremony Feb. 21.
Twenty-eight graduates received their unique professional nursing pin signifying completion of their Louisiana Tech Nursing program.
The graduates are as follows:
Lana Beard
Jeremy Biggs
Joshua Broadway
Lynsey Candler
Robin Capps
Nicole Collins
Ashley Evans
Ariel Futch
Seth Futrell
Hannah Givens
Morgan Hanson
Hannah Harris
Hannah Henry
Micaela LaBarron
Mary Lloyd Leblanc
Allison Love
Laura McElroy
Mary McFarland
Kayla Meyers
Lexi Oliver
Abby Elizabeth Puckett
Sidney Rich
Anna Laurel Spence
Amanda Stogsdill–Bricker
Robert Lorenzo Tunek
Bailey Wallis
Lauren Windham
Seth Young
Awards were given as follows:
Nursing Ambassadors: Robin Capps, Seth Futrell, Morgan Hanson. Micaela LaBarron
Academic Excellence:  Lexi Oliver and Hannah Hicks Harris
Spirit of Patient Care: Morgan Hanson and Mary McFarland
Tenets of Tech: Allison Love
SNA Award: Hannah Harris
Each student was also presented a commemorative Nightingale Lamp provided by Northern Louisiana Medical Center.
Following Winter Commencement Feb. 23, the students will be eligible to sit for the National Council Licensure Examination (NCLEX) to become Registered Nurses.