Tech brings home six CASE awards for Advancement, Communications
Louisiana Tech University brought home six awards from the CASE (Council for Advancement and Support of Education) District IV annual conference, including a gold award for the University's newly redesigned alumni magazine – 1894.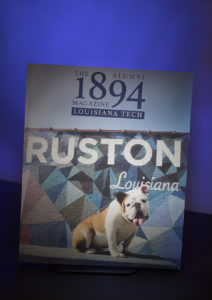 Each year, the CASE Accolades competition recognizes the best advancement-focused work in over 50 categories from social media to print publications. Louisiana Tech competed against universities and colleges within District IV, which includes Arkansas, Louisiana, New Mexico, Oklahoma, and Texas.
"Our success is in response to the leadership provided by our president, Dr. Les Guice," said Brooks Hull, Vice President of University Advancement. "With his encouragement, we have pushed the envelope for our publications and programming to help grow and strengthen relationships with our alumni and friends."
The awards Louisiana Tech received include:
Gold in Magazines – 1894: The Alumni Magazine
Silver in Stewardship and Donor Relations – Notes and Floats
Silver in Student-produced Video – VISTA: Visual Integration of Science Through Art
Bronze in Brochures, Flyers, and Booklets – VISTA magazine
Bronze in Web Redesign – LATech.edu
Bronze in General Institutional Literature – Tech at a Glance
Entries in the Accolades competition are judged by a panel of experts who are not current advancement professionals in District IV. Gold, silver, bronze, and honorable mention awards may be given in each category.Each of the winners in the competition was produced in the Office of University Communications and the Division of University Advancement in 2018.
"Our University Advancement and Communications teams are innovators in their fields, and their work matches the culture of excellence in our University," said Executive Director of University Communications Tonya Oaks Smith. "Our teams work incredibly hard to ensure our projects achieve their strategic goals and that our University is represented effectively in every communication channel. These awards reinforce that they are finding solutions to our marketing challenges and that they are doing it well."