Master's in History degree earns high national, state ranking
Louisiana Tech's online Master's in History degree program is No. 20 in the country and No. 2 in the state in a ranking released by TheBestSchools.org for 2018.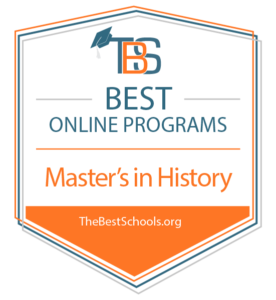 TheBestSchools.org exists to review all accredited degree programs and then connect prospective students with the best online degree programs available for them. Guidelines for ranking include several categories, such as academic excellence based on a school's curriculum generally or within the selected discipline, strength of faculty scholarship, reputation, financial aid, strength of online instruction methodology, and the range of courses provided.
Graduates with this degree are qualified and trained to work as teachers, for museums or libraries, as consultants, as writers, in research, analysis, project management, archeology, and in many other areas, both in profit and not-for-profit fields.
Tech's online history master's degree requires students to earn either 30 (thesis track) or 33 (non-thesis track) credits. The program maintains cooperative agreements with the University of Louisiana at Monroe and Louisiana State University; this allows students to earn credit by taking courses at those schools. Students must choose a major or 12 credits of related courses within a single historical field.