COES Professional-in-Residence appointed to LAPELS board
Reginald Jeter, Professional-in-Residence for the Louisiana Tech University Civil Engineering and Construction Engineering Technology programs, has been appointed to represent Education on the Louisiana Professional Engineering and Land Surveying (LAPELS) Board for the six-year period from April 2019 through March 2025.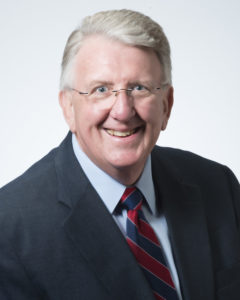 Jeter joined Louisiana Tech as a Professional-in-Residence at Louisiana Tech in 2015. He previously served as an assistant professor of civil engineering for the University during the 1985 and 1986 academic years and as an adjunct professor of engineering technology at Bossier Parish Community College during the 2006, 2007 and 2008 academic years.
"I am truly honored to be appointed to the LAPELS board and to have the opportunity to serve my profession," Jeter said of his selection to the board.
"Mr. Jeter is an asset to the College of Engineering and Science and to Louisiana Tech University and an excellent choice to serve on the LAPELS Board," Dr. Hisham Hegab, dean of the College of Engineering and Science, added. "His service to the students, not only as a teacher, but also as a mentor and organization advisor, demonstrates his commitment to higher education and to helping elevate the next generation of engineering and engineering technology professionals."
Prior to 2015, Jeter served as the chief estimator for several companies, including F. J. Burnell, Inc., Angelo Iafrate Construction, LLC and Plaquemine Contracting Company, Inc., and is an experienced project manager. Jeter, a registered professional engineer in Louisiana and Mississippi, is a past president of the Shreveport Chapter of the Louisiana Engineering Society and a past chairman of the Northwest Louisiana District of Associated General Contractors. He is a member of the Chi Epsilon National Civil Engineering Honor Society and the Tau Alpha Pi National Technology Honor Society.
Jeter currently teaches five courses in civil engineering and construction engineering technology and is a faculty advisor to the student chapter of the Associated General Contractors/North American Society for Trenchless Technology. He is also a coach and mentor for the Louisiana Tech Associated Schools of Construction Estimating and Competition Team and was voted Outstanding Civil Engineering and Construction Engineering Technology Professor for the 2017-18 academic year.
Jeter received his Master of Science in Civil Engineering, his Bachelor of Science in Civil Engineering and his Bachelor of Science in Construction Engineering Technology from Louisiana Tech.
The LAPELS board, established in 1908, is the second oldest licensing board of its kind in the U.S. It consists of eleven board members: nine licensed professional engineers and two licensed professional land surveyors. The purpose of the organization is to "safeguard life, health, and property and to promote the public welfare."