Bradshaw advises graduates to find and pursue their passions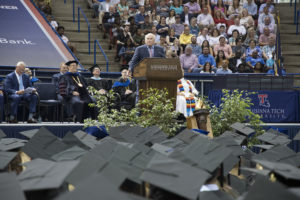 Four-time Super Bowl winning quarterback Terry Bradshaw told Louisiana Tech University graduates to find their passion in life during his commencement address to the Spring 2019 class, the largest in Tech history with 1,100 graduates, Saturday in the Thomas Assembly Center.
The record-setting Bulldog football player and favorite son of Louisiana Tech told graduates they would remember graduation as a day full of love they would never forget.
"That's the wonderful thing about Tech," Bradshaw said. "We have a tremendous amount of love. You'll use that to make a difference in the lives of millions of people. Find out what it is that stirs you and pursue it."
Though life is full of ups and downs, he added, having enthusiasm in one's career makes it possible to confront challenges.
"If you want to be happy in life, you need to have a passion for what you want to go into," Bradshaw said. "You have to have that passion to endure. On my journey in life, I learned it's OK not to always be the best. It's notOK not to give your best."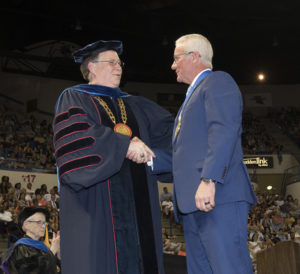 During the commencement ceremonies, Louisiana Tech recognized the newest member of the Hall of Distinguished Alumni, Drake Mills. He was presented the Tower Medallion to signify his achievements.
Mills, a 1982 Finance graduate and the University's Alumnus of the Year in 2010, serves as Chairman, President, and Chief Executive Officer of Origin Bancorp, Inc.
The Tower Medallion Award signifies membership in the Hall and is awarded to Tech alumni who have distinguished themselves by exceptional achievement, community service, and humanitarian activities.
Louisiana Tech celebrated the end of the 2018-19 academic year with two commencement ceremonies Saturday.