Nanosystems Engineering grad helps develop cutting-edge green technology
Louisiana Tech University alumnae Kylene Pickett (Nanosystems Engineering, 2019) has published a paper in the prestigious ACS Applied Materials and Interface journal. Pickett, who was an undergraduate in the Louisiana Tech Nanosystems Engineering program at the time of the paper's submission, worked with a team of researchers including Louisiana Tech alumnus Dr. Abhishek Panchal (Ph.D. Engineering, 2018), Louisiana Tech postdoc Dr. Mingxian Liu, and Dr. Yuri Lvov, professor of chemistry, nanosystems engineering and physics, to develop a sponge that can be used to clean up oil spills.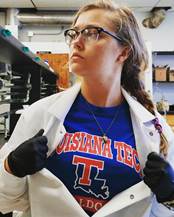 The paper, Superhydrophobic Polyurethane Foam Coated with Polysiloxane-Modified Clay Nanotubes for Efficient and Recyclable Oil Absorption, outlines the team's development of a simple natural clay nanotube / polyurethane sponge which absorbs oil and may be used to clean spilled petroleum from hard or liquid surfaces. The modified foam-like sponge can also absorb oil or organic solvent continuously and quickly from water surfaces. It has enhanced resistance to fire and will extinguish itself making industrial usage safe. The preparation method with natural clay nanotubes is a simple process and promises scalable industrial applications in oil−water separation.
In addition to the paper, Pickett has participated in three years of research projects with Louisiana Tech faculty, staff and students. She first began working with Lvov beginning in her freshman year, participating in research through most of her senior year. Her work with Lvov on hydrophobized halloysite foam led to opportunities such as collaborations on other halloysite, nanotube, and nanoparticle projects with researchers from North Carolina State University, the University of New Orleans, NASA, and the University of Lyon in France.
"Kylene was a soul of the Nanoassembly Group in the Institute for Micromanufacturing," Lvov said. "Kylene was not only a hard worker, but she also brought a lot of joy to everyday life for everyone in the lab, especially foreign postdocs and their kids. She showed what life in Louisiana is like, even surprising them with opportunities to ride horses and see animals in a small zoo near her country house."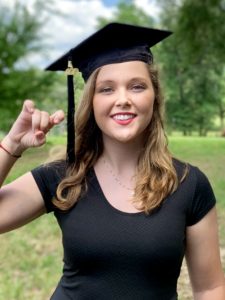 "Kylene is a brilliant engineer and a hard-working, multifaceted individual who fully used what our Nanosystems Engineering curriculum has to offer, including the opportunity to do undergraduate research at Tech with our distinguished professor Dr. Lvov," Nanosystems Engineering chair and professor of Nanosystems Engineering and Electrical Engineering Dr. Sandra Zivanovic added. "Even with her busy schedule, Kylene found time to be involved in the Louisiana Tech chapter of the IEEE Nanotechnology Council and to volunteer in the Micro/Nanosystems Engineering Teaching Laboratory. She is an exemplary graduate who is fully prepared for the next step in her career, her doctoral studies."
Pickett graduated in May and will join Oregon Health and Science University this fall to pursue a Ph.D. in Biomedical Engineering.
"Dr. Lvov, Louisiana Tech and the Nanosystems Engineering program have helped me develop research skills by providing real-world research opportunities," Pickett said. "Dr. Zivanovic has also been a huge help to me as my advisor and someone who recommended REU positions and graduate schools. I'm incredibly grateful to the University, program and my professors."
ACS Applied Materials and Interfaceis an internationally recognized journal for applied materials science and engineering and has an 8.5 impact factor. You can find the article on the ACS Publications website.