Professor Emeritus to give Summer Commencement Address
Dr. Norman D. Pumphrey, Jr., Associate Professor Emeritus of Civil Engineering and Construction Engineering Technology at Louisiana Tech University, will serve as commencement speaker for the University's Summer Ceremonies at 10 a.m. Thursday, Aug. 22, in Thomas Assembly Center on the Ruston campus.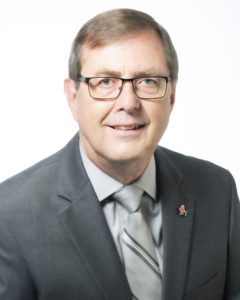 A 1976 graduate of Tech with a with a Bachelor of Science degree in Civil Engineering, Pumphrey served his undergraduate alma mater with distinction from 1990 until his retirement in June 2019.
He's served in many roles, including both Assistant and Associate Professor, and for two years as Program Chair of Civil Engineering (2002-2004). In 2004 he moved to Enrollment Management where he was Director of Advising and Retention, the inaugural Director of the Bulldog Achievement Resource Center (BARC), and the Director of Basic and Career Studies before returning to his academic home in the College of Engineering and Science in 2014. In May of that year Pumphrey was named Program Chair for Construction Engineering Technology, a position he held until his retirement.
In 2017, Pumphrey was selected to receive both the Tech Senate Award and the Louisiana Engineering Foundation Faculty Professionalism Award.
Immediately after his graduation in 1976, Pumphrey was employed by the Federal Highway Administration, where he worked for more than four years before returning to pursue a master's degree in geotechnical engineering at the University of Missouri-Rolla (now Missouri University for Science and Technology). He then enrolled in the PhD program and eventually earned that degree in transportation engineering and transportation materials at Purdue University.
He then spent three years on the faculty at the University of Alabama before returning to Ruston in 1990.
Pumphrey has enjoyed teaching and interacting with students both in and out of the classroom, and he has been presented with numerous local awards for his teaching and academic advising, including the University award for Outstanding Undergraduate Advising in 2002. He spent 15 of his 29 years at Tech as Faculty Advisor of the Tech chapter of the American Society of Civil Engineers and assisted the Tech chapter of the Associated General Contractors in coordinating student member attendance at various national conferences and competitions. 
Pumphrey co-authored several children's Christian Discipleship and Sunday School teaching guides and student materials for Lifeway and 254 Basics and taught preschoolers at Temple Baptist Church for many years. He coached his two boys in both Dixie baseball and Ruston Parks and Recreation soccer and refereed high school boys and girls soccer for several years. More recently he has been active in Ruston Community Theater.