Tech announces summer honor roll
Louisiana Tech University has announced the names of students on its summer quarter president's and dean's honor lists.
Students whose names are followed by an asterisk earned recognition as members of the president's honor list. That distinction signifies achievement of at least a 3.8 academic grade point average on a minimum of nine semester hours completed (100-level or higher), with no grade lower than a B.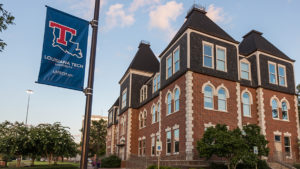 To be eligible for the dean's honor lists, a student is required to earn at least a 3.5 academic grade point average with no grade lower than a C on a minimum of nine semester hours completed (100-level or higher).
Courses yielding satisfactory/failure grades and courses audited do not count toward eligibility for either recognition. Only undergraduates with no incomplete grades are eligible to make either list.
Honor students are listed below by their hometowns, with all Louisiana students listed first by parish.
Louisiana
Ascension
Gonzales:  Calvin A. Rhines
Avoyelles
Mansura:  Alivia Lauren Burke*                                        
Marksville:  Aariyana S. Green                                        
Beauregard                                                                      
Deridder:  Emily R. Meaney*                                           
Bienville
Gibsland:  Madison Anne Jones, Destiny Lizziel Moore                  
Ringgold:  Dawsson Cole Tipton                                         
Bossier
Benton:  Allie M. Brice*, Cindy Michelle Payne*, Carolyn T. Thompson*                                                                        
Bossier City: Courtney Nicole Baffuto, Madeline Brooke Barr, Patrice J. Bennett-Hammitt*, Courtland Mckenna Dilley*, Christian A. Luman, Jacob P. Norris, Haylea Lain Patterson*, Craig A. Rice Jr.*, Rebecca Elise Thompson*, Caroline Marie Wilkinson*, Matthew James Wilson                                                            
Caddo
Shreveport:  Charles Ainsco, Jalyn La'rachel Anderson, Blythe I. Bissell, Emily Ann Boykin, Jon Bullock*, Aaliyah S. Gaines*, Benjamin Ray Harris*, James Buchanan Haynes IV, Kathleen Love Herring, Hailey Danielle Johnson*, Amanda Brook Matranga, Joi Alexis Mccormick, Rashaun Mcgee*, Jacob Tyler Mitcham, Robert Taylor Mylar*, Reeki Anil Patel, Aaron Marshall Sanders*, Abigail Rose Smith, Erin Shimar Smith, Andrew B. Storer, Natalie D. Tripp, Martin Christopher Milner Jr.                                       
Calcasieu
Lake Charles:  Tyler Griggers*, Rachel Elizabeth Proffitt*                                                                                 
Sulphur:  Nicholas J. Dougherty*                                       
Westlake:  Gabrielle Aline Juneau*                                                                          
Claiborne                                                                     
Homer:  Cody Aaron Long                                                                                                
Concordia
Ridgecrest:  Jania Nichelle Burns                                                                               
East Baton Rouge
Baton Rouge:  Logan Blair Arceneaux, Delia A. Ardoin*, Vivian L. Cotton*, Joanna Louise Crifasi*, Phillip Peter Moell Frederiksen, Lewis Meyers Johnson, Trinh M. Nguyen, Harrison Bondi Walls
Pride:  Tad Nelson Marks                                                                          
East Carroll
Lake Providence: Logan S. Vickery*                                   
Transylvania:  Alana Grace Sullivan*                                  
Evangeline
St. Landry:  Hunter James Currie*                                     
Grant
Colfax:  Ben Martin Gibson*                                           
Pollock:  Cody Lee Rogers*                                                                         
Iberville
Plaquemine:  Jace Thomas Cedotal*                                                                                             
Jackson
Jonesboro:  Larissa Diane Richmond                                    
Jefferson
Gretna:  Thien H. Vu*                                                  
Kenner:  Paul Maxime Pio Dugas                                        
Marrero:  Canese T. Johnson*                                          
Westwego:  Aquiann T. Jones                                                                        
La Salle
Jena:  John P. Hulsey, Emilie Grace Russell*                          
Olla:  Matthew N. Talley*                                                                                      
Lafayette
Lafayette:  Alexandria Ellen Abadie*, Ariel J. Bruno, Samuel James Campbell                                    
Lincoln
Dubach:  Mary Elizabeth Bozeman, Madeline Paige Keen*, Brooke Elizabeth Warren
Ruston:  Sydney Dawn Aulds*, Molly Nicole Bertrand, Desiree Renee Brodeen, Amelia Grace Cooper*, Robert Roy Davenport*, Sarah Margaret Gordon, Michael D. Hardcastle, Blake Austin Hart*, Samuel Haskins*, Dashia Ellamesha Jackson, Ashley Martinez*, Victoria M. Ned, Laura Mackenzie Nelson, Michael Cade Owen, Caroline Alese Phillips, Austin Douglas Pike, Brandon M. Regira, Jackson Sheffield Smithey, Morgan M. Sosa, Bryanne Ashlyn Stanberry*, Gadelha De Freitas Lucas Tojal             
Livingston
Albany:  Jacob Cole Spring*                                                                                             
Denham Springs: Joshua Kelly Mwatibo                                                                                           
Natchitoches
Natchitoches:  Kate Elizabeth Dickson*                                                                  
Ouachita
Calhoun:  Olivia Grace Adams*, Tristan James Bratton, Brandi Victoriann Munoz, Tiffany Amber St. John*                                                
Monroe:  Serenity Aereana Dean, Michael Brooks Hand*, Kendall O. Head, Lilly S. Saye*                                                                                                             
West Monroe:  Dawson A. Jacobs*, Bryan Hunter McCormick, Nicholas Andrew Trichel*, Bonnie E. Wood                                          
Rapides                                                                       
Alexandria:  Jeremy Vernon Mathews*                                   
Elmer:  Erin Prescott Armstrong                                       
Lena:  Emily Grace Cupples                                            
Pineville:  Setheara L. Ith, Cody Quincy Kitchens*, Gabrielle N. Thompson*                                  
Sabine
Pleasant Hill:  Jakota Clay Harris*                                   
Zwolle:  Eric Gavin Garcie*                                           
St. Landry
Eunice:  Ashton E. Eckholdt*                                                                                                                
St. Tammany
Abita Springs:  Kendra Jo Watterson*                                  
Slidell:  Claire Madeline Dorsett*                                                                                             
Tangipahoa
Amite:  Jacob M. Mckean*   
Hammond:  Luke Callahan*                                                                                                                                        
Tensas
St. Joseph:  Victoria Elizabeth Adams*                                                                                       
Terrebonne
Bourg:  Kyle Jacob Barker                                             
Union
Bernice:  Russell Kenneth Deloach, Kiley Nicole Finklea, Jordan W. Lee
Farmerville:  Emily Ladawn Grier                                      
Vernon
Leesville:  Andraya Nikole Crawford                                   
Washington
Franklinton: Christian Matthew Warren*                               
Webster
Dubberly:  Kara Virginia Bryce, Joshua S. Stahl*                      
Heflin:  Brittain William Thompson                                    
Minden:  Abigail Frances Baker, Hannah Heflin                         
West Carroll
Oak Grove:  Joshua T. Beard*                                           
Alabama
Birmingham:  Jalexus Zhane Richardson                                 
Arkansas
Waldo:  Dawson Jones Belk*                                            
White Hall:  Allison Taylor Ruff                                      
California                                                                       
Corona:  Jared C. Rodriguez*                                           
Florida
Cape Coral:  Jarrod Charles Hill*                                     
Hawaii
Mountain View:  Monique Apuakehau                                     
Illinois                                                                    
Chillicothe:  Shelby M. Daum*                                         
Minnesota                                                 
Maplewood:  Hannah R. Josephson*                                                                                                     
Mississippi
Nesbit:  Erin M. Ellis*                                                            
Texas
Argyle:  Leighton Skyler Fangue*                                       
Baytown:  Ian F. Richter                                              
Bullard:  Doughty Mccall Cowart                                        
Carrollton:  Dylan E. Cordray*                                        
Fate:  Zachary L. Brashears                                           
Houston:  Parker A. Willmon*                                          
Kingwood:  Norman Frank Cook IV*                                      
Linden:  Andrew Young Harp                                            
Mansfield:  Haley Elizabeth Sangalli*                                 
McKinney:  Owen J. Sutka                                               
Southlake:  Kirrily N. Gross*                                         
Sugar Land:  Branson E. Hanzo, Sharon Y. Shih                         
Van Vleck:  Leah Marie Hanna